Venice is one of those cities that you can't help but fall in love with after just two days… and there are so many things you will want to see!
Visiting Venice is definitely a once-in-a-lifetime experience as no city is as unique as this one! Its history, beautiful canals, and magical setting make this a destination that everyone should have visited at least once in their life. (At least, that's my opinion!)
Are you planning a trip to Venice and do you feel a bit overwhelmed, not knowing where to start?
Don't worry, in this 2 days in Venice itinerary, you'll find all the practical information you need, from what to do and where to stay to how to get to Venice and what it will actually cost you!
So stop the overwhelm and take a look at all the information below. All this info is my firsthand experience from when I spent a weekend in Venice!
Ready to dive in?
Day 1
Start your visit on the water bus
When we checked in for our stay at Hotel Ca'Riza, the hotel owner was so friendly to point out a great itinerary for our stay in Venice. Although we didn't exactly follow his recommendations, we did start as he told us to!
The best way to start your stay in Venice is to take the water bus all the way from Piazzale Roma to the San Marco square. This way you'll pass right through the city center and you'll get to see Venice from the water in a much more affordable way than by gondola. You'll even pass under the Rialto bridge!
Practically, it's possible to buy a ticket for 1.5 hours, or you can opt for a day ticket if you're planning to use the waterbus more frequently. Purchase your ticket at one of the vending machines at Piazzale Rome.
Visit San Marco Basilica
One of the gems of Venice, located on the San Marco square is its ancient Basilica. For a small entrance fee of about €3, you can walk around freely inside the basilica and admire its wonderful architecture and ancient gems.
Additionally, it's also possible to visit the San Marco Museum where you can discover ancient relics and other fascinating objects. With limited time in Venice, this basilica is a place you absolutely should visit!
Some very important tips:
Make sure to wear appropriate clothes because otherwise you won't get in! Appropriate means that you should cover your shoulders and that any shorts/skirts above your knees won't be tolerated.
Line up early! There's usually quite a queue in front of the basilica, luckily, the line goes really fast so don't worry.
Climb the San Marco Bell Tower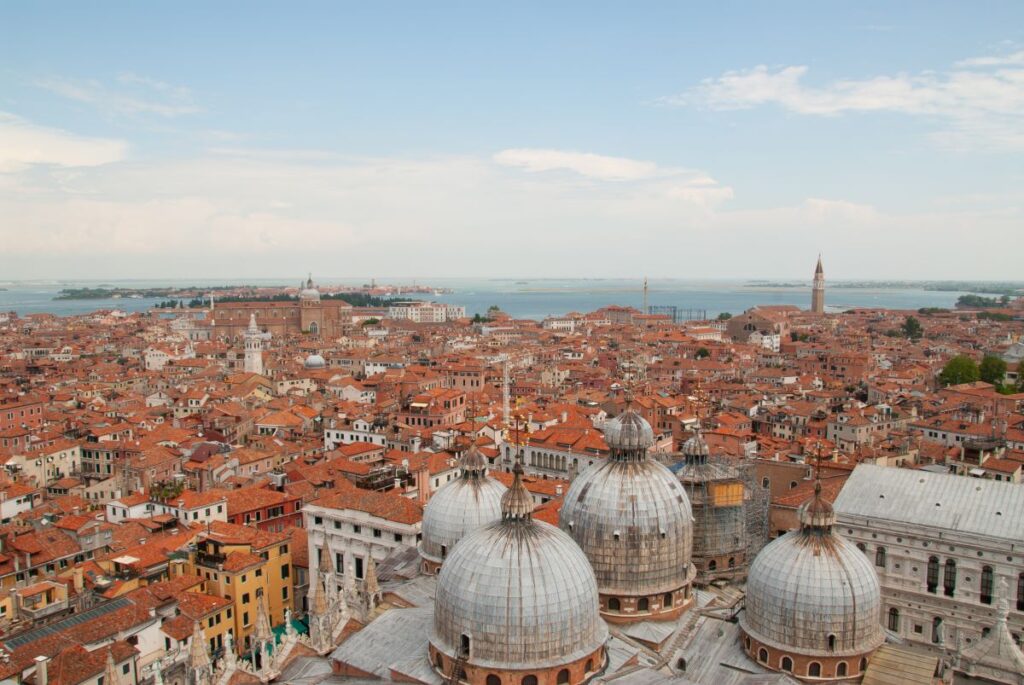 Next to the San Marco basilica, a remarkable spot on the square, you'll find a large tower. On top of this tower, you'll have an incredible view of Venice from above which can't be seen from anywhere else!
But the situation is the same as for the previous popular place, there is usually a queue of people waiting to get inside (especially because there is a maximum capacity that can go into the tower).
However, if you happen to be late and there's a queue, know that the view from above is definitely worth it!
Practically, it will cost you €10 for a ticket and a lift (no stairs luckily) will take you up. After you're done looking around, you can take the lift down whenever you like!
Admire the Doge's Palace and Museum Correr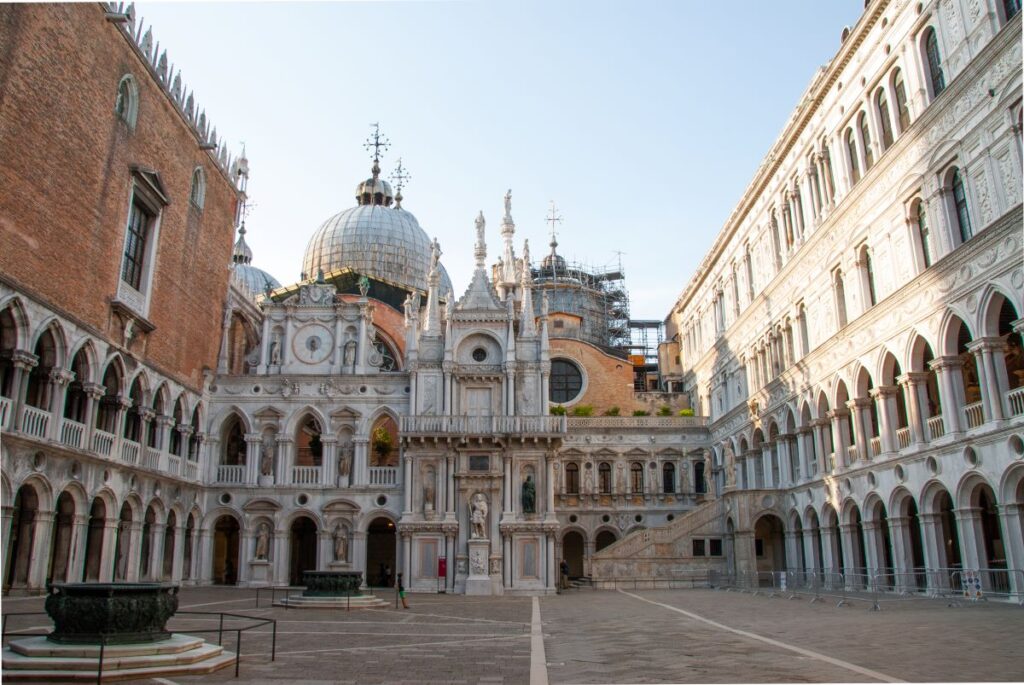 One of the most impressive places to visit (both historically as well as architecturally) in Venice is, without doubt, the Doge's Palace, but also the corresponding Museum Correr.
When entering you can buy a combi ticket to visit both of them (which are on opposite sides of the San Marco square). Definitely ask for a discount if you think that you fall into some exceptional category, it can save you a lot of money!
Inside you'll encounter magnificent halls, wonderfully decorated, and you'll get to know a whole lot more about the history of Venice and the Doge's Palace. You even walk over the Bridge of Sighs, where the prisoners could take a last look outside before they went to jail.
It is truly incredible, but that's also why should book your ticket beforehand. This way, you don't need to wait in line and you're sure that you can visit it at the time you want. (I forgot to do this and we just got in before closure, which was very close to not getting in at all).
Take a picture of the Bridge of Sighs
The Bridge of Sighs can be found around the corner of the Doge's Palace and during your visit to the Palace you actually get to walk over it to the old prisons of the city.
This was the place where the prisoners would get one last look over the city of Venice before being locked up in dark cells. As the story goes, they would release a sigh when seeing the view knowing that they would not see this for a very long time (or maybe never again).
This is a very popular place to take pictures and, again, with good reason because it is just a masterpiece of architecture! Ironically, I forgot to take one with my camera myself ;).
Walk your way to Libreria Acqua Alta
Libreria Acqua Alta might just be the most popular and special book shop in Venice. Literally translated it means High Water Library because when the water in Venice rises it happens that the book shop is filled with water.
Peculiar about this place are the decorations, which form popular spots to take pictures and you'll likely need to wait in line to take a picture on the high pile of books on the courtyard, or in the gondola.
Moreover, everywhere in the book shop, you'll see cats hanging around, lying on the books, totally careless about all the visitors and the attention they get because of it!
Go to Libreria Acqua Alta to take a picture posing in one of the popular spots, of the cats, or just to find some special books!
Cross the river over Rialto Bridge
One of the places in Venice you should have seen is definitely the Rialto Bridge. This bridge is a unique symbol of the city and a magnificent piece of architecture!
After admiring the bridge on the water bus, when you sailed under it, also walk over it when crossing the Grand Canal. The most beautiful moment is to do this at sunset but of course, this again attracts a lot of visitors who all want to enjoy this magical moment (and you can't blame them).
On both sides of the canal, you'll also find many restaurants, so this is perfect to combine with a dinner in the evening!
Day 2
Walk around district Dorsoduro
Day 2 can be started walking around the Dorsoduro district. This neighbourhood of Venice is known as being a more authentic and artsy part of the city, let's say the student district of Venice.
Here you'll find plenty of shops selling local artworks, as well as Basilica Santa Maria della Salute, the Guggenheim museum, Gallery dell'Accademia and various other interesting places. If you have more time during your visit or you're an art lover, these are all great options to add to your Venice itinerary.
This is also an area of the city that is less touristy meaning that it is much calmer to walk around!
Go inside Basilica Santa Maria della Salute
Located in the Dorsoduro district, Basilica Santa Maria della Salute can be seen from afar. If you've taken the water bus from Piazzale Roma to the San Marco square you'll definitely have seen this building!
As grotesque as it is on the outside, it is on the inside as well. This round basilica is a pleasure to visit as it's a lesser-known place to visit in Venice. Plus, you can enter freely, in contrary to other popular places which can be quite expensive.
The architectural style of the basilica is also quite different from these of the buildings on the San Marco square (although I'm not an expert on this).
Take the water bus to Murano, Burano or Torcello
One of the best activities to do in Venice when you have the time is taking the water bus to one of the offshore islands.
This was also an activity that the hotel owner really recommended but unfortunately, I didn't have the time to do it myself. But nevertheless, I want to share it here with you because I might have a tiny bit of regret not having seen these places.
You might know Murano because it is famous for its glass making, which is also the main reason why you should visit this island! Plus, it is also the closest to the city of Venice, meaning it is the most convenient to visit.
Burano on the contrary is a fishing village which is known for its incredibly colourful houses! Visiting this island is a pleasure for the eye (and your photos afterwards)!
Another cute island to visit is Torcello. This small place used to be the most prosperous island in the region, and that's also what you'll see when you visit Torcello!
Take an enchanting gondola ride
Have you even been to Venice without taking a gondola ride? I don't think so.
Honestly, at first, I didn't want to pay such an expensive fee (€80-€100) for such a short gondola ride. But I must say that after actually doing it, I think it is worth the money.
If you have a great gondolier, you'll have the opportunity to talk to a true local and see Venice from his or her eyes. Plus, besides being very romantic, I also found it a very calming experience that left me relaxed afterwards.
TIP: I would recommend seeking a gondola in the smaller canals in Venice and not at the Grand Canal because this might be less cosy as the canal is usually quite busy.
Go for a drink at Fondaco dei Tedeschi
One of the top tips of the hotel owner was to have a drink at Fondaco dei Tedeschi, a shopping center with a rooftop terrace that has an incredible view of Venice.
This beautiful building used to be the headquarters of German merchants but now it is mostly known because of its rooftop. If you'd like to visit, make sure to make a reservation beforehand because there is a limit on the number of people they allow on the terrace at the same time.
In general, if you made a reservation, you'll get 15 minutes to enjoy the view, and it's completely free! But don't be late because otherwise your reservation gets cancelled!
Other important information
Eating out in Venice
Before visiting Venice, I was afraid that prices for eating out would be extraordinarily high, but luckily I was wrong.
Yes, at certain touristic spots, prices are outrageous such as at the San Marco square where you can pay up to €10 for just a coca-cola! Crazy huh?!
But if you walk away from these tourist hot spots and take a look at restaurants in the smaller streets, you'll get pretty normal prices for food. Think about €15-€20 for the main course.
A good restaurant with reasonable prices I can recommend is Ristorante Pizzeria Dolfin.
How many days do you need in Venice?
Even though I'm writing about an itinerary of 2 days for Venice, you can easily spend more time here as there is so much to discover, not to mention the many islands you can visit as well!
For me, 2 days felt a bit short as you need to see so much in such a short period of time. So if you want to make your trip to Venice a bit more relaxing, I'd definitely recommend staying a bit longer.
How much does a 2-day visit to Venice cost?
Of course, your costs will depend on where you stay, where you go out to eat and what kind of activities you plan to do. However, below I'll make a list of the most important costs I incurred during my visit to Venice!
Keep in mind that these are the costs of 2 people:
Hotel: €204,30 for 2 people, 2 nights including breakfast
Dinner: €42 x 2 nights = €84
Activities: €60
Gondola ride: €80
Parking: €37
Water bus (24h ticket): €20 x 2 = €40
Grand total: €505,30
I'm pretty sure that I missed some other costs, like an occasional gelato or lunch, which I couldn't find back. However, these are definitely the most important costs you need to take into account!
But after all €250 – €300 per person for 2 days in Venice is not too bad, isn't it?
Where to stay in Venice
When staying in Venice, probably the best thing you can do is search for a unique, Venetian hotel in one of the small streets of the city.
At least that's exactly what I did when I selected Hotel Ca'Riza!
Ca'Riza is a 3-star hotel with rooms in true Venetian style. They are located in a small street in the center of Venice and have only a few rooms. Breakfast is included in the price and has a broad range of choices.
The most amazing thing is that all of this came at a very affordable price!
How to get to Venice
Now, this is the part that brought me the biggest headache. As you probably all know, no cars are allowed in Venice and the only ways to get around are either on foot, by gondola or by the water bus.
By car
This means that if you come by car, you'll need to park outside of the city. For this, there are several options.
It is possible to drive up to the island and park at the entrance right over the bridge. The cheapest parking here is parking Tronchetto (where I parked as well). For 24 hours of parking you'll pay €22, so €44 for 2 days of visiting Venice. And on a side note, you cannot make a reservation here.
Note that Tronchetto is located a little distance from the city center and the best way to get to Piazzale Roma is by taking the People Mover (costing you €1,5 per ride). Alternatives for this are the water bus or a private water taxi (costing waaaay too much). In my experience, the People Mover is the easiest and cheapest way to get to the center!
Other parking on the island are Garage San Marco (closest to the center and fills up the quickest), as well as Venice Park, but these will both cost you €50 a day! On the other hand, these are really the closest parking lots you'll find.
If you want to park your car at either one of these parking lots, make sure to come early in the morning. When I arrived at 11 a.m. all spots inside were taken and we had to park outside in the sun.
Of course, you can also decide to park outside of Venice (before you go over the bridge) in the town of Mestre. There parking is cheaper but you'll have to commute with your luggage to the city center of Venice.
Top tip! Some hotels have discounts for their clients at some of the parking lots mentioned above. It's definitely worth asking if you're hotel has a discount with a specific one! I've gotten a 15% discount on Tronchetto thanks to Hotel Ca'Riza during my visit!
By plane
When you arrive in Venice by plane, you'll probably end up in the Marco Polo International Airport of Venice.
From here, you have several options to get to Piazzale Roma. The most affordable option is to take the bus for a 25-minute drive. Otherwise, you can take a water taxi or regular taxi to the island, which is obviously a bit more pricey.
By train
Arriving by train is also perfectly possible. The Venice train station is located as far as you can get into the city center by traditional means. From the station, it's easy to take the water bus or a water taxi to your hotel.
Tip: watch your behaviour
This might sound a bit odd, but in Venice, not everything is allowed, at least not on the San Marco square. In fact, there are some general guidelines on how to behave there as a good tourist.
To prove that I'm not just making this up, I've also included a picture of the guidelines. There are actually community workers walking around on the San Marco square to remind you of these rules if you're not behaving accordingly!
Now, the most important rule is the prohibition to "sit in areas not explicitly designated for the purpose", meaning that you cannot just sit on stairs or a random spot.
Conclusion
In short, there are plenty of places to visit in Venice and I would recommend indeed spending at least 2 days in Venice, if not more!
As you've probably noticed from this lengthy post, there is also a lot to prepare when booking your visit and I also hope that you now also have a realistic idea of what it costs to visit Venice!
If you have visited Venice, and have any extra tips, feel free to add them below in the comments!
Also planning a visit to other places in Italy? Take a look at my Rome bucket list!