There are many beautiful destinations in Europe, however, certain destinations are more beautiful at certain times of the year than others. Therefore, this post features 21 destinations in Europe you should absolutely visit in autumn (or fall so you wish), each because of their unique reasons!
Autumn in Europe starts at the end of September and ends early December, the time where you might get to see some snow far north! For most places, autumn means less tourists which gives you a calmer and more unique experience. In the south of Europe, you'll avoid extremely hot temperatures while still being able to enjoy a comfortable 20 degrees Celsius!
Fall is the season when kids go back to school, flight and hotel prices drop, and trees change colours rewarding us with stunning views. All pretty good reasons to plan a fall holiday in Europe right?
Below, 22 travel bloggers will present you a destination in Europe they think is unique to visit in autumn, whether that's in October, November or December!
I'm pretty sure you'll find the perfect destinations for your fall trip in this selection!
Best autumn destinations in Europe
Berlin, Germany
Contributed by Ali Garland of Travel Made Simple
Berlin is a great city to visit any time of year, but I think autumn is an especially nice time to travel to Germany's capital. The weather is still warm at the beginning of fall, yet not as hot as it can be in the summer. As the leaves start changing colors, wandering through one of Berlin's many parks, like Tiergarten, is a great way to enjoy nature without leaving the city.
Fall is a time for festivals and celebrations. October 3rd is German Unity Day, which commemorates the day East and West Germany reunited in 1990. November 9th marks the anniversary of the fall of the Berlin Wall in 1989. Both days are celebrated all over the city.
In October, you can enjoy the Festival of Lights. This is when famous sights in Berlin are lit up with works of art in light form. Also in the fall, usually in October, is Berlin Food Week. This event takes place in various places throughout the city and includes cooking demonstrations, tastings, and more.
As you get into late November, the weather cools down significantly and doesn't even feel like autumn anymore. But don't fear, this means Christmas markets are starting. Visiting Berlin at this time means you can go to many different Christmas markets and enjoy some holiday cheer before winter truly hits.
Annecy, France
Contributed by Kat Weiss Butler of World Wide Honeymoon
Annecy, France is easily one of the most charming autumn destinations in Europe. With lovely fall foliage, good temperatures for exploring the city, and a unique festival, you'll easily fall in love with Annecy! 
One of the unmissable things to do in Annecy in the fall has to be attending the Return of the Alpine Pastures festival, or Retour des Alpages. It happens on the second Saturday in October, where the animals that have spent the summer grazing in the alps move back towards the town to spend the winter in warm barns.
The festival includes the parade of herds returning to the town with people wearing traditional outfits, local crafts, traditional music and dancing, and loads of local food. 
Other great autumn activities in Annecy include going for some hikes to see the stunning fall foliage, and you can still enjoy the lake during this time. Also, on a cooler day, you'll definitely want to tuck into some traditional hearty alpine foods like tartiflette and all the cheese! 
To get to Annecy, the easiest route would be to fly into Geneva, Switzerland, and take the 2-hour train to Annecy. Likewise, you could fly into Lyon, France, and take a 3-hour train. 
Annecy is truly one of France's most beautiful towns. Nestled in the alps with a breathtakingly beautiful alpine lake, a visit here in the autumn is well worth it!
Related: 21 cool weekend breaks in France
Amsterdam, The Netherlands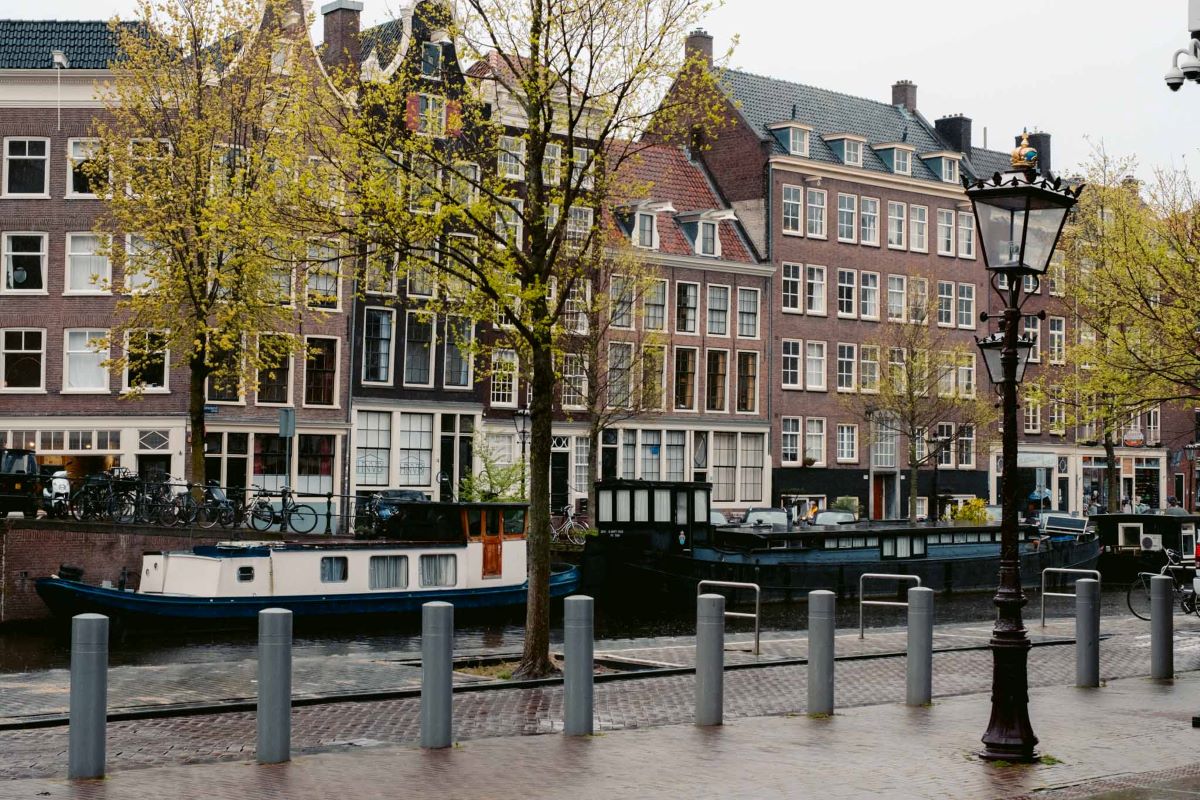 Contributed by Cynthia & Alexander of Travel Your Memories
Autumn is one of the best periods to visit Amsterdam. An Amsterdam itinerary written by a local is recommended when you travel to Amsterdam and the city can be visited all year round.
The best thing to do in Amsterdam is to take a canal cruise. The canal belt is on the UNESCO heritage list and many visitors enjoy the view from the water of the city. However, during autumn all the trees along the water are beautifully colored in red, yellow, and orange. You don't want to miss this, nowhere in the world is it as romantic as in autumn on a boat in the canal belt of Amsterdam.
In October, Amsterdam is the epicenter for dance music during the Amsterdam Dance Event, so if you like to party, this is a great thing to do during your visit. Every November there is an event called Museum Night. During this event, different museums in the city are lit up in shows. Tip: book a ticket through your accommodation because this is only possible with a Dutch bank.
Another advantage of autumn is that there are no school holidays, so it is cheaper to travel to Amsterdam. It is less crowded, there is a cozy atmosphere and streets are beautifully decorated with lights. Amsterdam is easy to travel to by plane or train.
Bratislava, Slovakia
Contributed by Lemons and Luggage
One of the best fall destinations in Europe is Bratislava, the capital of Slovakia. This often-overlooked city has the perfect fall climate. Bratislava is incredibly easy to reach as it has its own airport but also has great train connections from nearby cities like Vienna, Prague, and Budapest.
Although many people believe that Bratislava can be seen in a day, there are actually quite a few different things to do there. Make sure you start your day at Bratislava Castle and the surrounding area. From the hill, you have a great view of Bratislava and especially the Petržalka neighborhood which stands out due to its Communist-era architecture.
The city's old town is very compact and picturesque and well worth a visit. This is also where you can find souvenirs as well as several vegan food spots. After recharging your batteries you can take a stroll along the Danube River.
The Blue Church (Church of St. Elisabeth) is a popular landmark in Bratislava thanks to its beautiful Art Nouveau architecture so don't skip this! Another important building in Bratislava is the Presidential Palace which you cannot actually enter. But the garden is a wonderful place to relax after all the sightseeing.
Brussels, Belgium
Contributed by Paula Martinelli of Paula Pins The Planet
Brussels is a very charming city in Belgium and a great destination to visit during the autumn. Brussels is a great place to visit all year round, but by the time fall rolls around it takes on a new look and feel that makes it what many consider the best time of the year to visit it. 
While Brussel is a great destination with plenty of things to do during a long vacation, it is also very compact that you can easily explore Brussels for a day, and it is sufficient time to visit the main sites.
Brussels is very easily accessible as a day trip by train from many major cities such as Paris, London, Amsterdam, and Luxembourg. It has many different options for accommodations, from budget to luxury, depending on your style and budget. The best option is to find accommodation in the city center, as you can visit all the main attractions on foot from your hotel. 
Brussels is abundant in museums, palaces, squares, shops, and restaurants, so there is always something going on for you to enjoy. Spend your days roaming the city streets, dipping in and out of cafés and restaurants for hot drinks and warming plates of delicious local cuisine. Also, If you're looking for the most beautiful fall foliage in Brussels, you'll struggle to do better than Parc de Bruxelles.
Related: The Only Brussels Itinerary You Need!
Sibenik, Croatia
Contributed by Martina & Jürgen of Place of Juma
Sibenik in Croatia is definitely one of the most beautiful destinations for a holiday in autumn. Famous from the series Game of Thrones, tourists from all over the world come to explore the picturesque old town, especially in summer. In autumn, on the other hand, Sibenik is very quiet, but still no less worth seeing.
A wide range of attractions awaits you on a visit to this charming coastal town. The ultimate must-see is, of course, the medieval old town. Here visitors go on a kind of time travel, strolling through winding stone streets and discovering wonderful historic buildings. One of the most important attractions is the Cathedral of St. James in Sibenik, which is a UNESCO World Heritage Site. Also worth seeing are the 3 fortresses, from where you can enjoy a breathtaking view over Sibenik and the blue Adriatic.
Another highlight are the stunning beaches around Sibenik. Swimming here is definitely until late autumn possible! Perfect if you want to combine sightseeing with a few relaxing days on the beach! Very beautiful and perfect for a trip in fall is the nature reserve Sv. Ante, where you can enjoy a wonderful atmosphere while walking along the channel and the bay.
Swedish Lapland
Contributed By Ellis of Backpack Adventures
Swedish Lapland is far north and has a distinct summer and winter season. Summer is great for hiking and kayaking, while winter is all about snowy adventures. The fall season is an in-between period that sees few visitors, but there are actually many advantages of visiting Swedish Lapland in this period. 
One of the advantages of visiting Swedish Lapland in fall is that you can do both winter and summer activities. There will be no snow yet, but you already have a chance to see the northern lights. In the fall you have an average amount of 8 to 10 daylight hours. This means you have sufficiently dark nights as well as enough daylight hours to enjoy a full day. 
Temperatures are not yet freezing and fall is still a great time to go hiking. Swedish Lapland is one of the most sparsely populated areas of Europe and heaven for those that love the outdoors. It is an area of outstanding natural beauty that includes vast forests, wild rivers, lakes, marshes, tundras and mountains.
In fall, the forests of Swedish Lapland are at their most beautiful. First of all, there will be the fall foliage to enjoy, but it is also the time to pick berries and mushrooms. Without the tourist crowds, it means you have Laplands nature all to yourself for bargain prices. 
Riga, Latvia
Contributed by Martha of May Cause Wanderlust
Riga, the capital city of Latvia, is a real hidden gem within Europe. It is a particularly wonderful city to visit in autumn because it has lots of leafy parks, which turn gorgeous shades of yellow, orange and red. Autumn is also a great time to visit because it is shoulder season, so it will be calm and peaceful as you explore this handsome city, without so many tourists around.
When in Riga, you can explore the old town, including a castle, St Peter's Church and the House of the Blackheads, which is a striking building dating from 1334 which has an ornate façade. You can also take a boat tour around the pretty city canal and the Daugava River, which is a great way to see the city.
However, do allow some time to explore beyond the old town, because Riga is known for being the Art Nouveau capital of the world, thanks to having the highest concentration of Art Nouveau architecture in its city centre. Just outside of the old town and the canal is a semi-circular ring of streets filled with stunning examples of Art Nouveau architecture, including some by Mikhail Eisenstein. Treat yourself and take an .
Zurich, Switzerland
Contributed by Christina of Travel2Next
Autumn is a perfect time to visit Switzerland's largest city for those who love nature or want to own a moment of epic sunsets. The trees take on beautiful autumn colors, as the days become shorter and nights colder. In autumn, many people leave their apartments to breathe the crisp fresh air of a stunningly beautiful season and revisit famous landmarks in Switzerland, such as the Grossmunster Cathedral, Kaferberg Mountain, Kyburg Castle and Fraumunster Cathedral.
Hiking, wine tasting and enjoying Swiss food and culture are perfect activities for this time of the year. One of the top spots to go for a hike is Uetliberg (2,850 feet above sea level), where the view of Zurich, the Alps and the lake with its fall colors is breathtaking.
As well as hikes, Swiss food and wine is a lure for visitors, and if the weather is inclement, there are still plenty of fun things to do in Zurich. Foodies will enjoy various things to do in Zurich this fall, including sampling Swiss specialties like Raclette or fondue inside warm restaurants while enjoying the spectacular leaves falling.
Zurich's art scene is also active during the autumn months, with Zurich Film Festival in early October. The Zurich Opera House offers an exciting line-up of operas and classical music in Zurich through Autumn. Another event that Zurich residents look forward to during autumn are the Oktoberfest celebrations around Lake Zurich. The Swiss-style Oktoberfest is a happy affair with traditional music, food stands selling typical dishes from Switzerland, craft beer booths and on-stage entertainment.
Krakow, Poland
Contributed by Karolina & Patryk Klesta of Lazy Travel Blog
Krakow is one of the best fall destinations in Europe! Why is it worth traveling to Poland's most beautiful city in September, October, or November?
First of all, Krakow is not that crowded during the fall. You won't need to go through the hordes of tourists like you would have to in the summer. Secondly, you will have a chance to see the "real" Krakow. It's the students' city and the fall is the time they are starting the semester. Last but not least- you will easily get to any restaurant without standing in the long queues.
While in Poland, you need to eat Polish food! Be sure to try pierogi (dumplings) and obwarzanek (a ring-shaped bread roll originating from Krakow).
If you are traveling from any country in Europe, you can easily take a direct flight to Krakow Balice Airport. There are many carriers operating in Krakow, Ryanair, and WizzAir are some of them.
Iceland
Contributed by Theresa of Fueled By Wanderlust
Fall is a wonderful time for an adventure in Iceland.  The summer crowds will be thinning, the Northern Lights come back out to play, and it is still good road trip weather.
While Iceland has become a huge tourist destination, a fall visit will allow you to visit with thinner crowds than the summer peak season.  This is especially true the later you get into fall, as the weather gets chillier and days get shorter.
Fall in Iceland also brings a good balance of daylight. The season begins with over twelve hours of daylight and gradually reduces to four by the time winter sets in. That means an early to mid-fall visit provides enough daylight for day trips like the Golden Circle and South Coast, as well as plenty of darkness for Northern Lights hunting.
Finally, while fall in Iceland brings chilly weather, it is still comfortable for exploring this country's famous outdoor sights. Temperatures average just above freezing, and it's smart to pack plenty of layers because the fall weather can be volatile. These cozy temperatures are also perfect for enjoying warm coffees while exploring Reykjavik's awesome café scene.
Most visitors fly into Iceland via Keflavik Airport (KEF), which is a forty-five-minute drive from Reykjavik. It's best to rent a car for optimal sightseeing, and many companies will pick you up right at the airport.
Monschau, Germany
Contributed by Zoe of Together In Transit 
One beautiful fall destination in Europe you may not have heard of yet is the beautiful German location of Monschau. The easiest way to arrive in Monschau is by car as it's close to the German border near airport Maastricht NL or Liege BE. 
This idyllic, cobblestoned German village is situated along the valley with the river flowing right through it. This village is perfect and very picturesque for autumn walks as it's surrounded by nature and forest trees. It's pretty all year round, but fall is the best season for the cosy oranges, reds and browns.
There are not too many things to do, but a must is to explore the village and local boutiques. The Monschau 13th century castle is one of the highlights with rich history and nice views. Else grab a bite to eat at a local cafe before heading for a panoramic walk. There is a route around the top areas with plenty of photo opportunities. Something for the foodies is to visit the local Mustard Mill, where there are 22 local mustards being produced with definitely the weirdest but surprisingly tasty combinations possible. 
Algarve, Portugal
Contributed by Linn Haglund of Brainy Backpackers
The dramatic Algarve coast in southern Portugal is an epic place to visit in the fall. First of all, you'll dodge all the summer tourists, but the weather is still warm and perfect for lazy days at the beaches or hiking along the rugged cliffs.
There are so many beautiful towns in Algarve that you can easily spend a week discovering the culture and history that each of them hides. You should especially visit Tavira and Olhao, two charming fishing towns that are entering points to Ria Formosa Natural Park. Take a boat trip to visit the islands and walk along long, white, untamed beaches.
In autumn, it's also a good time to walk from beach to beach or along the endless cliffs and boardwalks. Don't miss out on the Sagres cliffs and the beaches along the west coast of Algarve where you can learn how to surf. But popular spots like Ponta da Piedade are also less crowded in autumn which makes it the perfect time to go.
The best way to get to Algarve is to fly into Faro or drive from Lisbon or Seville in Spain.
Related: 19 famous landmarks in Portugal you should visit!
Cabo de Gata, Spain
Contributed by Linn of Andalucia Hiking
Only half an hour outside of the international airport of Almeria you find one of the most unique natural parks in Spain. Featuring a dramatic coastline with incredible sand-blown beaches, some of them which can only be reached by hiking or by boat. But Cabo de Gata-Níjar Natural Park also features one of the few desert landscapes in Europe.
The most popular beaches are Playa de Los Muertos (beach of the dead), which is reached only after a steep hike downhill, Playa de Los Genoveses, covering a large, astounding bay surrounded by nature, and Monsul beach, made famous by Almeria's own David Bisbal after recording the music video of one of his most famous hits, Ave Maria, on that same beach.
What these beaches have in common, is that during the summer months you have to pay for parking. But in fall, you still get the hot summer temperatures, fewer tourists, and you can park for free.
Another incredible place to discover in autumn is the hippie community in Cala de San Pedro. You can take the boat from Las Negras, but in fall you can even hike to Cala de San Pedro as it's not too hot. To explore the area properly it's recommended to rent a car.
The Cotswolds, UK
Contributed by Jiayi of The Diary of a Nomad
The Cotswolds is an Area of Outstanding Natural Beauty (AONB) located in Southern England, and it's made of gorgeous countryside views and some of the prettiest villages in the UK.
During the fall, the foliage turns yellow and orange, making the villages look even more magical. Moreover, the temperatures are mild (5°-18°C), and you'll be avoiding the big crowds of the summer.
One of the best places to visit in the Cotswolds is Bibury, which is home to the famous Arlington Row. This stunning row of stone cottages is incredibly photo-worthy and looks even more charming in autumn colors.
Other places to see in the Cotswolds during fall include Castle Combe, Bourton-on-the-Water, and Chipping Sodbury. Be sure to also stop by Tetbury, which is close to the Westonbirt Arboretum. There, you'll see over 15,000 species of trees from all over the world, and in the fall, their rusty orange and red colors only add to their charm.
The best way to get to the Cotswolds is to rent a car and drive there. It is only a 2-hour drive from London. It is also recommended to drive between the villages of the Cotswolds, because public transportation is sparse in the area.
Soriano nel Cimino, Italy
Contributed by Lisa of Travel Connect Experience
The town of Soriano nel Cimino, called so because it stands on the slopes of Mount Cimino is one of the most picturesque towns to visit near Rome. The town is surrounded by woods where thousands of chestnut trees and porcini mushrooms grow naturally and are harvested in autumn. From the first to the third week of October, the Chestnut Festival takes place every year in Soriano nel Cimino.
During 3 consecutive weekends, the historic center is closed to cars and historical parades of medieval revival where citizens compete in the sound of instruments such as trumpets and drums and the launch of the flags take place in the main piazzas. The inhabitants are divided into 4 contradas, heritage of an ancient tradition. From every balcony and terrace hang drapes with the coats of arms and colors of the rival factions. Everywhere there are stands that sell wine and typical products, and in the evening outdoor concerts.
At 5 km from Soriano lies a beech forest with hundreds of secular trees, already declared UNESCO World Heritage Site. Autumn is the best period to visit it, as the forest lights up with orange colors and a carpet of soft leaves covers the ground. Visiting the beech forest is very easy, because it is located at the top of Mount Cimino, where you can arrive by car.
To get to Soriano nel Cimino by public transportation, take a train on the Rome-Civitacastellana-Viterbo line from Piazzale Flaminio in Rome center and get off at Soriano nel Cimino. The fastest way to reach the city is by private car.
Disneyland Paris, France
Contributed by Elisa of World In Paris
Visit France's happiest place, Disneyland Paris, for some fun rides and magic encounters with Mickey Mouse and his tribe.
From September to the end of November, Fall is a shoulder season in Paris, and it definitely sees lesser crowds than during the summer months. The temperature in Paris is still good, and accommodation and transportation are often cheaper, so it is an excellent opportunity for a fun family trip or a trip with your friends.
Planning a day trip to Disneyland Paris from Paris is straightforward thanks to a direct and fast connection with RER trains. However, for a unique Disneyland trip, we recommend staying in one of the Disneyland Paris hotels located near the park. All these hotels have a free shuttle bus to the park, own restaurants, and different entertainment options to extend the magic until bedtime.
If you plan to travel to Disneyland Paris during the second half of October, Disneyland Paris offers a Halloween Festival, with special parades and some spooky surprises.
Related: 21 cool weekend breaks in France
Turin, Italy
Contributed by Olivia of Livguine
Turin, the capital of the Northern Italian region of Piedmont is truly magical during autumn. The city comes alive as the colours of the leaves start to change and the best natural
bounties in the countryside come into the city.
Autumn is wine harvest season, not to mention the only time of the year that the prized white truffle is ready to be found and enjoyed at one of the many fantastic restaurants in the regal city. It's a food lover's dream as come November, the city turns chocolate with a huge chocolate festival (Turin is famed for their chocolate, called gianduja).
Visitors to Turin should make sure these food lover activities are firmly on their list during the month of Autumn. It's also the perfect time to stop by the historical bar Al Bicerin for their famous chocolate-coffee-cream beverage. Long walks by the River Po are warranted to walk off all that delicious food, and make sure you climb the hill to see the view over the city from the Monte dei Cappuccini. Don't miss a trip to the Royal Palace either, which was home to the Savoy family for years.
Galway, Ireland
Contributed by Pamela of The Directionally Challenged Traveler
One of the best fall destinations in Europe is the charming city of Galway, Ireland. Settled comfortably on the coast of Ireland, fall is the perfect time to find bargains on accommodation while still easily seeing everything the city has to offer. The weather in the fall is mild enough to still enjoy the outdoor attractions without the crowds of summer!
There are plenty of things to do in Galway throughout the year, however, the Oyster and Seafood Festival is hosted in late September. It's the oldest oyster festival in the world, and one of the most famous Irish festivals (surpassed only by St. Patrick's Day). Even if you're not a fan of oysters, enjoy other locally sourced food, live music and entertainment, and street parades.
While you're in Galway, be sure to wander through the Latin Quarter. Music radiates from each corner and the personality of the city comes to life before your eyes. Explore the history of the city by visiting the Spanish Arch, Lynch's Castle, and Galway Cathedral. On a nice day, you can see ducks and swans down the Long Walk.
No matter where you end up in Galway, you'll be glad you visited in the fall! 
Athens, Greece
Contributed by Monique of Trip Anthropologist
Athens looks and feels like a global mega-city – but it has only 665,000 residents. Of course, it has millions of tourists each year and they flock to Greece in the European summer. This makes visiting the UNESCO World Heritage monuments such as the Parthenon, the world-class museums, and other Athens attractions difficult because of the long queues in the heat of the day.
It makes much more sense to visit Athens in Spring or Fall where airfares are much cheaper, crowds are less, and accommodation is cheaper.
Spring in Athens can be cold, however, and it gets dark quite early. The best time to visit Athens is in Autumn. Temperatures then are a perfect 12 – 28 degrees Celsius.
There are many interesting tours, audio tours, and ticket combinations for visiting the Acropolis and the Acropolis Museum as well as other Athens ancient ruins. Make sure you buy a skip the line ticket online that is a digital download. This means that you can go through the express line and, unlike almost all skip the line tickets for the Acropolis, you don't have to walk between 350 and 500 meters back down the hill to pick up your tickets from a kiosk.
Hallstatt, Austria
Contributed by Marie Gizelle of Our City Travels
Hallstatt is undoubtedly Austria's most beautiful town, no matter the season. However, autumn makes it a lot more picturesque and magical, bringing to life what we see on paintings. 
Hallstatt is accessible in many ways, but the most charming way to get there is to cross the lake with a boat from the train station. From that viewpoint, the golden foliage behind whimsical stores and houses would take your breath away.
While autumn might mean there would only be a few restaurants to enjoy traditional Austrian dishes, you would still taste the best. Hallstatt's views and mood every time of the day are worth a visit. Blue lake in the mornings, a foggy sight to wake up to, sun reflecting on water in the afternoon, golden leaves both on trees and pathways you walk on, a charming settlement by the bay, all these preserved beautifully, earned Hallstatt a World Heritage Site status.  
Visiting Hallstatt means a lot of walking around in this peaceful alpine landscape, many photographers have won competitions with their perfect composition of Hallstatt's shore during the blue hour, but it is much more beautiful to see with your own eyes. And it's also good to have a copy of your own, so don't miss out on that. Albeit small, and can be explored in a short period of time, there is no shortage of beauty in this town, you would be full to experience the sunrise, the sunset, the fog, and the golden scenery Hallstatt is known for.
Related: how to visit Hallstatt from Vienna in one day
Palermo
Contributed by Caroline of Veggie Wayfarer
Palermo is the capital of Sicily, an island in the South-East of Italy. The island boasts an incredible amount of sun and has an average temperature of 25°C in the fall. In fact, fall is the best time to visit this tourist hotspot as there will be fewer tourists and the weather will still be much sunnier than anywhere else in Europe.

One of the additional reasons you might want to pop over to Sicily is to savour the incredible streetfood in Palermo. Make sure to try the local specialities like Arancina (fried rice balls stuffed with ragu or for the vegetarian a la norma). To get a real local flavour, try the focaccia Maritata at the Antica Focacceria San Francesco. The ingredients to this sandwich? None other than spleen and ricotta! The long lines at the counter are a mixture of locals and tourists a-like, indulging in their (new) favourite snack! Be sure to keep room for a delicious gelato with brioche. Enjoy!
Walk off all the delicious food while visiting the many sites, especially these beautiful churches: Church of Gesu, San Giuseppe dei Teatini and the beautiful Church of San Cataldo. If history is your delight, pop into the Norman Palace – the oldest still working seat of the government in the world – and marvel at the palatine chapel.
Conclusion
I hope these suggestions all gave you enough inspiration to plan your next trip during autumn in Europe!
Too early to think about autumn destinations in Europe? Dream away with these European summer destinations!
What's your favourite fall destination in Europe? Let me know in the comments below!