Probably one of the biggest struggles visitors to Belgium face is not having a car to get around. Luckily, Belgium has an extensive train network and a lot of wonderful places can easily be visited by train!
However, I know that this is a lot easier if you want to go on a city trip than when you want to go hiking for example. Nevertheless, in this post, I'll try to give you as many options as possible to discover Belgium by train, regardless of whether you're visiting Flanders or Wallonia!
Read on to find the best places accessible by train as well as more information about the Belgian train system and how to buy (the cheapest) tickets.
Places in Belgium to visit by train
Before I show you all the wonderful places you can visit by train I want to warn you that some are more accessible than others. A larger city such as Antwerp or Liège will easily be accessible while smaller places like Dinant or Gendron-Celles will require you to change trains, which takes a much longer time to get there.
Bruges
Ease of access: easy
Bruges, just like all other cities in Belgium, is quite easy to reach by train with lots of direct trains, also from Brussels Airport. From the train station, it's only a 10-minute walk to the city centre where you can see everything on foot. Thus, this is the ideal day trip destination by train!
Bruges is a perfect destination if you want to walk around in a historical setting, visit lots of museums or go on a romantic getaway!
For more information on visiting Bruges, take a look at my blog post about how to spend 1 day in Bruges! Luckily, this destination is great to visit year-round, and for an even more cosy experience, visit the Christmas market in winter.
Related: the most beautiful Airbnbs in Bruges
Antwerp
Ease of access: easy
As the largest city in Belgium, Antwerp is definitely worth a trip! It's also one of the easiest destinations in Belgium to reach by train, plus it has one of the most impressive train stations in the country.
The zoo of Antwerp is directly located next to the train station, and if that's nothing for you, you'll find the finest shopping experiences in the city as well since Antwerp is the fashion capital of Belgium!
Some other must-visit places in Antwerp include the MAS (Museum aan de Stroom) as well as plenty of other museums, its cathedral and plenty of other hidden gems.
Ghent
Ease of access: easy
Another historical city easy to reach by train in Flanders is Ghent. This medieval city is perfect for those of you who love to discover a bit of history about Belgium.
Located right in between Brussels and Bruges, it is one of the most central and easy-to-visit places in Belgium. Arrive at the train station of Gent-Sint-Pieters and take the tram to the heart of the city centre.
When in Gent, definitely pass by the Gravensteen, an impressive historical castle, take a boat ride on the canals, try Gentse Waterzooi, a historical dish, visit the belfry and many other historical sites.
Hasselt
Ease of access: easy
Hasselt is another hip Belgian city that should definitely be added to your bucket list. As one of Belgium's major cities, it's very easy to reach by train, thus perfect for a day or weekend away!
Hasselt has quite some interesting places to visit. One of my favourites are the fashion museum with lots of temporary exhibitions, and the Jenever Museum (of course if you're 18+ ;)) together with a Jenever walk through the city.
Hasselt is also a great city to go shopping, and just like in other Flemish cities, you'll find your portion of historical buildings, churches and cathedrals.
C-Mine Genk
Ease of access: moderate
C-Mine in Genk is an old mine that has been transformed into a place where numerous exhibitions take place. I personally have been there to visit the exposition of Tim Burton a few years ago.
You can easily find a train to the station of Genk and from there you'll find buses going to the entrance of C-Mine.
Besides temporary exhibitions, you can also go for a tour explaining everything about the history of the mine. This is not only targeted at adults but also a perfect visit to do with the whole family! Several activities are particularly focused on children.
Take a look at the current offers of C-Mine here.
Brussels
Ease of access: easy
Of course, no destination is easier to visit in Belgium than its capital Brussels! Most trains stop at the 3 major train stations here which are Brussel Zuid (Bruxelles Midi), Brussel Centraal (Bruxelles Central) and Brussel Noord (Bruxelles Nord).
Brussels is perfect for a weekend away, but a day trip might be too short to visit everything you should see!
My personal favourites are the Grande Place, the Strip museum (as well as the strip route), Manneken Pis, the many chocolate stores and so much more! A more detailed guide to Brussels can be found in my post about a perfect one day Brussels itinerary.
The Belgian coast
Ease of access: easy
If a city trip is nothing for you, you might visit one of Belgium's great coastal cities such as Blankenberge, Knokke and Ostend. All three of these cities are quite easy to reach by train and from the train station, it is possible to walk straight to the beach (or the shopping stores of course).
From these hubs, it's also very easy to take the coastal tram and visit other (smaller) towns along the coastline.
Knokke is known for being a more expensive and decadent place to visit, here you'll find the more high-end stores, hotels and restaurants as well as activities like golfing.
Blankenberge is one of the most popular beach destinations in Flanders and this is definitely the place to be if you'd like to spend some time in one of the numerous beach bars. Another popular activity here is Sea Life Blankenberge, where families can get to know all living creatures that inhabit the sea.
Ostend is a much larger city than Blankenberge or Knokke. Here you'll find the Q Beach House in the summer (radio on the beach) as well as numerous historical monuments such as Fort Napoleon and the Mercator, an ancient renovated ship.
Oudenaarde
Ease of access: moderate
Oudenaarde is a great ancient town to visit in Flanders with not only a lot of history but also great natural areas to hike in the neighbourhood.
From the train station of Oudenaarde, it's only a 10-minute walk to the heart of the city centre, which is perfect for a day trip! Some great activities in Oudenaarde include the MOU (Museum Oudenaarde en de Vlaamse Ardennen), Centrum ronde van Vlaanderen and walking through its beautiful beguinage.
By taking a bus it is possible to go to the centre of Ename where a beautiful 2-hour hike starts which takes you through the forest of Ename.
Geraardsbergen
Ease of access: moderate
Although Geraardsbergen is not one of the major popular hubs in Belgium, it still attracts many tourists, in particular, because of its iconic place in the Ronde van Vlaanderen, the most popular Flemish cycling race.
From the train station of Geraardsbergen, it's a 15-minute walk to the tourist office where you can get a map with a walking route which takes you past all the important sights of Geraardsbergen. Make sure to bring good shoes you can easily walk with because you'll need to climb the 'wall of Geraardsbergen'!
Did you know that Geraardsbergen also has a Manneken Pis? It is said that this statue has been standing here even before the more famous one in Brussels. Of course, this is up for debate ;).
Leuven
Ease of access: easy
Leuven is one of the easier cities to visit in Belgium as it has direct trains arriving at its station from all over the country. The city is mainly known for the oldest Belgian university, KU Leuven, and is a real student city!
No lack of historic places and buildings in Leuven, this in combination with a lot of green zones outside the city centre. As I have been studying in Leuven for 5 years now, I know the city quite well. Some of my favourite places are Barboek (drink a coffee and buy a book), St. Peter's Church, the great beguinage and Abdij van Park.
More interesting places and activities can be found in my blog post on how to spend a weekend in Leuven! If you're visiting on a tight budget, I've also got you covered! Read about the best free activities in Leuven here!
Durbuy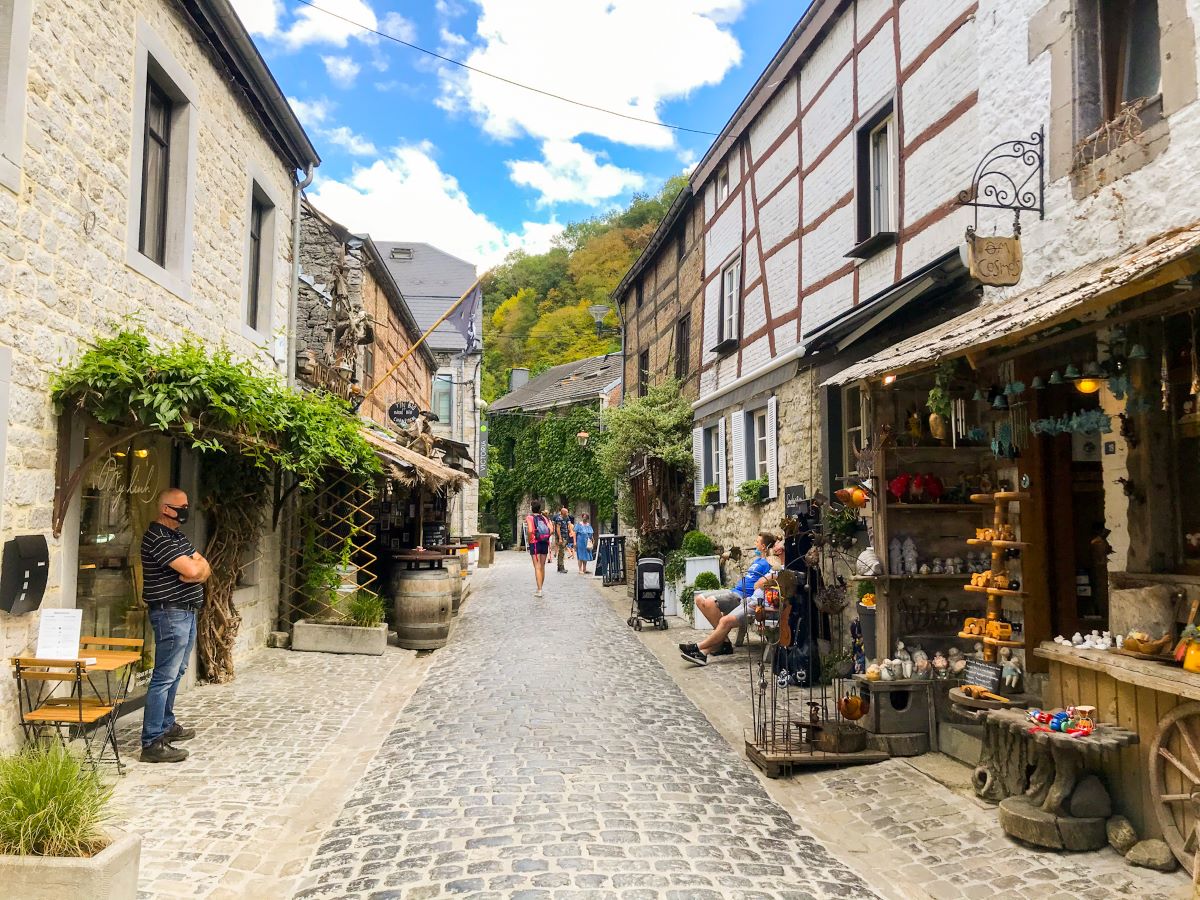 Durbuy is, without doubt, one of the most charming villages of Belgium, and actually the smallest city in the world!
Reaching Durbuy via public transport is not very easy. The nearest train station is Barvaux from where you can take bus 99 to Durbuy (about a 10-minute drive).
Luckily, there are plenty of things to do in and around Durbuy! Take a stroll through the old centre, visit some local shops, take a look at the Anticlinal, go on adventure in the Adventure Valley Challenge park and much more!
For a full guide on Durbuy, check out my blog post about the best activities to do in Durbuy!
Dinant
Ease of access: moderate
Besides Durbuy, Dinant is probably also one of the most charming cities in Belgium! From the train station of Dinant, it's only a 10-minute walk to the city centre, which makes Dinant perfect for a day trip!
Did you know that Dinant was the birthplace of Adolphe Sax? The inventor of the Saxophone? You'll see saxophones everywhere in the city and you can even visit the Adolphe Sax museum!
The most amazing view over the region can be seen when visiting the citadel of Dinant, reachable by stairs or the funicular. Here you'll learn about the role Dinant played during the world wars.
More great activities in the region can be found in my blog post on what to visit on a day trip to Dinant!
Spa
Ease of access: easy
Spa used to be renowed worldwide for its wellness facilities. Ever wondered how we started to use the word 'spa'? Well, it comes from this city!
From the train station of Spa, it's not more than a 10-minute walk to the heart of the city centre. Of course, the number one activity to do in Spa is going to a wellness!
Other great activities in this city include hiking up to the Therms of Spa where you can enjoy a wonderful view of the city, walk around the city and admire the impressive historical buildings or take a visit to its casino!
Parc De Furfooz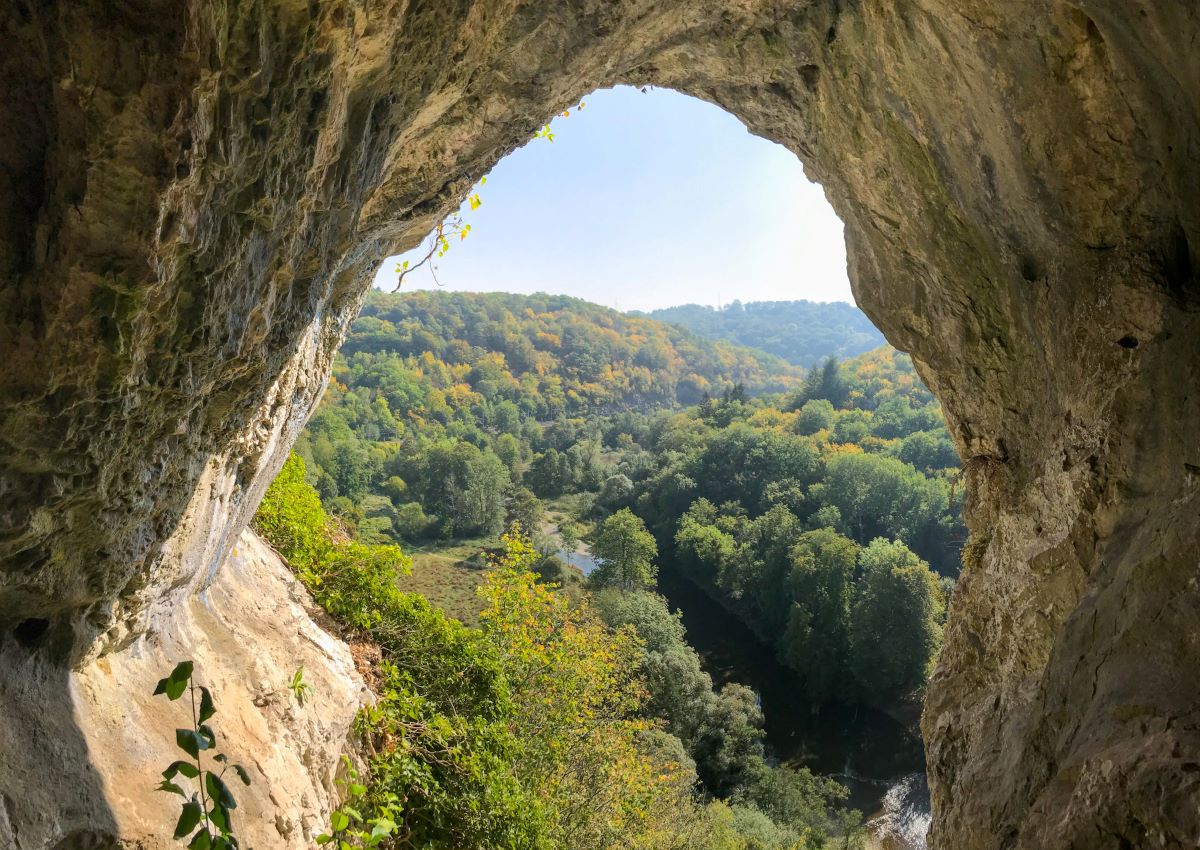 Ease of access: difficult
Parc de Furfooz is one of the most beautiful natural reserves in Belgium! During spring, summer and fall you can come to visit and take a 5 km hike around the domain which will leave you breathless!
Luckily, this wonderful place is also accessible by train, however, only if you are willing to hike a little bit longer. At 2 km of the park, you'll find the train station of Gendron-Celles. Following the river, the Lesse, you should come out at the right location.
Note that if you're looking it up on Google maps, it says that you need to do a 1.5-hour walk to get there, which is NOT true! There is indeed a shorter way. For the exact information, visit the website of Parc de Furfooz.
Related: the best hikes in Belgium that take your breath away
Abbey of Villers-La-Ville
Ease of access: difficult
The abbey of Villers-la-Ville is a wonderful, large and ancient ruin of a more than 1000 years old abbey that can be visited any day of the week. All around the property, you'll find information boards and QR codes to scan for more information.
You'll get here by train through the station of Villers-La-Ville and a 15-minute walk to the entrance of the abbey. As the whole experience is open-air, I'd recommend visiting on a beautiful day and avoid visiting in the rain.
You can walk around for about 2 hours here, and have a drink or snack at the abbey's bistro. If you'd like to make this a day trip, visit the tourist centre and take a look at all the hikes available in the region. From short walks to longer hikes, you'll find them all here!
Practical information
Now that you know where to go by train in Belgium, it is important to know how exactly. In what follows I'm going to explain the ins and outs of the Belgian train system for you!
Buying your train ticket
Buying a train ticket can actually be quite complicated since there are so many options to choose from! Besides a standard ticket (which isn't really cheap) you have many discount tickets for several occasions or groups of people. I'm going to list the important ones you should know about below!
Youth Ticket (-26) – €6.60
Senior Ticket (65+) – €7.20
Youth Multi (-26) – 10 train rides – €53
Standard Multi – 10 train rides – €83
Discovery ticket – for special attractions
Happy Trip – round trip ticket to the coast – €10.90
Kids Ticket – 50% discount for children under 12
You can buy your ticket in multiple ways. Or you download the NMBS app and buy it through the app, or you buy through one of your bank apps (with my KBC app I can buy train tickets directly), or you go to the train station and buy it at one of the ticket vending machines, or you go to one of the humanly staffed ticket boots at the train station to buy it there.
When you buy your ticket take into account that you can buy one for first or second class. I must say that there's not much of a difference between both of them, except that first class costs you more and is generally less busy ;).
It is also possible to take your bike or pet on the train for a little supplement (€8 and €6 respectively). Don't forget to buy this extra ticket for your bike or pet! In case you're taking your bike with you, ask the train conductor where to step on and off.
Do I need to make seat reservations on Belgian trains?
The answer here is very straightforward: no. You don't have to make any reservations on Belgian trains unless of course you're traveling outside of Belgium by train.
How to check the train schedule
Checking the train schedule can be done through the website of the NMBS, but an even more convenient way is to download the nmbs app (can be found in the appstore) and check (plus buy tickets) that way.
Of course, you can also consult the train schedule at the train station itself.
Conclusion
I hope this post gave you enough inspiration and information to successfully plan your trip within Belgium with the train!
If you have any additions to this post, please let me know in the comments! I'd love to include any other wonderful destinations within Belgium that are easy to reach by train!