When you hear the word "Belgium", you might first think of cities as Brussels or Bruges, but actually Belgium also has some pieces of beautiful nature!
If you seek in the right places, hiking in Belgium can be wonderful and the views can be breathtaking. That is if you know where to find the best hiking trails of course!
Luckily, in this post, I'm going to show you the best hikes in Belgium you should definitely consider adding to your Belgian bucket list, because to be honest, they are magnificent!
So without further ado, let me show you the most beautiful hikes in Belgium one by one!
Map with starting points
The best hikes in Belgium
Parc De Furfooz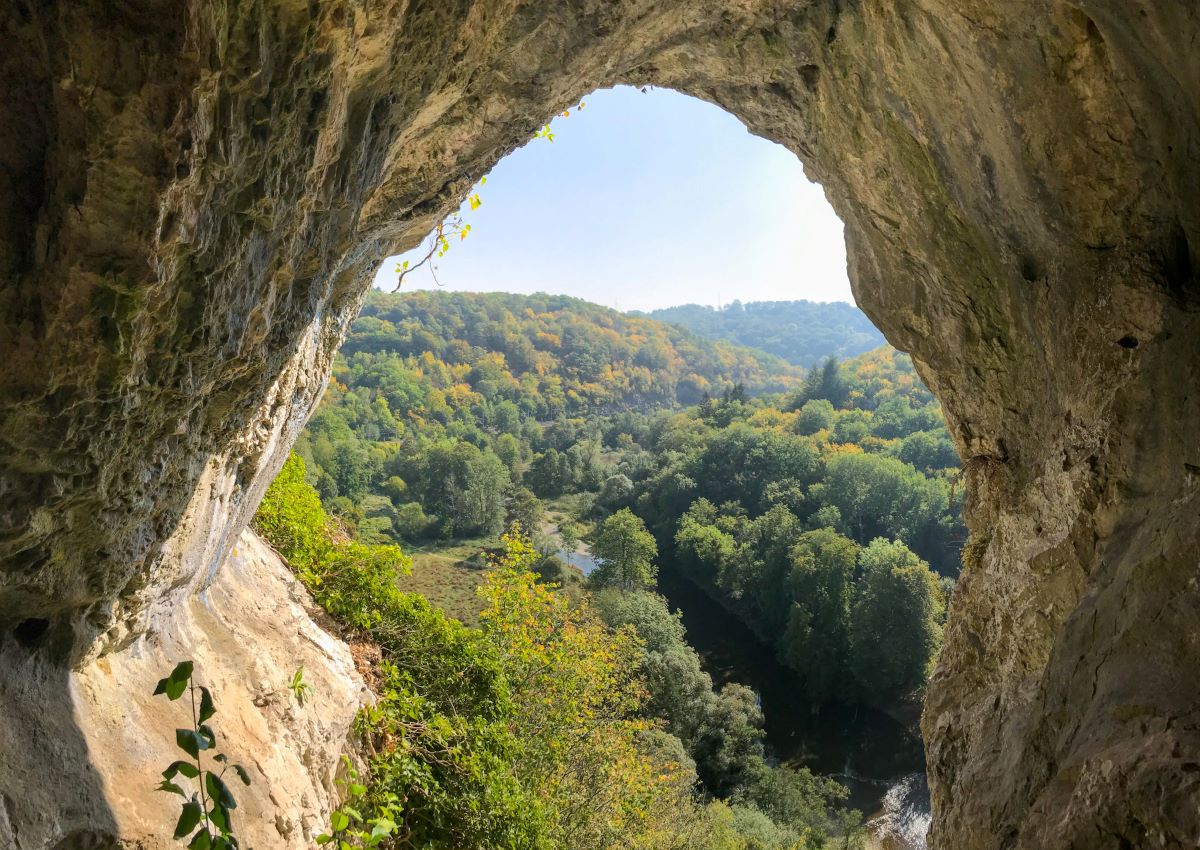 Distance: 4 km
Duration: 1.5 hours
The natural reserve of Furfooz truly is a hidden gem in Belgium. It's one of the many beautiful spots at the river the Lesse, but really stands out thanks to its ancient Roman remnants, prehistorical caves and wonderful views!
This is one of the few hikes in Belgium where you'll need to pay a small entrance fee, as the proceeds go to the maintenance of the park.
The hike is approximately 4 km long and slightly adventurous, although perfectly doable with kids!
Halfway you'll find a small open-air restaurant selling little snacks and beverages which is perfect for a stop at noon! The healthy snacks will give you the energy you need to complete the rest of the hike.
I highly recommend taking a look in all the caves and stopping once in a while to soak up the view!
For more information and opening hours visit the website of the natural reserve. You can also reach this place by train, check out my post about top destinations in Belgium to visit by train for more information!
The lake of Butgenbach
Distance: 10 km
Duration: 3 hours
This hike in Butgenbach will take you all around its beautiful lake, through the forest surrounding it and over the impressive dam holding all the water.
It's truly a very wonderful piece of nature that will leave you breathless several times during the hike!
The hiking trail starts at the Camping of Worriken, where you need to follow the yellow rectangular signs or the larger wooden signs that are (in my experience) a bit more clearly indicated.
Tired of walking? Then you'd maybe love a kayak tour on the lake!
You can find more details about the hike on the website of Butgenbach!
The High Fens
Distance: 5 – 15 km
Duration: 1 – 4 hours
The High Fens (Hoge Venen or Haute Fagnes) is home to many very pretty hikes all starting at the parking lot in front of the entrance of the park.
You'll find here short and easy hikes as well as longer and more intense hikes, a hike for all tastes!
The High Fens is one of the most popular nature reserves in Belgium, and is also the highest point in Belgium where you'll have to most chance to encounter snow in winter. Don't forget to take this into account when planning your visit!
The park can get quite busy so I suggest visiting on weekdays if possible, and outside the school holidays, to have a calmer experience.
I also encourage you to wear very good hiking boots because not all paths will be as solid or dry and you'll sometimes need a bit of creativity!
Castle of Reinhardstein
Distance: 5 km
Duration: 1.5 – 2 hours
Amidst the forest of Waimes, a beautiful castle is hidden in a small valley, protecting it from the eye of many inattentive visitors.
Besides visiting the castle, you can also take a magical hike around it, passing alongside the waterfall of Reinhardstein, with an amazing view of the castle and the valley!
Although this is a beautiful hike, it requires a few leg muscles and a decent condition. The hiking trail goes a bit up and down so it's not the easiest hike but definitely not the most difficult as well.
The hike starts in Robertville, a little town next to Reinhardstein Castle. For more information, take a look at a detailed map of the exact route.
The Valley of Trôs-Maret
Distance: 9.1 km
Duration: 3 hours
This hike in the Trôs-Maret valley is really one of the most beautiful and serene hikes I've made in Belgium. The first part of the hiking trail takes you all through this beautiful forest, alongside a wonderful river. The second part of the hike takes you through a pine forest where you'll get to know more about the preservation of wildlife in the area.
Halfway you'll also encounter a perfect pick nick spot to eat your lunch or a little snack.
If you decide to do this wonderful hike, make sure to look at the demarcation very well! Getting lost in this forest is easier than you think!
Take a look at the exact route here!
Hauteroche castle
Distance: 6 km
Duration: 1.5 hours
Hauteroche Castle is an old ruin of a castle on top of a hill that leaves you with a magnificent view over the region! This hike is going up from the village, Dourbes, all the way to the top, passing alongside the castle.
This is not the easiest hike, as it involves climbing a hill, but definitely a fun one! The castle itself is private property and the ruins are not maintained so be careful around there.
I'm sure you'll enjoy the unspoiled scenery of this beautiful forest!
Take a look at more detailed information.
Val Dieu Abbey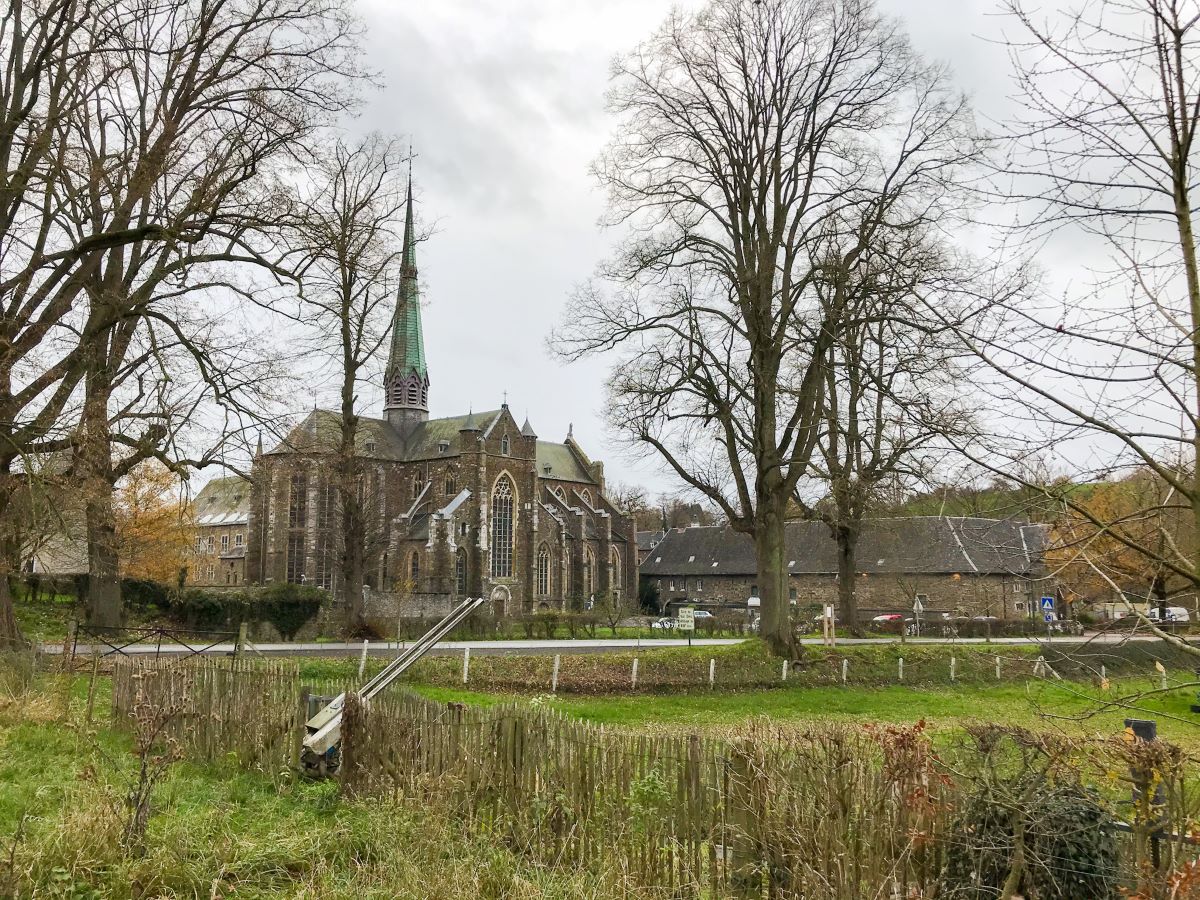 Distance: 10 km
Duration: 2.5 hours
The abbey of Val Dieu is truly a little gem in Wallonia, literally called 'the valley of the devil'. It is located in the village Aubel and has several hikes starting at the entrance of the abbey.
These hikes take you around the valley and show you the region's most beautiful fields and amazing views! Moreover, the abbey is the perfect start and endpoint since you can enjoy a wonderful snack here. Next to the abbey, you can buy local products as well!
To find out which route to hike, take a look at the information board right in front of the abbey and follow the right signals. The routes are very clearly indicated so you won't have any problems finding your way!
Castles of Vêves and Walzin
Distance: 15 km
Duration: 4.5 hours
This hike passes by two of the most magical castles in Belgium!
The castle of Vêves is still in possession of real royalty and can be visited inside. The castle of Walzin is located on top of a cliff with below a rappling creek and grazing cows, is a wonderful sight to see as well!
Don't underestimate hiking up and down the hills in the Belgian Ardennes and also don't forget to bring good hiking boots! Although part of the road is paved, these might come in handy when walking along the river the Lesse.
The starting point for this hike is Gendron station. Take a look at a more detailed map here!
Related: fairytale castles you should visit in Belgium!
Fondry des Chiens
Distance: 4 km
Duration: 1.5 hours
Also called the 'Grand Canyon of Belgium', Fondry des Chiens is one of Belgium's finest hiking spots!
You can pass by this wonder of nature and descend to the bottom of these cliffs, while exploring the nearby forest on your way to it. You'll immediately see why they call it the Grand Canyon of Belgium because these rocks are pretty massive!
Closeby you'll find several lunch spots to have a rest and enjoy this phenomenon of nature.
The starting point for this hike is the church of Nismes, and in the tourist office, you'll be able to find much more information about the region.
Les Deux Ourthes
Distance: 13 km
Duration: min. 4 hours
Starting at the well-known spot, Barrage de Nisramont in Houffalize, this hike takes you all around the lake of Nisramont in 13 km (follow the red triangles).
Everyone who thinks this hike is an easy way to spend your day is mistaken, the many ups and downs will challenge your muscles to the fullest making this a perfect and exhaustive workout! This makes Les Deux Ourthes a hike that is not suited for children, as they will find it too heavy.
Make sure to not forget your hiking boots as you'll face muddy paths, rocky roads and ways that seem so steep that it looks like your climbing instead of walking. Also, don't forget to take some snacks and a lot of water with you. There is no point on the trail where you'll be able to buy something as you'll be hiking in the woods along the lake the entire time!
In summer, this popular spot attracts many people who love to hike, but in winter, it is likely that you won't encounter many souls on your path. Therefore, I would say doing this hike off-season will give you a way better experience!
Tip: you'll end and start at the barrage of Nisramont, the ideal spot for some pictures!
Related: the perfect weekend in Houffalize, Belgium!
Le Hérou
Distance: 3,5 km
Duration: min. 2 hours
This hike called Le Hérou will take you to one of the most spectacular places in Belgium, namely the stone cliffs that run alongside the river Ourthe. Here, you'll be able to stand on the cliffs looking out over the river and surrounding forests, which gives you a magnificent feeling!
However, this hike is one to be careful with. It will take you along the rocks, which you'll need to climb, and the steep cliffs without any sort of protection. Therefore, it's up to you to be careful and make sure you don't slip. Rainy or snowy days are not recommended for this hike!
Unfortunately, deadly accidents have happened in the past, but if you keep a safe distance from the cliffs, you should be fine. This hike is definitely not the easiest one to do, as you'll have to climb a lot and make steep descents.
Hike Le Hérou can be started at parking "près du Belvédère de Nadrin", which can easily be found on Google Maps. Alternatively, you can start from the village of Nadrin make your way to Le Hérou on foot which is a bit of a longer hike.
Make sure to bring good hiking boots that can withstand mud, rocks and water!
Duinbossenwandeling (Dune forests hike)
Distance: 10 km
Duration: 2.5 hours
For a change of scenery, I'll take you with me for the Duinbossen hike! The natural area called Duinbossen (Dune forests) is located in between Wenduine and De Haan at the Belgian coast.
This hike will take you through the forests close to the beach as well as over the beach alongside the waterline for a relaxing and relatively flat hike that is perfect to do with children! Make sure to bring hiking boots that can withstand a decent amount of sand and maybe a little bit of mud from the forest.
Starting at the tram station in De Haan, this hike will show you not only the natural area at the coast but also the Belle Epoque architecture that can be seen everywhere in De Haan. Therefore, this hike might be perfect to combine with a day trip to this town!
Conclusion
These are 12 of the most wonderful hikes in Belgium I personally hiked and approved!
Of course, this is only a tiny bit of all the possible hikes you can do in Belgium. Nevertheless, I'm sure it represents a fine sample of the most beautiful hikes!
If your plan is to go hiking in Belgium, I hope you gained some inspiration here. Don't hesitate to let me know in the comments which of these hikes you liked most!.