Nothing is more charming than strolling around a Christmas market in December! Magical lights, delicious hot chocolate or wine, buying Christmas presents and ice skating. All those things remind me of the Christmas market in Brugge!
The Christmas market in Bruges is definitely one of the prettiest in Belgium! Even without the Christmas market, Bruges is a beautiful medieval city that people call "Venice of the North" because of the canals running through this historical city!
So choosing Brugge's Christmas market for your next trip within Belgium is a wonderful choice! Are you also looking for other winter activities? Take a look at my post about Belgium in winter as well!
But for now, let's discover the Christmas market in Brugge!
GOOD NEWS: the Christmas market is completely back in 2021!
Practicalities
Dates
Every year, you can visit the Christmas market in Bruges from the end of November (usually the last week) until the end of December (usually New Year's Eve). On the first of January the Christmas market will be taken down, so be sure to visit in time!
This year, the Christmas market will be open from November 26 until January 9. It opens daily from 10.30 a.m. until 10 p.m. and 11 on Fridays and Saturdays!
How to get to Brugge
There are several good ways to get to Bruges. If you don't have a car at your disposal the best option is to arrive by train! The train station is located at a 10-minute walk from the city center. Don't forget to enjoy the beautiful architecture while walking!
When you do have a car, you can park it in one of Bruges' many underground parkings. But, on busy days (read Saturdays) these might be full! Luckily, there are free parking spots outside the center as well (only don't forget your parking disc)!
Belgian people love to ride bikes! So if you can get hold of one, this is one of the easiest ways to get into the city center! You can park your bike almost everywhere or in one of the underground bike parkings.
The Christmas market in Bruges
In December, there are several things going on in several places in the center of Bruges. The Christmas market is located in two places: the market place and Simon Stevin square. Plus, there's also a huge Christmas tree standing in De Burg.
The market place
The major part of Brugge's Christmas market is located on the market place. Here you can find many wooden stands selling almost everything Christmas related! My personal favourite is the stand with all the gemstones, the owners will be able to give you thorough explanations about all the stones they sell!
Besides Christmas decorations, you'll be able to enjoy hot drinks and lovely comfort food! And that's the main reason why we visit, right ;)?
Simon Stevin
The other part of the Christmas market is located at the Simon Stevin square not far from the market place. You can find the same wooden stands with even more cute Christmas stuff and good food!
De Burg
Don't forget to also visit De Burg! This is a square just a small street away from the market place where they build a huge Christmas tree every year!
It's funny to see that the decoration within hand reach is almost always gone because apparently people take it home… say what?!
Anyways, visit this square for more Christmas coziness!
An ecological ice rink
Until 2 years ago, Bruges had an ice rink like all the other Christmas markets on the market place. But since Belgian winters are not particularly cold and the ice rink sometimes was more like a water pool, the city decided to go for a much more ecological friendly version!
The new ice rink is made of 'fake ice' which resembles natural ice but you don't need all the expensive and polluting cooling installations. The new ice rink is now normally located at the Minnewaterpark.
Christmas shopping
You can't visit the Christmas market without doing some Christmas shopping, right? Either you look at the most beautiful decorations and Christmas presents at the Christmas market or you enter one of Bruges' many stores for some non-Christmas related shopping!
The main shopping streets in Bruges are the Noordzandstraat and the Steenstraat! They both end up at the market place so you'll be sure to walk past the Christmas market anyway!
Wintergloed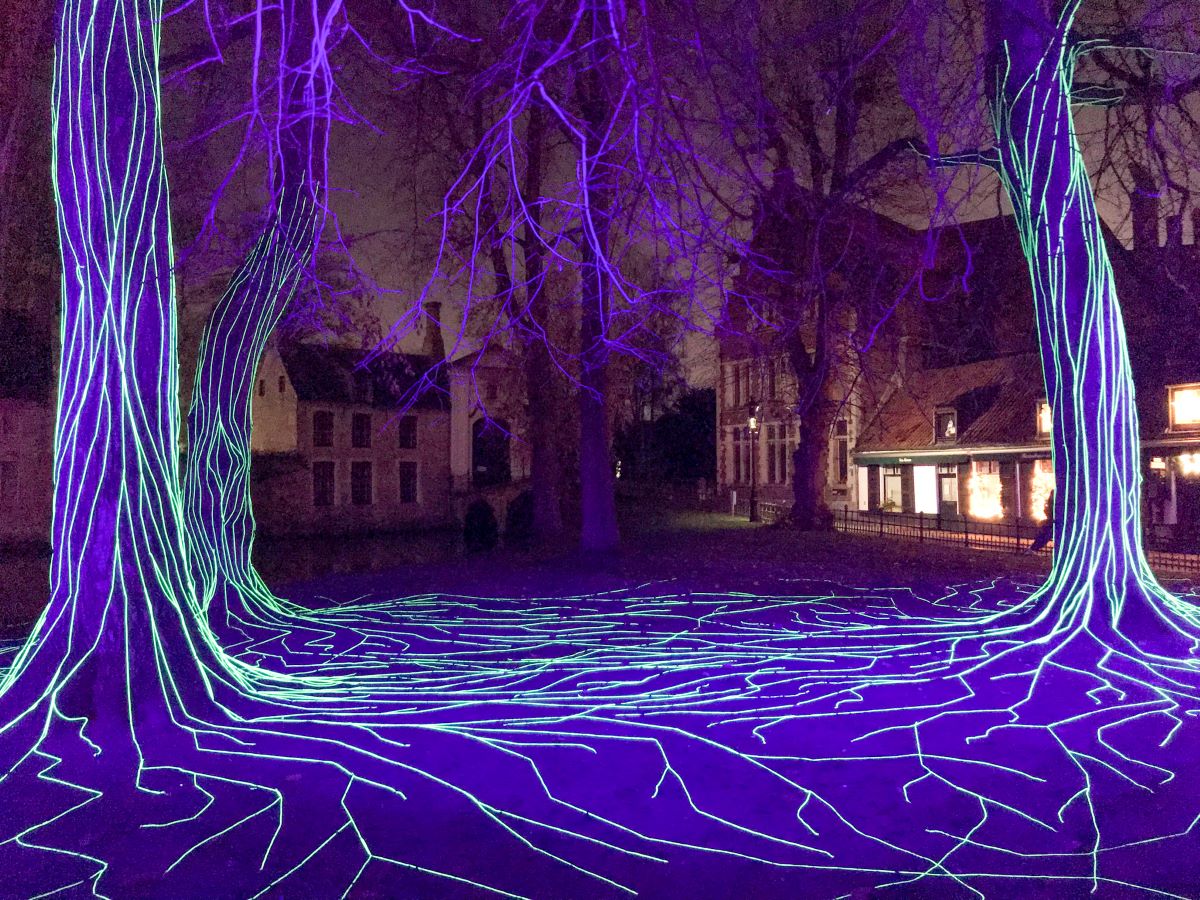 Besides the Christmas market, there is a new initiative called Wintergloed that lights Bruges' most beautiful historical buildings so you can enjoy walking around the city at night!
This year, the light trail can be visited from the 26th of November 2021 until the 9th of January 2022 and runs daily from 15h30 until 00h00!
As all activities are going on as normal again, the light trail is a complement to the existing Christmas market!
Tip: don't forget to download the Wintergloed app which will give you much more information about the light trail and the route so you won't get lost!
Delicacies in Bruges
Belgium is full of delicacies and Bruges is no exception! Taste real Belgium chocolate and waffles, drink an authentic Belgian beer or order delicious fries at the market square!
Below are some places I recommend:
The Chocolate Line – award-winning Belgian pralines
Lizzie's Wafels – delicious Belgian waffles
Le Trappiste – taste all Belgian beers you can imagine
De Halve Maan – take a tour in Bruges most famous brewery
Choco Story – discover how Belgian chocolate is made
Olivier's Chocolate Shop – delicious hot chocolate
Excited to see more in Bruges? Take a look at my blog post for the perfect Bruges itinerary!
Recent changes
Ice sculptures
Until 2 years ago, there used to be an ice sculpture festival at the train station of Brugge. However, since Belgian winters are usually not cold at all and such an installation required a lot of energy and thus caused environmental harm, the city decided to discontinue the ice sculptures.
Not 'Christmas' but 'winter' market
In recent years, there has been much debate about the name of the Christmas market. Because Christmas is a catholic holiday, some people saw the name 'Christmas market' as discriminatory for other cultures. Therefore, the city decided to not go with the name 'Christmas market' anymore but 'winter market'.
Good idea or not? What do you think?
COVID-19
As I mentioned before, due to COVID-19, there is no Christmas or winter market in 2020. Instead, there is a light trail you can follow through the city! I can tell from experience that this is certainly worth a visit!
Since this is all in open-air there is not much of a risk to catch the virus. You'll be able to keep your distance from others. However, I must advise you to visit on a weekday instead of during the weekend, because it can get quite busy! Also, consider visiting at night instead of 5 p.m.!
UPDATE: the Christmas market is open again in 2021!
Staying in Bruges
There are numerous options if you want to stay the night in Bruges. Brugge has a range of hotels for everyone! It is home to hostels as well as five-star hotels so whatever you like, you'll find it here!
I personally love to book an Airbnb when going on vacation somewhere! Take a look at some Airbnbs in Brugge below!
Conclusion
The Christmas market in Bruges, Belgium, is something you really can't miss during winter! Bruges is one of the coziest cities in Belgium and the Christmas market only adds to that atmosphere!
In my personal opinion, this is also the perfect romantic getaway for couples! If you want to visit more in Bruges, take a look at my post about the perfect Bruges itinerary!
Also looking for a place to stay? Discover the 5 most stunning Airbnbs in Bruges!
Are you spending more time in Belgium, but do you still not have a clue what to visit more? Take a look at my post about winter in Belgium!