Is there a more magical season to visit Europe than winter? I bet not!
Cobblestone streets covered with a thin layer of snow, the smell of mulled wine at cosy Christmas markets and cities lighting up in the evening with numerous lights… it's all part of the winter experience you can find here!
But what is the best place for a winter city break in Europe?
In this article, several experienced travel bloggers will recommend the most unique winter city breaks they experienced in Europe!
Whether you prefer a snowy winter holiday in the north or a mild winter holiday in the south, I'm sure you'll find your preferred city break below! I really hope you can use this guide to plan your trip this December, January, February or even March!
Let's dive into it!
This post contains affiliate links. When you purchase through one of my links I get a small commission (at no extra cost to you). Read more in my Disclosure Policy.
26 amazing European winter city breaks
Helsinki, Finland
Contributed by Kenny from Knycx Journeying 
Compact, cultural, and clean are a few keywords that are often used to describe the capital of Finland, Helsinki. Helsinki is the best city to visit in winter in Europe because the city has quite a lot to explore in the snow.  
The city is a travel hub that connects the world to Lapland in the Arctic Circle for incredible northern lights viewing, but it is also located between Saint Petersburg, Tallinn, and Stockholm if you fancy a cruise vacation.
If you decide to stay in the city for a few days, it is easy to get around the city center on foot or by tram and visit a number of world-class museums like the Design Museum in the design district, Ateneum, Kiasma, and the National Museum.  
The Helsinki Cathedral is an eye-catching landmark in Senate Square, where you can also have a taste of local food and buy souvenirs at the Christmas Markets on Aleksanterinkatu. The Temppeliaukio Kirkko is a unique architecture as it is a Lutheran Church carved into solid granite.
The SkyWheel Helsinki is an observation Ferris wheel featuring a SkySauna – the first of its kind in the world. But of course, there are also a number of Finnish Sauna Center in the city for you to get warmed up.
If the cold doesn't bother you, take a ferry and sail across the frozen harbor to Suomenlinna, an important heritage site of Finland where you could learn about the history of Finnish's struggle between the two Baltic giants, the Swedish and Russian since the 18th century. 
Hotel recommendation: Bob W City Centre, a stylish home-style accommodation within 10-min walking distance from the Helsinki Central Station, and its one-bedroom apartment has a terrace, full-function kitchen, and in-house sauna – all at a very valuable price.
Related: Visiting Helsinki in 24 hours
Venice, Italy
Contributed by Kat from Biker Girl Life
If you're looking for a magical winter city break, head to Venice in Italy. Yes, it's commonly referred to as one of the most touristed cities in the world, with an estimated 26 million visitors a year but, in winter, with the temperatures at their lowest, it starts to become less like a hornet's nest and a fight to see anything, and more like a local city you can enjoy quietly strolling around and exploring.
Sure, the weather in winter is not at its best. Average temperatures in December are around 9 degrees C and there's a very strong likelihood of rain. Taking your own vehicle is the best plan, as it gives you the freedom to move around, but if you're driving or motorcycling in Italy, you'll definitely want to wear your thermals and have good tyres.
Three days is a perfect length for your first Venice trip, although there is more than enough to keep you busy for a week. Don't miss the main attractions of St Mark's Piazza, the Basilica, the Doge's Palace and the Campanile – all are essential for the first time tourist. 
If you have time, you can enjoy a day trip to the islands of Murano – famous for glass blowing; Burano – famous for lace making and colourful houses; and Torcello – the oldest island in the lagoon. 
You can still enjoy a vaporetto (water taxi) up the Grand Canal in winter and you may even brave a Gondola ride- just wrap up warm. Sure, expensive and a bit cliché, but everyone should try it once. 
Hotel recommendation: Ca'Riza, a cosy and affordable family-owned hotel in true Venetian style.
Related: Your magical 2 days in Venice itinerary
Bratislava, Slovakia
Contributed by Martina from PlacesofJuma
A really nice destination, for a city break in Europe in winter, is definitely Bratislava! Especially during the cold season of the year and Christmas time, the capital of Slovakia is a real insider tip. The old town shines beautifully in colourful lighting and there are also really romantic winter markets to discover.
In winter, you can enjoy many local specialties at the street food stands in the city. There is really delicious food, sweet treats and tasty hot drinks. Tourists and locals meet at the winter markets to drink mulled wine and enjoy the unique atmosphere of Bratislava in winter.
Be sure to try Loksa, a savory pancake, or even better the traditional Strudl, a crispy cake with apple and raisin filling. The best accompaniment is a mulled wine made from the regional red wine of the region!
Plus, there are plenty of other great things to do on a winter city break to Bratislava! Take a walk along the Danube and marvel at the breathtaking flair in winter. If you're lucky, there might even be snow! The best view of the city you have from the UFO, a viewing platform directly on the Danube that also opens in winter.
Beautiful and a real highlight, however, is the Old Town, where you will find the famous statues of Bratislava! Very worth seeing is the Bratislava Castle, a beautiful white historical castle with a beautiful garden and a fantastic view of the city.
Hotel recommendation: The Grand Hotel River Park, with an amazing breakfast buffet and spa area.
Krakow, Poland
Contributed by Karolina & Patryk from Lazy Travel Blog
Krakow is one of the best winter destinations to visit in Europe! Why? It's the most popular city to visit in Poland, so it's getting pretty crowded during the summer. In the winter, fewer tourists are traveling to the city, that's why all the attractions and restaurants are accessible. You will not be forced to wait in long lines to try the delicious Polish food.
Krakow has an international airport (Balice), so it's easy to fly there from most of the places in Europe. If you are visiting the city during Christmas time, you will have a chance to see the Christmas Market that is happening on the market square every December!
Apart from visiting museums, such as Auschwitz Concentration Camp, you may take a day trip to Zakopane that is considered the winter capital of Poland. It's where you can go skiing or warm yourself up in one of the thermal pools.
The best place to stay in Krakow is in the Rynek or Kazimierz area. Both districts are in the heart of the city, so you will be able to walk to most of the tourist attractions.
York, UK
Contributed by Sinead from York with kids
The City of York in northern England makes an ideal winter city break as most of York's principal attractions are indoors. Take a tour of York Minster, the largest gothic cathedral in northern Europe, explore York Castle Museum or learn about York's Viking past at the Jorvik Centre.
Visit one of the city's historic houses such as the medieval Barley Hall, Georgian era Fairfax House or the 18th-century Mansion House. Warm-up with an afternoon tea at Betty's Tea Rooms, a 100-year-old tea room in the centre of York or a hot chocolate at York Cocoa House.
Plus, the early winter nights offer visitors the opportunity to take an atmospheric guided ghost walk around the dark city streets. If you visit York in the festive season, you can enjoy the six week-long St Nicholas Fair held annually in the city centre's pedestrianised streets or in February, the city hosts an ice sculpture trail as well as a rousing Viking festival.
York is two hours from London by train and one hour by car from the nearest airport, Leeds Bradford International. There are lots of character packed hotels in York ideal for a cosy winter break such as Dean Court Hotel, directly opposite York Minster or the opulent The Grand Hotel. 
Reykjavik, Iceland
Contributed by Pamela from The Directionally Challenged Traveler
One of the best winter city breaks in Europe is the picturesque Reykjavik. While most would skip over this city because of the weather, all you really need is an extra layer. The northernmost capital in the world is a wonderful blend of city and nature not to be missed.
The most important thing to remember when visiting Reykjavik in winter is that the daytime is very limited. Planning ahead to make sure that you see nature during the sunlight is important.
However, this limited sun means it is a great time to go searching for the Northern Lights. Not far from Reykjavik is the Grotta Nature Reserve on Seltjarnarnes is where locals and tourists alike bundle up to watch the sky light up!
Even if you don't get to see the Northern Lights, there are plenty of ways to spend a few days in Reykjavik including whale watching, touring the famous Golden Circle, warming up in a hot spring, or even going inside the Raufarholshellir Lava Tunnel! Taste the world-famous hot dog at Baejarins Beztu Pylsur (literally translated to Best Hot Dogs in Town" and wash it down with some Brennivin, the local drink.
Reykjavik is a perfect European city break – just be sure to pack a windproof jacket!
Hotel recommendation: Fosshotel Reykjavik, within walking distance of downtown Reykjavik, making it a great accommodation to explore the city from!
Lisbon, Portugal
 Contributed by Nichola from Global Mouse Travels
Lisbon is the perfect city for a winter break as the hordes of tourists will have left but the sun (for the most part) won't have. There's few places in Europe guaranteed winter sun but in Lisbon you have a good chance of it being bright and it's warmer than many of the other European cities (including Naples, Barcelona and Athens).
It's a city that is best explored on foot so bring a good pair of walking shoes. Hike your way up to the São Jorge Castle for amazing views across the city (be sure to book tickets in advance, even in winter).
If you're on a family holiday to Portugal then make sure you visit the Oceanário de Lisboa, the largest indoor aquarium in Europe with its wonderful selection of fish in some spectacular tanks.
No trip to Portugal's capital would be complete without regular stop offs for pastel de nata, the delicious custard tarts this city is famous for. To learn all about the city's history then don't miss The Story Centre, set in the beautiful Praça do Comércio which is well worth a visit in its own right.
Lisbon is beautiful in every season but in winter the light on the stonework just glows and you'll have all the time to appreciate it with the crowds of tourists absent. Stay right in the historic centre at the Corpo Santo Hotel which is perfect to wander out from and with a fantastic breakfast to set you up for a day exploring.
Related: 19 famous landmarks in Portugal you should visit!
Luxembourg City, Luxembourg
Contributed by Zoe from Together In Transit
One destination that is a pretty location for a winter city break in Europe is Luxembourg. The country of Luxembourg is a great place because of the city activities and beautiful surrounding nature areas, perfect for those snowy days. You can visit easily by flying to Luxembourg Airport, else to drive there from either Belgium, Germany or France. 
For Luxembourg winter activities, there are usually lots of events leading up to Christmas, such as live music, special exhibitions at the local museums and fun meet ups for expats and locals. Close to Christmas you can also find an ice rink and city walk tours to learn more about the city. If none of these are for you, Luxembourg city is perfect for shopping, as the city center is car-free. You can find the top shops you are used to, as well as lots of little local boutiques.
Once you have shopped and enjoyed the city, find a local restaurant to relax with a warm wintery drink. Many restaurants within the city center also provide cosy seating areas with heaters and blankets, allowing you to sit outside and enjoy the wintery atmosphere. 
For a place to stay, find yourself checking in to the Sofitel Luxembourg Le Grand Ducal. Here you can enjoy a view of the city from the local bar, sleep comfy with their soft sheets and relax with a hot shower after the cold long day exploring. 
Top tip during a visit, take the free lift down to the Grund neighbourhood. Here you can find lots of cute restaurants and bars for a bite to eat or drink, as well as live jazz music often played at weekends. It's also a pretty neighbourhood for your photos! 
Warsaw, Poland
Contributed by Bec from Wyld Family Travel
Warsaw is a beautiful city to visit in any season but it is in winter that it absolutely comes alive and has to be one of the very best places to visit in Europe for winter. There are so many things to do in Warsaw that your time will be filled with a plethora of different activities as well as sampling all of the food!
While the weather will be cold it is an easy city to navigate and get around especially the Old Town area. Here you will find many of the Christmas festivities if you arrive before Christmas. There are ice skating rinks, little markets and the most stunning Christmas lights display that weaves its way through the old town area and out to the Wilanow Palace. The lights are something even Santa would be amazed at! 
Warsaw was nearly completely levelled by the Nazi Army in WW2 and little of the original buildings still remain but over the years much of the Old Town area has been rebuilt to match what it would have looked like before being destroyed. Just wandering the area is a beautiful way to pass some time. 
Inside activities such as a visit to the amazing reconstructed Royal Palace or a Chopin concert are a great option for a winter break in Warsaw. To find out more about what happened to Poland during the Second World War you can also visit the Warsaw Uprising Museum or take in views of the new part of Warsaw from the Warsaw Culture and Science Palace. 
The hearty winter food such as Goulash and Pierogi will definitely keep you filled up for your time in Warsaw. If you are looking for a snack on the run you can try some Zapikanka or some Gofry but never fear if you are still craving ice cream in the cold weather there is plenty of Lody stands ready to get you one!
Warsaw is easily reached by new highways that the E.U funded from Eastern countries such as Germany and the Czech Republic. Budget airlines like Easyjet fly into the Warsaw Chopin Airport daily from most major European hubs. If you are looking for a great place to stay in the Old Town area the Dream Hostel offers budget accommodation as well as rooms for couples with private bathrooms.
Marseille, France
Contributed by Elisa from France Bucket List
Marseille, in Southern France, is an excellent destination for a winter city break in Europe. It never gets too cold on the Mediterranean coast, and the city enjoys over 300 days of sunshine a year, also in wintertime!
Apart from the mild temperatures and the much-needed vitamin C, Marseille is a cultural city with many interesting museums and sights. The list of top things to do in Marseille includes the MuCEM (Museum of Civilizations of Europe and the Mediterranean), the Old Port, the historical neighborhood of Le Panier, the Cathedral, and the Basilica of Notre Dame de la Garde, which overlooks the city and the Mediterranean Sea from the top of a hill.
As the capital of Provence, Marseille is also a great place to taste delicious regional food. The typical dish in Marseille is the bouillabaisse – made with several kinds of fish -, and there are also other delicacies based on fish and seasonal vegetables. 
Being the second most important city in France, Marseille is easy to reach by plane and fast train. A train journey from Paris to Marseille only lasts three hours!
For a weekend getaway to Marseille, I recommend staying central. Hotel la Résidence du Vieux Port has the perfect location right on the Old Port banks and the perfect view. 
Belfast, Northern Ireland
Contributed by Allan Wilson from It's Sometimes Sunny in Bangor   
Belfast never did have the best reputation as a tourist destination, partly to do with its chequered history with the conflicts in Northern Ireland. But after these post-troubled days the city has developed into one of the most welcoming and exciting cities for a quick break in Europe. 
Winter time would also be the better time to visit when the city centre is dressed in Christmas baubles and the central shopping streets are bustling through the festive season. It is also a destination easy to cover on foot alone with tourist attractions in Belfast all within walking distance of each other.
During the winter, the Belfast Christmas Market is central to the season's festivities in very centre of the city where it's found beneath the rather majestic backdrop of Belfast City Hall. There are also great views of the market from above at the Grand Central Hotel.
Otherwise much of the charm in Belfast is indoors with the many traditional pubs and bars dotted through the city centre, and a great place to join the craic (banter) with locals is in the pubs around the cobbled streets of the Cathedral Quarter. 
Amsterdam, Netherlands
Contributed by Mal from Raw Mal Roams 
One of the most beautiful cities in Europe – the Dutch capital city of Amsterdam is also the perfect winter destination for a weekend away. Amsterdam is great to visit, particularly in the winter months, for many exciting events that take place in the city.
If you visit in December, you will be able to enjoy a myriad of Christmas markets, ice rings and winter wonderlands around the city. Stroll around Ice Village Amsterdam in Museumplein for tasty treats, colourful handmade crafts, and an ice rink in the middle with twinkling lights. If you're an environmentalist, check out the Pure Winter Markt for natural beauty products and healthy bites. And if you're after a more local experience, visit the floating Christmas Market situated in Leiden, 40 minutes away from Amsterdam. 
For the adventure and winter sports enthusiasts, RAI Centre transforms into a winter wonderland with sledging, skiing and snow tubing every December. There is also a Light Festival and Tulip Day during December and January that are super interesting to explore. 
Even if you don't visit Amsterdam during the festival, don't worry, you still have plenty to do during the winter months. Apart from the stunning city architecture, picturesque canals and townhouse, Amsterdam has excellent museums, including the Van Gogh Museum and Rijksmuseum, home to some of the most precious Dutch treasures.  
Split, Croatia
Contributed by Daria from The Discovery Nut
The second largest city in Croatia, Split is a popular summer destination and a gateway to some of the most popular islands in the country.
While summer sees the most tourists in Split, winter is a great time if you are looking for a nice quiet atmosphere, fewer crowds and lower prices on tours and accommodations. 
If you do a quick research, you will find out that most blogs and guidebooks recommend visiting the Dalmatian Coast in summer when temperatures are warmer. But luckily, Split has enough things to do in winter, and with mild enough temperatures, you can still spend time outside.
Take a walk around the city's historic Old Town, get a tour of the Diocletian Palace, climb the Klis Firtress just outside of the city or take a bus trip to historic Trogir – these are just some of the things you can do in Split during winter.
Another option is to take a day trip to islands Brac and Hvar. One of the things to keep in mind is the limited number of ferries that run between Split and some of the most popular islands due to limited demand.
Another consideration is the weather in Split during winter. While snow is rare, December and January see a considerable amount of precipitation. Additionally, flights from European countries are limited because of limited demand. Still, Split is a wonderful place to visit in winter if you want to see this popular destination without crowds.
Český Krumlov, Czechia
Contributed by Cosette from KarsTravels
Český Krumlov is mostly visited in summer time, but is magical in winter time. The city is beautiful covered in a layer of snow.
Český Krumlov is in South Bohemia in the West of Czechia. The city is on the UNESCO World Heritage list because of its medieval street plan with over 300 historical buildings in Baroque, Renaissance and Gothic architecture. And because Český Krumlov has the second largest castle of Czechia. The river Vltava meanders through the city, which was founded in the 13th century.
Climb up the tower of the castle, as you'll have perfect views! The castle itself is closed in winter time. Wander around the medieval streets and cozy up in one of the many restaurants with a traditional Czech dish. Visit one of the many museums, such as the Egon Schiele museum or the Regional museum.
By car Český Krumlov is 2 hours driving, with RegioJet almost 3 hours from Prague. Pension Rosa is in the old town and perfect for a stay in the city. If you want to enjoy skiing and ice skating, then stay at Lipno nad Vltavou, just 30 kilometers away.
Strasbourg, France
Also called 'The Capital of Christmas' Strasbourg is a city that cannot be missed on your winter bucket list! During the month of December, the city features one of the largest Christmas markets in Europe, with magnificent decorations, stands in different locations and delicious local snacks!
If you had to choose one month, I'd definitely recommend visiting Strasbourg in December, although there is plenty to do in the other months as well! When in Strasbourg, make sure to stroll around the cute neighbourhood Petite France, stand on top of Barrage Vauban, admire the wonderful architecture of the German neighbourhood, Neustadt, and of course take a look inside the awe-dropping cathedral!
You can easily get to Strasbourg by train or by car and once visiting the city, you can make use of the metro system or walk most of the time. To stay, I'd highly recommend Okko Hotels, with their modern concept (and free snacks) they definitely convinced me to come back!
Related: Travel guide to visit Strasbourg in December
Vienna, Austria
Contributed by Nadine from Le Long Weekend
The Austrian capital is the ideal place to take a winter break. In fact, it could be argued that the cooler months are the best time to visit Vienna! Think cozy cake houses, fascinating museums, beautiful window displays, Opera houses, winter gardens, grand palaces, and of course, the famed Vienna Christmas markets.
It does get chilly in winter, so wrap up warm, but don't let the low temps deter you from discovering all that the city has to offer. Vienna is a wonderfully walkable city, and when you get tired of pounding the pavement, the public transport system is easy enough to navigate too.
Be sure to take a visit to the tropical butterfly house, take a picture of the iconic 'bow building' (Cartier), fill up on cake and coffee at one of the famous Vienese cafes, climb (or take the elevator!) to the top of St. Stephen's Cathedral, and take a visit to the magnificent Schönbrunn Palace.
Vienna is well connected with Europe, and getting to the city centre from the airport is easy via the train. For a central stay close to everything, you can't go wrong with Boutique Hotel am Stephansplatz.
Granada, Spain
Contributed by Linn Haglund from Andalucia Hiking
Granada in southern Spain is a wonderful winter escapade where you can mix culture and history with skiing at the southern-most ski resort in Europe, Sierra Nevada. It actually has one of the longest seasons too, from snowfall starts, usually in November, until April.
There are beginner slopes and the possibility to take classes if you are new to skiing, but the highest slopes run down the second-highest peak in Sierra Nevada, Pico Veleta.
But even with snow in the high sierra, you can enjoy lovely hiking routes like Ruta de Los Cahorros in Monachil, taking you across exciting hanging bridges, past waterfalls, and through a narrow canyon.
The old town of Granada itself, however, has more than enough to offer too. The winter months are perfect to wander the cobblestoned streets looking for tapas. The views of the Alhambra fortress are spectacular with the backdrop of the snowcapped Sierra Nevada mountains. Make sure you spend a day visiting the fortress, palace, and gardens before you attack the rest of the attractions in the city.
If you happen to be there for New Year, make sure you buy 12 grapes and head to Plaza del Carmen for the countdown to midnight (where you eat one grape every second until midnight) to enjoy the party!
Hotel recommendation: Palacio de Santa Inés
Prague, Czechia
Contributed by Claire from Tales of a Backpacker
The winter is a special time to visit Prague. Although it is a wonderful city at any time of year, in winter the crowds dwindle and the prices drop (outside of peak holiday dates), making Prague much cheaper and enjoyable than during the summer.
Be sure to wrap up warm though, as temperatures often drop below zero and snow isn't unusual.  If you do get snow, the white blanket makes Prague even more beautiful – as long as you are prepared for it.
Christmas markets are in full swing from early December through to the beginning of January, around the Castle and in the squares around the city including Old Town Square and Wenceslas Square. You can also find stalls with warming and delicious food and drink like steaming hot goulash or the touristy chimney cake filled with Nutella and cream.
As for things to do in Prague in the winter, head to Charles Bridge first thing in the morning, then walk up to the Castle. Stroll around the Old Town, and don't miss the Astronomical Clock or the panoramic views from the Old Town Clock Tower. If the weather turns you can make the most of Prague's wonderful array of museums – there is something for everyone here from the National Gallery to the Beer Museum.
Stay in the Old Town to be close to the action, where you can step out of the front door and be surrounded by beautiful architecture.
London, UK
Contributed by Dymphe of Dym Abroad
One of the best winter city breaks in Europe is one to the city of London. Winter in London is amazing because there are many winter activities and other things related to the holidays.
One of the best things to do in London during winter is visiting Winter Wonderland in Hyde Park. This is a large winter festival where you can have a lot of fun with all kinds of attractions, rides and stalls.
Moreover, there are lots of Christmas markets all throughout the city. Besides that, you find many ice skating rinks in the city. For example, one of these is in front of the Natural History Museum and it features a large Christmas tree in the middle of the ice skating rink. Also, you can go ice skating at Somerset House.
Another reason why London is amazing during winter is because of all the Christmas decorations you find in the city. Many streets feature thousands of lights that get you into the holiday mood. For example, Leadenhall Market is a lovely place with a large Christmas tree, and this is also one of the most photogenic places in London. Also, there are many stores and other venues in the city that have special Christmas displays that are wonderful to see.
One of the best places to stay in London during winter is Shangri-La The Shard, which is a hotel in the tallest building of London from where you can have a beautiful view of the city, especially when it snows in the city.
Berlin, Germany
Contributed by Sydney Richardson from A World In Reach
Germany's capital and largest city, Berlin, is a wonderful city to visit at any time of the year, but is especially wonderful to visit during winter.
One of the best times to visit Berlin in the winter is around Christmas and New Year's. Berlin has several different Christmas markets that pop up around the end of November and last through the beginning of January. These markets are the perfect place to enjoy a mug of glühwein and shop for souvenirs.
Berlin is also one of the best cities in Europe to celebrate New Year's Eve. You can ring in the New Year at one of the many parties throughout the city, including the city's official street party at Brandenburg Gate. Fireworks are a main attraction during New Year's Eve in Berlin – they go off all over town once the clock strikes 12.
If you're visiting Berlin in the winter and need to warm up with an indoor activity, check out one of the city's museums. Berlin is home to some of the best museums in the world. In between indoor activities, don't miss checking out some of Berlin's other famous landmarks like Brandenburg Gate, Checkpoint Charlie, and the East Side Gallery.
There are tons of great hotels and hostels in Berlin. Kreuzberg is a great area to stay – there are lots of local restaurants and you're a short train ride away from the city's top attractions.
Edinburgh, UK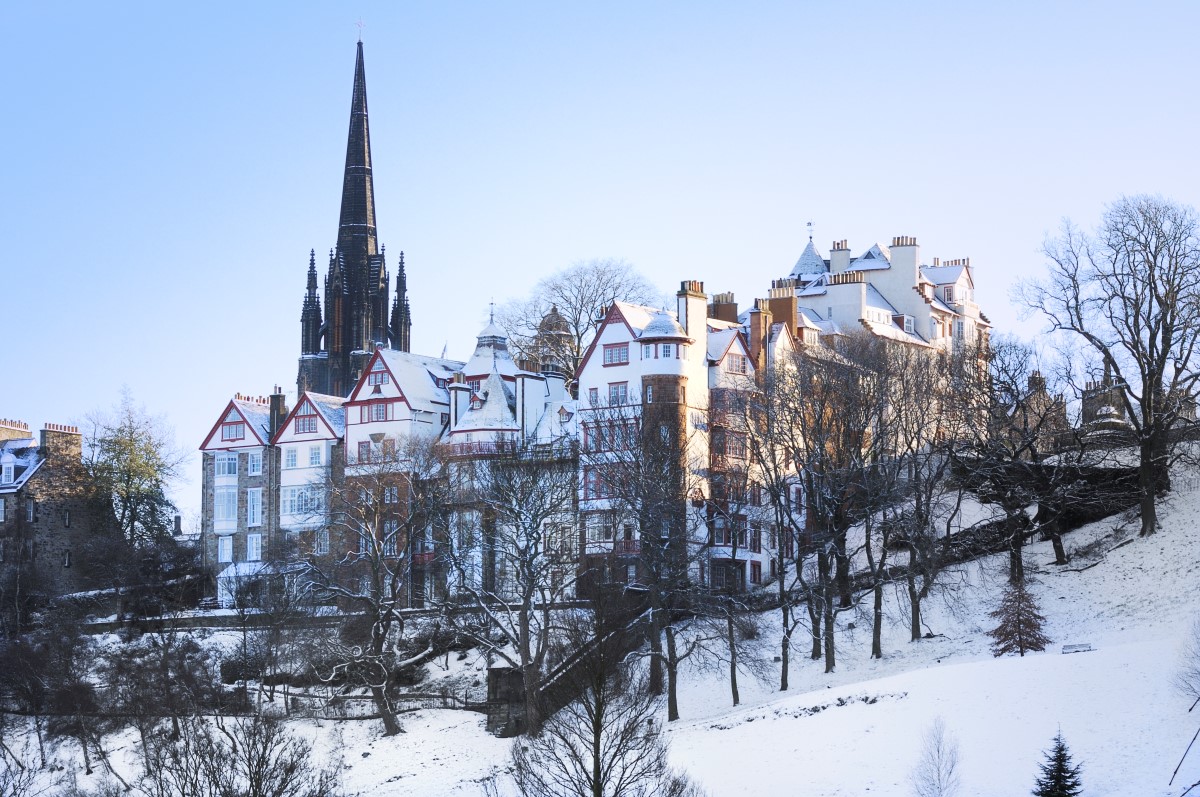 Contributed by Gemma from Everything Edinburgh
If shopping, socialising and skiing are on your itinerary this winter, head to Scotland's capital, Edinburgh. Yes! You can ski just outside of the city but more about shopping and socialising first. 
You'll find brands along Princes Street, in the shiny new St James Quarter and at the city's shopping centres, Ocean Terminal and Fort Kinnaird. If you prefer to shop local, head to Cockburn (Co-burn) Street, Bruntsfield Place, Stockbridge and Leith for jewellery, clothes, upholstery and crafts. 
Suppose you're looking for Edinburgh gifts guaranteed to be made by local creators? In that case, you can trust the Leith Collective in Ocean Terminal, right next to the floating palace and attraction, the Royal Yacht Britannia. A possible morning sorted? 
You'll know how good the Scots are at partying, so you won't be surprised to hear that Edinburgh has pubs to cater to every socialising style. Fancy a drink in a festive bar? The Dome is your number one choice. Need a hot toddy to warm up? Albanach will sort you out. What about cocktails with views over the Christmas market? Check out Nor Loft at Market Street Hotel or Juniper Edinburgh at Hotel Indigo, both of which you can stay at.
So what about this elusive skiing. It doesn't snow well enough consistently for decent ski seasons in Scotland, but there is a dry slope just outside the city where you can hire gear and ski with views over the city. 
Bruges, Belgium
Bruges is without doubt one of the most romantic cities in Europe, and that's especially true in winter when the city is beautifully decorated with numerous cosy lights.
Every year around Christmas, a wonderful Christmas market is organised including a light festival and ice rink! Following a light trail, you can admire the most beautiful historic buildings in Bruges while sipping from a hot chocolate and eating a Belgian waffle!
When in Bruges, you should definitely take your time to go on a boat ride on one of the canals, climb the belfry to view Bruges from above and taste different kinds of beers in one of the city's beer cellars!
Easily get to Bruges by direct train from Brussels airport or by car parking at one of the underground parking lots. To explore the city, you won't need anything else than your feet!
To stay in Brugge, I would definitely recommend the many boutique hotels in the city or to rent one of the most beautiful Airbnbs in Bruges!
Related: Bruges Christmas market guide
Lucerne, Switzerland
Contributed by Alyse from The Invisible Tourist
Cobbled streets lined with medieval architecture, stunning natural scenery and even a legend about a mountain dragon, the inspiring city of Lucerne is a perfect winter city break in Europe and a must to include on any Switzerland itinerary.
While summer seems like the obvious time to visit Lucerne, a winter wonderland awaits during the colder months, creating its own magic. The biggest benefit of visiting in winter is fewer tourists in the Old Town, as most visitors are up in the ski fields. Enjoy the countless cafes, little boutiques and gorgeous painted façades dating back to the Middle Ages without the crowds.
No visit to Lucerne is complete without a visit to nearby Mt Pilatus that overlooks the town below. It's an unforgettable experience to witness the green hillside gradually transition into what looks like a greyscale painting during the cable car ride to the summit. Allow your breath to be taken away on a clear day by the view from the summit, even enjoy a hot chocolate or meal at the cafe whilst you're there!
It's possible to stay at the summit of Mt Pilatus itself, although I'd recommend staying in Hotel des Balances centrally located in the Old Town, where it's effortless to explore the city on foot.
Funchal, Madeira, Portugal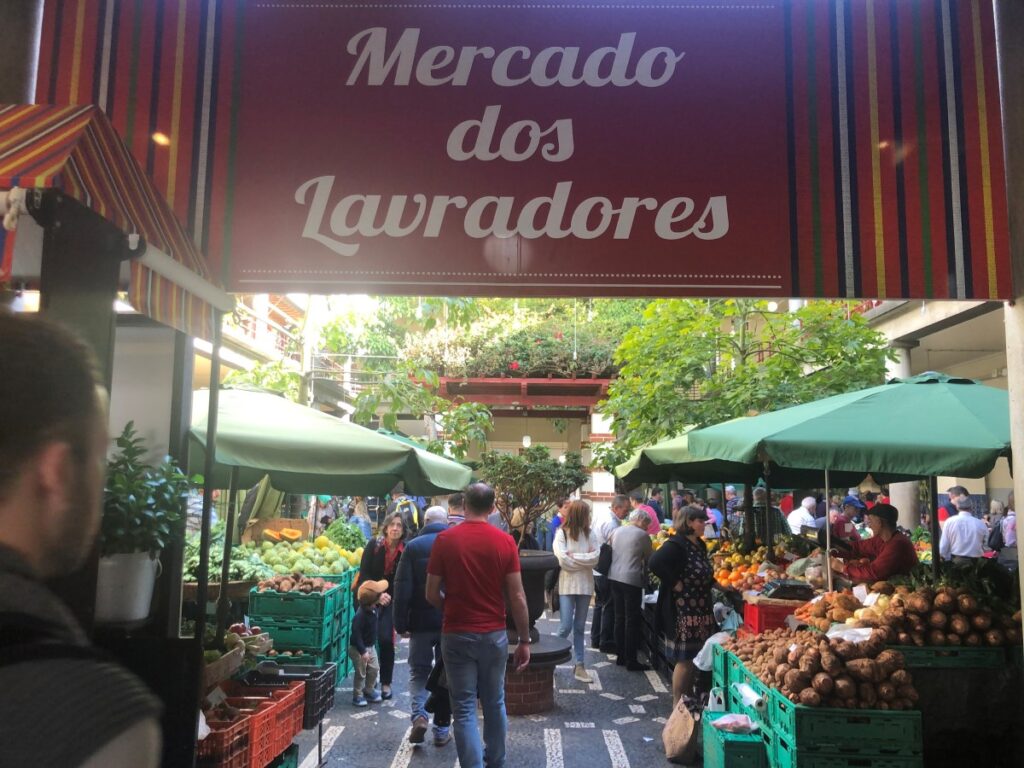 Contributed by Terri from Female Solo Trek
Prepare to walk through a citywide Art Museum when you visit Funchal, the capital of Madeira. Door art (which is literally art painted on doors) is everywhere. It is almost impossible to choose a top 10 of door art due to choices.
Artists were permitted to paint any subject so there are mermaids, children, landscapes, roosters, dogs, and cats. There is on door painting that shows a colorful city on a hill. This is what awaits you in Funchal.
Take the cable car to visit the botanic gardens and Amphitheatre. As you pass, marvel at the little homes and kitchen gardens on the hilly terrain. Marvel at panoramic views of the city below. For lunch, visit the Mercado dos Lavradores to buy a picnic lunch of cheese, tropical fruits, bread and candies. The fish market is huge.
Dedicate an afternoon to tour a wine cellar for a tasting of fortified wine (port). Highly recommended is Pereira d'Oliveira. Next morning visit the Museum of Contemporary Art (part of the São Tiago Fortress).
Funchal is also perfect for history buffs. Imagine life in the 16th century exploring the Arte Sacra Museum of Funchal and Natural History Museum of Funchal (installed in Palace of St. Pedro.) Don't forget to plan a coffee break at a delightful cafe to enjoy a warm custard tart (pastel de nata).
Colmar, France
Contributed by Sophie Nadeau from Solo Sophie
One of the most picture perfect towns in Europe during the winter time is that of Alsace, which can be found in the Alsace region of Eastern France. Boasting picturesque canals and timber-framed pastel-hued houses, there's also the Colmar Christmas Market, which is easily one of the best in France, if not all of Europe.
From the end of November to the end of December (the exact date changes every year), the entire city is transformed into a winter wonderland, with illuminations during the evenings, various Christmas markets on different squares across the city, and beautiful Christmas trees on almost every corner.
Other highlights of Colmar include several museums (including a toy museum and a museum dedicated to chocolate), the Gothic Eglise Saint-Martin church (which dates back to the 13th century), and eating traditional food from Alsace.
The cuisine from the French region is rich and heavy, making it perfect for serving as a winter warmer. Because of the sheer number of attractions and charms that the city has to offer, visitors would be well served by spending at least a long weekend in Colmar, as opposed to simply visiting the city over the course of a day.
Copenhagen, Denmark
Contributed by Larch from The Silver Nomad
Copenhagen is a delightful city to visit any time of the year, but it becomes quite magical in the winter. Even with the lower temperatures it is still a pleasure to walk around.
A visit to the Christiansborg Palace is a must to see the amazing foundations, take a look at the highly decorated palace rooms or climb to the top of the tower for a view over the city.
Near the Christiansborg Palace the Christmas Market is set up with stalls selling decorations, jumpers, Danish gifts and delicious glüwein or mulled cider.
The food in Copenhagen is amazing and Torvehallerne food market is a great place to sample food or have lunch. For street food, head to Reffen by boat, bike or walking.
If you are feeling adventurous hire one of the electric boats from GoBoat and navigate the canals yourself maybe to see the Little Mermaid.
The Tivoli Gardens are beautiful to wander through during the day. At night it comes alive when the twinkling holiday lights are turned on and all the little booths selling Christmas items are lit.
You can fly from most major European cities to Copenhagen Airport, and then get a bus into the city centre.
Related: how to spend 1 day in Copenhagen
Conclusion
I really hope this post gave you some great inspiration as to where to go on your next winter city break in Europe.
There are just so many great destinations that even I have trouble choosing between them!
For more information about winter in Europe, you can read: