Although Leuven is not the most well-known Belgian city, it certainly is the most underrated one!
When you think of Belgium, your first thoughts might be Brussels, waffles, chocolate and beer, but there is so much more to discover in this beautiful country than only our capital and food!
Most Belgian cities are really old, like medieval old, and that is what makes them so charming! Leuven is nothing different.
There are a lot of things to do in Leuven, you can easily spend more than a weekend in this beautiful city. However, if you're travelling on a budget (and I suppose you are!) you probably want to know how to visit Leuven on a budget and more specifically, the FREE things to do in Leuven and all the FREE top attractions Leuven has to offer!
If this is the case for you, you've clicked on the right article! Read on to find all the best free places to visit in Leuven, Belgium!
Do you have a larger budget for your visit to Leuven? Take a look at my Leuven itinerary!
Top tip: I've included a handy Leuven Google Maps at the end of the post, make sure to check it out if you don't want to get lost or for a simple overview!
14 FREE activities in Leuven Belgium:
#1 Abdij van Park
Abdij van Park is a beautiful, old abbey right outside the city centre amidst a small forest and lakes.
You can take a walk around the abbey, the graveyard and the church as well as around the 3 lakes lying right beside it! It's a very calm spot to visit with amazing views (see picture)!
For those who like a bit of history, there are information boards hanging everywhere that will tell you more about the history of this abbey. And if you're tired after your walk, sit down for a drink or a meal at the local brasserie!
There's also an option to pay for an exposition and/or tour of the abbey. This is absolutely not expensive. A tour takes 45 minutes and will cost you only €5. It provides a unique insight into the abbey and abbey life. You can also visit the exposition about religion in Leuven for only €5!
IMPORTANT! If you're planning to do a tour or visit the exposition you should book online in advance!
Side note: the abbey is being renovated until 2025, so you can't just walk anywhere. However, it's still very beautiful to visit!
#2 Great Beguinage ("Groot Begijnhof")
This place is an absolute must-see on your visit to Leuven!
Leuven's Great Beguinage was founded in the 13th century and is now UNESCO World Heritage. On its most vibrant point in time, the beguinage housed 360 beguines!
You can take a walk through its cute little streets and soak up the atmosphere! There is also a church (the Church of Sint-Jan de Doper) that you can visit at the same time.
The reason you can walk around but not go inside any buildings is because the houses are currently used by university staff and students of KU Leuven, Belgium's oldest university.
Tip: the Great Beguinage in Leuven is a very good spot for a picnic!
#3 Small Beguinage ("Klein Begijnhof")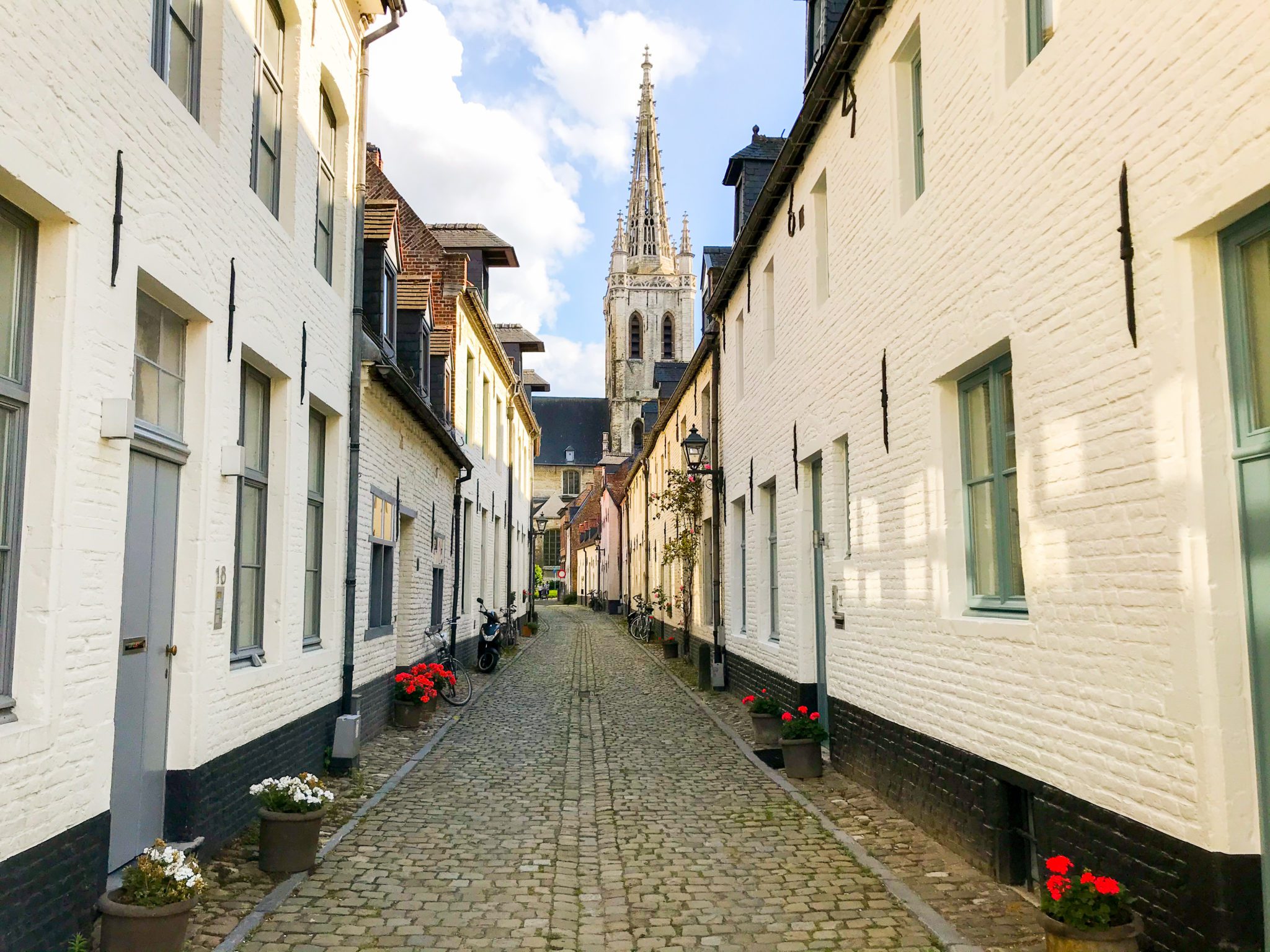 Compared to the Great Beguinage, the Small Beguinage really is small, there rests only one street of what used to be a larger area around the Sint-Geertrui Church and the Sint-Geertrui Abbey.
This street is just like the Great Beguinage protected and housed by normal people like you and I. Would you like to live in one?
Take a walk around here (the small beguinage but also the old abbey building and church) and if you're hungry find a seat at restaurant Onder Den Toren. They have delicious (and spicy) food that won't disappoint you!
#4 Kruidtuin – Leuven's Botanical Garden
This truly is Leuven's hidden gem! The botanical garden of Leuven (called "Kruidtuin" in Dutch) is small but beautiful and totally unexpected in this city!
Take a walk around and enjoy the view and different species! This is the perfect spot to calm down, sit and relax!
Tip: it's quite romantic too!
#5 Arenberg
This beautiful castle is located in one of Leuven's many green oasises. Right outside the city, this castle is only 10 minutes by bike away!
Have a walk under the trees and admire the architecture!
Unfortunately, the castle is not open for public, but is still used by the university of Leuven for its classes!
#6 Grote Markt (Great Market Square) and Oude Markt (Old Market Square)
When visiting Leuven you absolutely can't miss the heart of this vibrant city, namely the Old and Great Market Square! The city centre is also the perfect place to start your visit of Leuven.
On the Great Market Square you'll find the Saint Peter's Church (see below) and the Leuven Town Hall! There are many terraces and restaurants for a pitstop if you need it.
A tour of the City Hall can be taken for only €4! This for a 1-hour tour that will tell you everything about the city's history. It's one of the top tourist attractions in Leuven as well as walking around the squares!
On the Old Market Square, you'll find lots of bars where you can go for a drink, but this place only comes really alive at night. It is the hotspot of Leuven's nightlife and if you feel like going for a drink I would suggest Bar Nine where they have the most lovely cocktails!
Fun fact, it is said that Leuven has the longest bar in the world, the Old Market!
#7 Saint Peter's Church
This is the largest church in Leuven and definitely one you have to see! The inside is newly renovated and very pretty.
They also offer a digital experience where you can see famous paintings by Dieric Boute, but for this you have to pay. The entrance to the church is totally free though!
Also, take a look at the top of the church. As you can see, the tower has never been finished due to a lack of funding when the church was built!
#8 Abdij Keizersberg
Keizersberg Abbey is located on a hill within the city of Leuven and another green oasis where you can calm down from all the impressions of the city.
On this hill, there used to be a medieval castle, but this has been replaced by an abbey in the 19th century. However, you can still see the old well and some pieces of the wall.
From beneath, you'll be able to see a huge statue of Maria on the hill next to the abbey, walk that way and you'll be in the right place!
Keizersberg also has one of the oldest orchards of Belgium, make a walk around and you might also spot some sheep!
#9 Saint Anthoniuschurch
Probably the most surprising little church of Leuven. Here you'll find the grave of Father Damien. As a Belgian priest, he went to help people with leprosy on the island of Hawai'i and eventually died of the disease himself.
In 2009, he has been canonized by Pope Benedictus XVI.
Father or Saint Damien is considered one of the biggest Belgians of all time and a true inspiration for all Christians!
In the church you'll find more information about his life and accomplishments. Certianly worth a visit!
#10 Barboek
This is one of my favourite spots for a coffee in Leuven! This cute book shop does not only sell books but also coffee and other snacks (like delicious cake, yum!). Just stroll around to soak up the atmosphere or sit down and enjoy a coffee while discovering new books!
#11 Dagelijkse Kost
Next to Barboek, you'll find "Dagelijkse Kost" the recording studio of a famous Belgian cook Jeroen Meus. He has a television show where he cooks delicious meals and all of that is filmed in this house. If you look through the window and are lucky, you might be able to see him!
#12 University Halls
This is probably the oldest university building in the city. It was originally used for classrooms but right now it fulfils lots of other ceremonial functions for the Catholic University of Leuven (short KU Leuven).
You'll be able to find university buildings all over the city and during the academic year you can't miss the thousands of students cycling and walking around the city!
Enjoy the architecture of the University Halls and take a look inside! In the main hall you'll be able to find some snacks and lovely drinks!
#13 Spot the medieval gates
Leuven used to be a medieval city and therefore, you'll find the remainings of its history all over the city. Except for the city hall, you'll sometimes also see the remainings of the old city walls. Right now the city is much larger than it used to be so the walls are located in the city centre.
On the floor you'll also see lines where the walls and gates used to be. Can you spot them all?
#14 Provinciedomein Kessel-Lo
If you're tired of visiting the city and want to escape to something different, you'll probably enjoy Provinciedomein Kessel-Lo.
Right outside the city you'll find a lake where all sorts of recreational activities are exploited. Besides taking a walk, you can also rent a boat, do mini-golf or swim!
This is the place you should be for a more active activity or if you travel with kids and need an escape from the city!
Your handy Leuven Google Maps!
On this Google Maps, I've indicated all the free things to do in Leuven, Belgium. I made this so you can use this map to plan your trip more easily! Enjoy!
It's time to start exploring!
I hope you've found some inspiration for free things to do in Leuven. Travel shouldn't be expensive and these activities are proof of that!
Are you interested in more information/inspiration about Leuven or Belgium in general? Then don't forget to visit my Belgium section on the blog!
Visiting Belgium in winter? Take a look at my overview of the best things to do in winter in Belgium!
Have you already visited Leuven? Let me know what you think about the city in the comments below!