Are you tired of visiting the same old places in Belgium all over again? Or maybe you let a sigh by the thought of visiting all the typical tourist destinations in Belgium. Finding a unique spot to visit isn't easy unless you know where to search!
I've been discovering Belgium for several years now. Even though I was born and raised in Belgium, I hadn't actually taken the time to explore my home country and go beyond the typical stuff. That changed in 2020, and by now I can say that I've been to a whole lot of unexpected places in Belgium!
In this guide, I want to share all the hidden places in Belgium I discovered up until today with you. I hope that some of these destinations will sparkle your interest to visit them as well!
If this guide isn't enough for you, you can follow more of my adventures in Belgium on my Instagram account!
Map of all hidden places in Belgium
Hidden gems in Belgium
Villers Abbey – Villers-la-Ville
The abbey of Villers-la-Ville is without a doubt one of my favorite places in Belgium to visit! These abbey ruins are amongst the most impressive you'll find in this tiny country and so well preserved that you don't need a lot of imagination to see the monks walking around here!
These 30 hectares of beautiful gardens and ruins will keep you busy for at least 2 hours, definitely when you read all the historical info that takes you back hundreds of years ago. Plan your visit on a sunny day (90% of your visit is outside) and get impressed by these immense structures.
Combine your visit to these abbey ruins with a hike in the region (see tourist info point) or have a drink at the abbey's brasserie!
Cemetery – Comblain-au-Pont
It takes some time to find this abandoned cemetery but once you've reached the top of the hill on which the cemetery is located, you'll be able to enjoy a wonderful view of Comblain-au-Pont and soak in the faded glory and pride that these graves must have expressed a hundred years ago.
Over the centuries, this place has been a fortress and a church, but right now the only thing that remains of this history is the old tower surrounded by the many graves.
Put your car in front of the tourist info point in the center of this little village and climb your way up to the cemetery from there to visit this slightly spooky place. Alternatively, you can go on one of the many hiking routes that start at the info point and come out at the cemetery!
Walzin Castle – Dinant
The castle of Walzin is one of these impressive places in Belgium that you could not have imagined to be really existing! At least for me ;). You'll find this castle high up on the rocks at the bank of the river Lesse with a historic water mill at its feet in what could have been the perfect setting for a fairytale.
Luckily, this fairytale location is real and we can visit it, even though the castle itself is private property and does not allow visitors. Either drive your car to the Moulin de Walzin or encounter this castle alongside one of the hikes in the region.
In summer, the fields underneath the castle are the perfect picnic spot, and the then thinner river Lesse can be a refreshing stop!
Related: 12 fairytale castles in Belgium you should visit
Le Hérou – Houffalize
Viewpoint Le Hérou in Houffalize is one of the most impressive viewpoints that can be found in Belgium. These steep rocks at one of the bends of the river Ourthe form the start and finish of a short, challenging hike that gets you climbing over rocks to get to the perfect view!
Although the place asks for caution (accidents do happen) it is a true hidden gem of the region that cannot be missed if you're close by. Make sure to wear good hiking boots and prepare your calves, because you'll need to descend and climb back up a steep slope to the riverbed where at one point you even need to help of chains attached to the rocks!
If you're keen to visit, park your car at parking "près du Belvédère de Nadrin" and follow the indicated hiking routes!
Related: how to spend a perfect weekend in Houffalize
Botanic Garden – Meise
One of my favorite places to visit in spring and summer is the botanic garden of Meise. This garden is one of the largest botanic gardens in the world and consists of 92 hectares of plants, a conservatory, and even a castle! Definitely large enough to make a day trip out of it!
You can easily spend an entire day looking at the different species and exploring the terrain. Learn about the history of the property in the castle, discover lots of exotic plants in the conservatory, and stroll around the endless garden full of flowers and trees.
In summer, the most impressive plant of them all is in bloom, namely the gigantic waterlilies in the conservatory (which you can see in this picture). However, visiting in spring is ideal to see the blooming of all the different species outside!
Fondry des Chiens – Nismes
Also called, the Grand Canyon of Belgium, Fondry des Chiens is one of the most special natural phenomena in this tiny country. You can encounter this special ravine of 100 meters long and 20 meters deep on several hikes starting at the tourist info point in Nismes.
I highly recommend descending down into the ravine and taking your time to explore it there. This will definitely make you feel very tiny compared to the 20 meter long rocks that stand out above and below you!
Grand Beguinage – Leuven
The city of Leuven is home to many beautiful historical places, but one that really stands out for me is the Grand Beguinage. This ancient beguinage from the 13th century stretches out into different streets in the center of Leuven.
Once home to 360 beguines, this network of little squares and streets is probably one of the cutest places to live in Belgium! These days it is home to (international) students, professors, and other facultative staff of the KU Leuven.
Thus, if you're ever in the neighborhood, take a stroll through this old beguinage, over the quaint little bridge, and bring your picnic to enjoy in this historic environment!
Related: 14 free things to do in Leuven
Celles – Houyet
Celles is one of the cutest and smallest villages I've ever been to in Belgium. With its cobblestone streets, limestone houses, and quaint market square, it is the perfect place to pass by during a visit to the region.
If you can, visit in summer and have dinner at Le Val Joli. Seeing the sun go down on its terrace in the heart of this little village has been a wonderful experience. Before dinner, also take the time to visit the local church and its catacombs!
Lake Butgenbach
Lake Butgenbach is definitely one of the highlights of the German-speaking part in Belgium! This hidden gem is actually a reservoir that is held by the dam of Butgenbach. In summer, the lake is used for many water sports activities, but in other seasons, the lake with its surrounding forests is one of the most relaxing environments in the region!
Take your time to do the 10km hike around the lake and enjoy the still reflections in the water, the smell of pineapple as you hike through the trees, and a picnic at the waterside! During my hike around the lake, I was really able to calm down and enjoy the views, I hope you'll get the same experience on your visit!
Related: best hikes in Belgium that take your breath away!
Castle Reinhardstein – Weismes
Castle Reinhardstein is one of the most medieval-looking castles you'll find in Belgium. Standing in the middle of the woods and only reached on foot, this place is literally a hidden gem in Belgium!
Once home to the count of Metternich, this castle can now be visited through a guided tour or you can take a look at one of the expositions running in this building. Plus, if you really want to feel like living in Medieval times yourself, you can take initiation into archery!
If visiting castles is not your thing, you for sure want to go on one of the many hikes that run around the castle and its nearby waterfall. As the castle is standing high upon a rock alongside the river Gue La Warche and its forested valley, it is, by all means, a spectacular sight to see!
Bell Tower – Damme
Hidden places in Belgium can also be found in Flanders, namely, in the little village of Damme! This village has a rich history going back for centuries, such as the folklore of Tijl Uilenspiegel. On the Damse Vaart, a canal running from Bruges all the way to Sluis, you can even get here by boat.
Once in Damme, make sure to explore the cobblestone streets and climb the impressive bell tower of the local church. After a short conversation with the talkative volunteer at the entrance who will give you an info sheet and binoculars, you can climb its many stairs to the top from where you'll have a magnificent view of the region. Make sure to search for Bruges, the harbor of Zeebrugge, and the other surrounding villages!
Related: an epic day trip itinerary to Damme!
Natural Reserve Furfooz – Dinant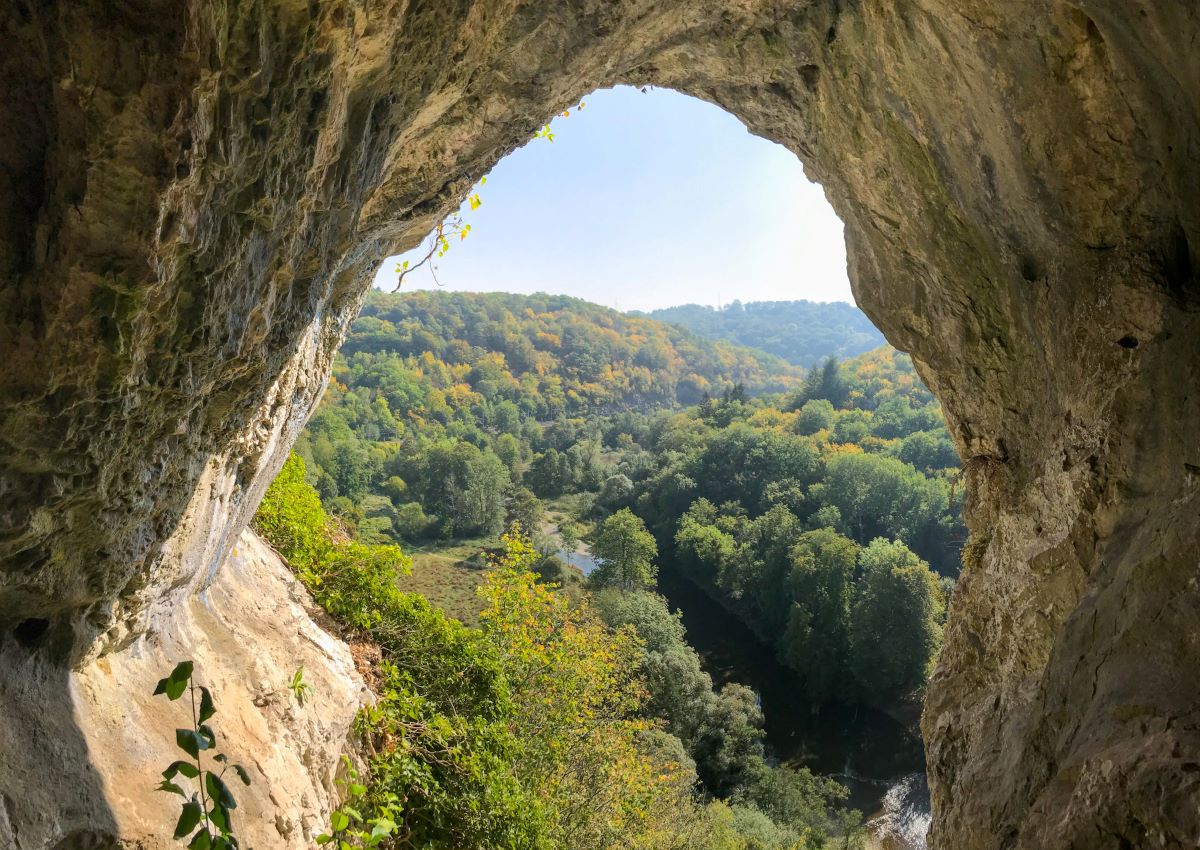 One of my absolute favorite hidden places in Belgium is without a doubt the Natural Reserve of Furfooz. I discovered this place through a recommendation of the Airbnb host where I was staying at that moment, and it has been one of my best discoveries since!
The Natural Reserve of Furfooz is a protected natural area where you'll find remains of a Roman bathhouse and prehistoric life. Through a 5 km walk, you pass by the archeological sites while also enjoying magnificent views and exploring enormous caves in the rocks!
Halfway, on the river Lesse, you'll have the chance to rest and enjoy a drink, making this also the perfect adventurous activity to do with children. Because if you think this is only about history, you're wrong. Bring good hiking boots to brave the uneven paths and be prepared for some climbing!
Caves of Hotton
Discovered in 1958, the caves of Hotton are one of the few natural wonders in Belgium, but this time underground! Opposed to the Grottes de Han, these caves are relatively unknown and a visit is nothing like the touristic experience you have at the more popular caves in Belgium.
During a 60-minute visit, an experienced guide will take you on a walk underground and tell you all about the natural rock formations that have formed over the centuries. Here, the focus lies on the preservation of this wonder of nature, which can only be encouraged! This experience is for you if you're truly interested in what the guide has to tell without the spectacular touristic animations around it.
Buitenland – Bornem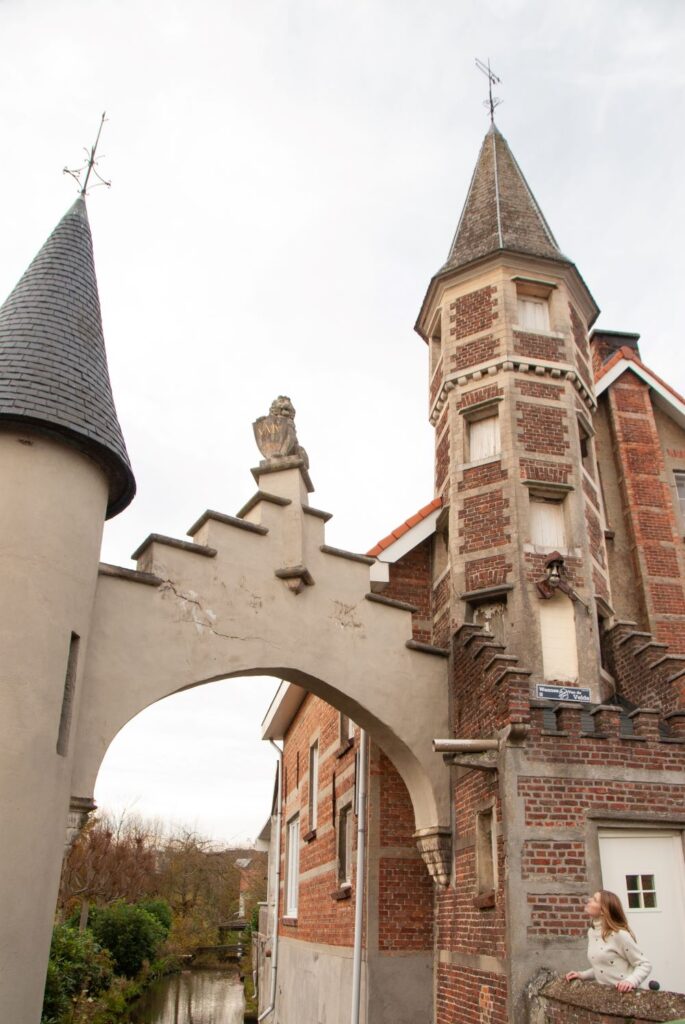 I'll be honest, this hidden place is partly in this guide because of its name ;). If you're not Dutch-speaking, "Buitenland" means "abroad" in Dutch, which means that if I'm going to Buitenland, I'm going abroad. Do you get it?
Ahum, besides this joke, Buitenland is home to some peculiar historical buildings, even though this place counts only 2 streets. If you're in the region, definitely make a stop to admire these strange buildings, make a walk alongside the Schelde or visit one of the two castles close by, namely Kasteel d'Ursel and Châteaux Marnix de Sainte-Aldegonde!
Conclusion
There's plenty to see in Belgium beyond the obvious destinations! I hope that this guide inspired you to discover some of the hidden places in Belgium you had never heard of before and to see more of our beautiful country in general!
If you know other hidden gems in Belgium to add to this guide, feel free to leave a comment below!