When searching for the highest ski resort in Europe, you'll find some conflicting information. Some people say it is Val Thorens in France (part of Les Trois Vallées), others say it is Zermatt in Switzerland.
Actually, they are both right. Val Thorens is the highest ski resort in Europe in the sense that its lowest point is at 2300 metres, which is the highest base point in Europe. But Zermatt is the highest ski resort when you look at the highest lifted elevation point, which is 3899 metres.
Of course, there are many other high ski resorts in Europe, all amazing to go skiing and each with its unique characteristics. So read on to find out what the other highest ski resorts in Europe are and why you should consider booking a ski holiday to each of them!
Related: Must-have skiing essentials for beginners
The 7 highest ski resorts in Europe
Saas-Fee, Switzerland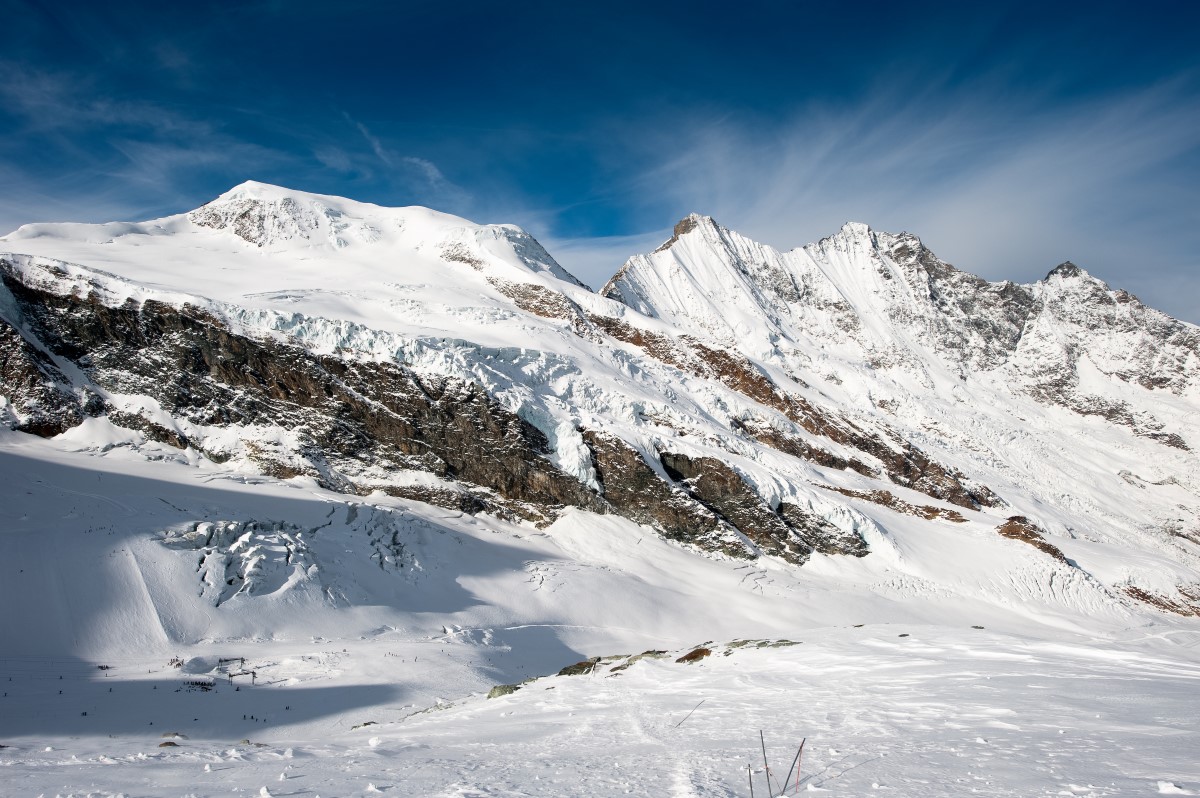 Contributed by Samantha from Continuous Roamer
Saas-Fee is a ski resort in Saastal, Switzerland. Saastal is translated to Saas Valley in English. The ski village is located at 1,800 m and the highest point of the ski resort is an impressive 3,573 m.
Saas-Fee offers skiing for ten months a year, typically from mid-July to mid-April thanks to the ski resort's high altitude. A trip to Saas-Fee is an excellent choice, given that snow is guaranteed all-season-long!
You can also experience nearby resorts in the Saas Valley, such as Saas Grund, where you can ski the Hohsaas slopes, at nearly 3200 m high. For a sprawling view of the mountains, visit the Bergrestaurant Kreuzboden terrace, although you are better off stopping elsewhere for a cheaper lunch.
There are plenty of other fun winter activities in the Saas Valley, such as sledging, snowshoe hiking, alpine canyoning with frozen waterfalls, ziplining and glacier trekking. Additionally, Saas-Fee offers night skiing on the Hohsaas glacier.
To get to Saas-Fee you can fly to Geneva airport or Milan airport and drive for approximately 3 hours. There are several well-priced hotels in Saas-Fee, such as Hotel Schweizerhof.
Les Trois Vallées, France
Les Trois Vallées is one of the highest ski resorts in France and Europe but also the largest ski resort in the world, with 600 km of consecutive pistes! Therefore, it is the ideal ski resort for a late-season ski and for advanced skiers who want to do extensive day tours.
With the highest point being 3230 metres, and the lowest 610 metres, this is about the largest height difference you can get in a ski resort. As the name says, Les Trois Vallées consists of 3 valleys with several higher and lower located villages from which you can reach the entire ski area.
Each valley and village will have its own unique atmosphere. For those of you who want to have a cosy mountain experience, book one of the chalets in La Tania. If you want snow until very late in the season, go for the highest village, Val Thorens, which is also known for its apres-ski. You can find this crazy apres-ski experience at La Folie Douce!
Conveniently, you can buy a ski pass for either the entire 600 km ski area, or for just one of the valleys, which caters perfectly to both beginners as well as advanced skiers!
Obergurgl-Hochgurgl, Austria
Contributed by Jessie Moore of Pocket Wanderings
Known affectionately as the "Diamond of the Alps", the Obergurgl-Hochgurgl ski resorts offer exceptional skiing in Europe over an extended season. The lowest point in the ski resort sits at 1,793m while the highest point towers at 3082m.
Thanks to its altitude, Obergurgl-Hochgurgl is one of the first ski resorts in Austria to open each year, when it starts welcoming people from mid-November. You can usually ski all the way up until the end of April.
The ski area offers a compelling range of skiing, with 112km of slopes and 25 mountain lifts. Even better, all the ski lifts in the area are fast and modern, meaning no waiting times. Many of the runs are wide and open, all with spectacular vistas of the surrounding mountains.
For the ultimate view, head up to Top Mountain Star – an iconic bar that sits at the highest point of Hochgurgl. Views aside, Obergurgl is also home to one of the best après spots in the world: the Nederhütte. Make sure you get there early to grab a seat and remember that dancing on the tables in your ski boots is highly encouraged!
Obergurgl offers an array of upmarket accommodation, with plenty of ski-in-ski-out options. Stay at Hotel Edelweiss for a convenient location, an après ski ice bar, and a large sun terrace. Or for the ultimate in luxury and wellness, book a stay at the Alpen Wellness Resort Hochfirst.
Gudauri, Georgia
Contributed by Emily from Wander-Lush
At an elevation of 2,200m above sea level, Gudauri is the premier ski resort in the Republic of Georgia, and one of the highest in Europe. Just a two-hour drive from the capital, Tbilisi, via the legendary Georgian Military Highway, Gudauri is an easy getaway from the city and the perfect place to partake in skiing and snowboarding.
Gudauri's ski runs cover 64km in total, with 15 lifts and gondolas. The lowest point of the resort, Pirveli, is at 1,990m above sea level and the top station of the final gondola, Sadzele, reaches 3,279m. With a backdrop of the Greater Caucasus mountains, the location is simply stunning.
Ski season typically runs from December through to April, with passes available from mid-March. Prices are very affordable, starting from 40 GEL or 12.90 USD per day. Gear is available to hire on site.
The scenery in this part of the country is incredibly beautiful – so even non-skiers who find themselves visiting Georgia in winter should travel this way to see brilliant snowy landscapes.
Nearby Kazbegi is a nice base, but if you're skiing, there are plenty of lodgings to choose from in Gudauri itself, ranging from modern apartments to guesthouses and self-contained chalets. For a treat, Penthouse New Gudauri has ski-in/out access from the main gondola.
Kühtai, Austria
Contributed by Steve Rout from Ski Resorts Network
The hamlet of Kühtai is situated at 2020 metres above sea level in the Stubai Alps around 40 kilometres to the southwest of Innsbruck and is one of the highest ski resorts in Europe.
The top of the highest lift reaches 2520 metres, making a vertical drop of 500 metres, and the ski season generally runs from early December through until the last couple of weeks in April.
One of the main attractions of the ski resort, as well as its superb snow record, is the ability to ski to and from the accommodation, which is a mix of traditional hotels and more modern apartment accommodation. Those looking for a bit of decadent luxury can stay in the Jagdschloss, a former hunting lodge for the Emperors of Austria.
The ski slopes are ideal for intermediate skiers, with fresh powder in between the pistes after snowfall for those looking for more of a challenge. The area around is also extremely popular with locals for ski touring.
Of course, as with all ski resorts at this kind of altitude, the altitude means that it is above the treeline and can be tricky to ski in bad weather or flat light. Luckily the lift pass also covers the nearby resort of Hochoetz, at a lower altitude and with pistes that run through the trees down to the village.
Zugspitze, Germany
Contributed by Diana Lesko from The Globetrotting Detective
The Zugspitze Ski Resort is situated on the highest mountain in Germany. It is the only glacier ski area and the most stunning ski arena in Germany.
Zugspitze is both for experienced skiers and beginners. It has 13 km red slopes and 7 km blue slopes between 2,000 and 2,600 meters high. The ski trails in the Zugspitze ski arena are very well maintained and the snow quality on the trails is perfect. 
Moreover, from Zugspitze, you can slide to the Garmish-Partnerkirchen Ski Arena encompassing 40 kilometres of pistes as they are connected.  
Even though the summit of Zugspitze lies 2,962 meters above sea level, the highest point where you can ski is Zugspitzplatt at 2,600 meters.
To reach the top of Zugspitze at 2,962 meters, you need to take the cable car called Gletscherbahn. From there you can enjoy an amazing view over the mountain hills covered with pure white snow and puffy white clouds. Also, you can take a rest on the snowy terrace of several restaurants with delicious Bavarian beer and meals such as bratwurst with pretzels.
As for getting there, it's very easy. If you want to take a day trip to Zugspitze, it's possible. There is a special ticket including public transport from anywhere in the state of Bavaria, all the ski lifts and cable cars, and a 1-day ski pass. 
In case you want to travel there by car, park your car in Garmisch-Partenkirchen or at Eibsee and take a cogwheel train, the Zugspitzbahn from Garmisch-Partenkirchen or the Eibsee-Sailbahn from Eibsee, to get up to Zugspitze. In this case, you just need to buy a 1-day ski pass. 
Last but not least, you can reach the top of Zugspitze from Austria by taking the cable car called Tiroler-Zugspitzbahn in Obermoos.
Zermatt, Switzerland
Contributed by Allan Wilson from It's Sometimes Sunny in Bangor
Found beneath the iconic peak of the Matterhorn, Zermatt is a true ski paradise with year-round wintry conditions and 365-days of skiing at its higher peaks.
The altitude of Zermatt itself is 1562m, but the highest point at the Matterhorn ski paradise is 3,899 metres, making it the highest winter sports venue in Switzerland as well as the Alps. In between is a skiable area of 200kms with blue, red, black and yellow runs, as well as 160kms of trails.
The village itself is car-free and is therefore best reached by train before getting around on buggies or even horse and cart. The central train station also marks the beginning of the Glacier Express which is an attraction in itself connecting between Zermatt and St Moritz and a must for any visit.
Aside from skiing, the resort is popular with sightseers, many coming to see the famous 'Toblerone' peak of the Matterhorn, and it is possible to explore the nearby peaks which are connected by a network of cable cars.
Dotted through the resort are all sorts of chalet-style hotels and accommodations. A great value option would be the Hotel Capricorn which offers balcony views of the Matterhorn. 
Conclusion
These were some of the highest ski resorts in Europe which will give you the most certitude of snow during the winter! I hope that at least one of them attracted your attention and that you'll have an amazing ski holiday in one of these incredible ski resorts!
Related: Must-have skiing essentials for beginners
Related: Unique winter city breaks in Europe