Rome is one of those cities that you should have visited at least once in your lifetime! The vastness and cultural richness of this city make it possible to explore this city for days and days. But how many days exactly?
The bucket list of things to do in Rome can seem endless, so picking the right amount of time and choosing between these activities ain't easy. Luckily, after several trips to Rome, I'll try to give you the best recommendations possible below!
This post contains affiliate links. When you purchase through one of my links I get a small commission (at no extra cost to you). Read more in my Disclosure Policy.
How many days in Rome is enough?
To come straight to the point, you need at least 3 full days in Rome to see its major highlights. This does not mean that 3 days is enough, to fully enjoy the city I would recommend 5 days, certainly if you don't want to rush from one place to another.
Definitely don't be afraid that you'll get bored if you spend 5 days in Rome, this will for sure not be the case, since there are not only many wonderful activities to do in Rome but also plenty of day trips outside of Rome such as a visit to Ustica!
Where to stay in Rome
The best place to stay in Rome when you want to be close to all its highlights is the Centro Historico. Here you'll find many cute Italian hotels and delicious places to eat!
To help you a bit, here are some great options:
Most important places to see in Rome
Since you likely don't have all the time in the world to visit Rome, you might want to know what the absolute highlights of the city are so that you can visit these first. Although Rome counts numerous wonderful places, some really jump out.
Vatican City
Count at least one day to explore Vatican City once you're in Rome and book your visit to the Saint Peter's Basilica beforehand online so that you can be sure of a place!
Likewise, make sure you have an entry ticket to the Sistine Chapel because this piece of art is something you should have seen during your visit to Rome! If you have time left, try to explore the other museums that are part of Vatican City or walk around and admire the wonderful architecture.
If you can, try to come on a Sunday morning to watch, together with the rest of Rome, the speech of the Pope from his balcony on the St. Peter's Square.
Trevi Fountain
People say that if you throw a coin into the Trevi Fountain, you'll return to Rome one day. If you throw 2 coins, you'll find love in Rome and if you throw 3 coins, you'll marry here! From experience, I can say that after throwing a coin into the Trevi Fountain, I actually did unexpectedly return to Rome after a few years! Whether it has something to do with the legend or not, I can't really say ;).
Anyways, a visit to Rome isn't complete if you haven't thrown a coin into the Trevi Fountain! Make sure to come very early, or very late, as this fountain is one of the major tourist hotspots in the city and can be very busy!
You might also wonder what happens with the money you throw into the fountain, well, that goes to a Catholic charity called Caritas.
Forum Romanum
I'm a huge fan of Roman history, part has to do with the fact that I studied Latin in high school but I'm also just a huge history lover!
The place to be if you want to learn about the Roman history of thousands of years ago is without doubt Forum Romanum. Make sure that you have at least half a day to explore this immense historic site.
It is wise to buy your tickets beforehand, otherwise, you might be waiting for a long time in a queue in the burning heat of the Roman sun. From experience, I know it can help to also buy a skip the line ticket. You pay a bit more but you avoid the queue.
Colosseum
Next to the Forum Romanum, you'll find the Colosseum, another must-visit in this historical city! You can buy a combi ticket for the Colosseum and the Forum Romanum, which I highly recommend doing before your visit!
Inside, you'll discover with a guided tour what the role of the Colosseum used to be in ancient times, how the Colosseum looked back when it was still used and how the life of a gladiator must have looked like.
This visit is definitely recommended if you love a good piece of history!
Spanish stairs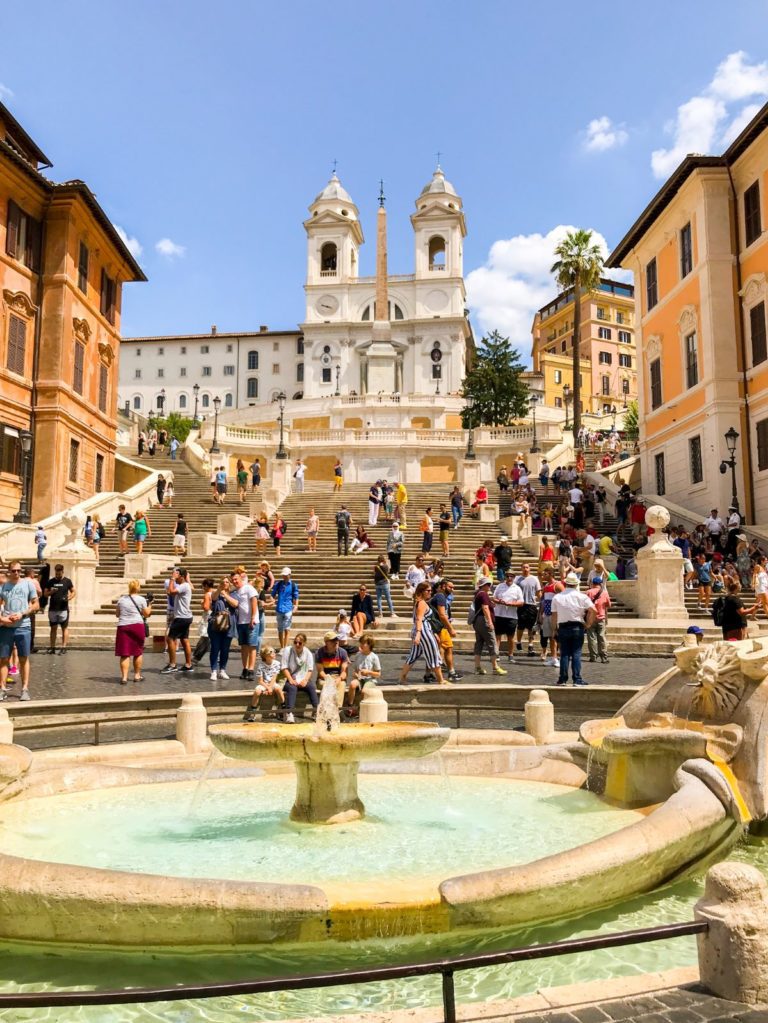 The Spanish steps are just like the Trevi Fountain one of the most iconic monuments of Rome. These magnificent stairs will lead you all the way from Piazza di Spagna to the Trinità dei Monti Church.
If you go further up along the road you'll eventually come out at the park of Villa Borghese where you'll have a magnificent view of the city and Piazza del Popolo below you. A fun activity here is to rent a segway and explore the entire park this way. Also, make sure to take a look at the Museum and Gallery Borghese.
How to get around in Rome
The easiest way to get around in Rome is on foot. This means that you'll likely do a lot of steps in one day, but there is truly no other mode of transportation that will get you on all places in the city like your feet!
If distances are too far, you can always make use of one of Rome's 3 metro lines that cross the city or one of its many bus lines. A ticket for both bus and metro can be bought at the metro station or any newsstands.
More about Rome…
I hope I convinced you that there is plenty to see in Rome and that it's, therefore, worthwhile to extend your trip beyond just a few days.
If I haven't convinced you of that yet, you might want to take a look at my ultimate Rome bucket list where I list up many more activities for you to fill your time in Rome!