Are you looking for a way to learn a language, say Spanish, effectively?
And by effectively, I mean really being able to SPEAK the language, not just read.
Because the hardest part of learning a language is learning how to speak it, and you can't learn this without talking to someone.
For years I took classic Spanish classes and learned how to write, read and understand Spanish but somehow I never managed to actually learn how to speak it. Does this sound familiar?
In short, it's very difficult to learn a language if you don't get confronted with it daily and don't have many occasions to practice. So I gave up on it. I thought I needed some expensive courses to teach me how to speak Spanish.
Luckily, I discovered this is not true!
Only recently, I came across Italki and decided to give it a try and pick up my Spanish (after giving up on it for a few years).
To my big surprise, I became a huge fan of the platform and I've never felt so confident talking Spanish than right now!
Keep on reading this Italki Spanish review to find out why I'm such a fan!
This post contains affiliate links. When you purchase through one of my links I get a small commission (at no extra cost to you). Read more in my Disclosure Policy.
What is Italki?
You might have already heard of Italki, it's a platform where skilled speakers can teach their language to others. It allows you to search for a good language teacher for one-on-one language classes.
The platform is as easy as scrolling through the available teachers, checking out the teacher information, and booking a short and discounted test lesson before fully going on-board with one of them.
What I like about Italki
The most simple reason why I keep using Italki is that my Spanish and confidence level have greatly improved. I currently take one class a week and this works great for me!
Of course, there are also many other practical reasons I really like about the platform. One major reason I decided to use Italki is because it is so affordable!
Indeed, Italki is very low-cost compared to other offline private tutoring! I take conversation classes for as little as 5 US$ per hour. This is because there are teachers from all over the world on the platform with different levels of experience. Less experienced teachers from Latin America might ask much less money than your skilled teacher next door!
Another benefit of Italki is its flexibility. YOU choose the dates and hours you want to take a class. Busy week? Don't schedule a class. Need some more practice? Schedule 2 classes at once!
Also, navigating through the platform is quite straightforward and the platform is very easy to use as well!
One of their major advantages compared to other tutoring options is their broad choice of good teachers. All teachers have to go through an assessment first before they are admitted to the platform to make sure all of them are qualified teachers.
On the platform they make a distinction between professional teachers and community tutors. The latter are tutors who are not professional teachers but still qualified enough to give you good classes!
Moreover, you can filter your search on native speakers which means you can get in touch with native speakers from all over the world easily!
Last but not least, you don't have to commit to taking a lot of classes at once, you can schedule trial lessons to see whether a teacher is the right fit for you. These trial lessons are shorter and cheaper than the usual classes so the burden to try really is very low!
A few downsides
Let's be honest, not everything is perfect and also Italki has its flaws. I think this is equally important to mention in this Italki Spanish review!
Because even though new teachers get tested before being admitted to the platform, there is a difference in quality among them. Therefore it's very important to take a good look at the ratings and reviews before you book a class.
Also, you'll likely need to take a few trial lessons to find a teacher that fits you. Not everyone will be a good fit and not everyone will have the preferred teaching style you like or need.
Another, well I wouldn't actually call it a downside, is that YOU are in charge of booking your classes and working on your skills so if you really want to learn a language properly you need a bit of self-discipline.
My overall opinion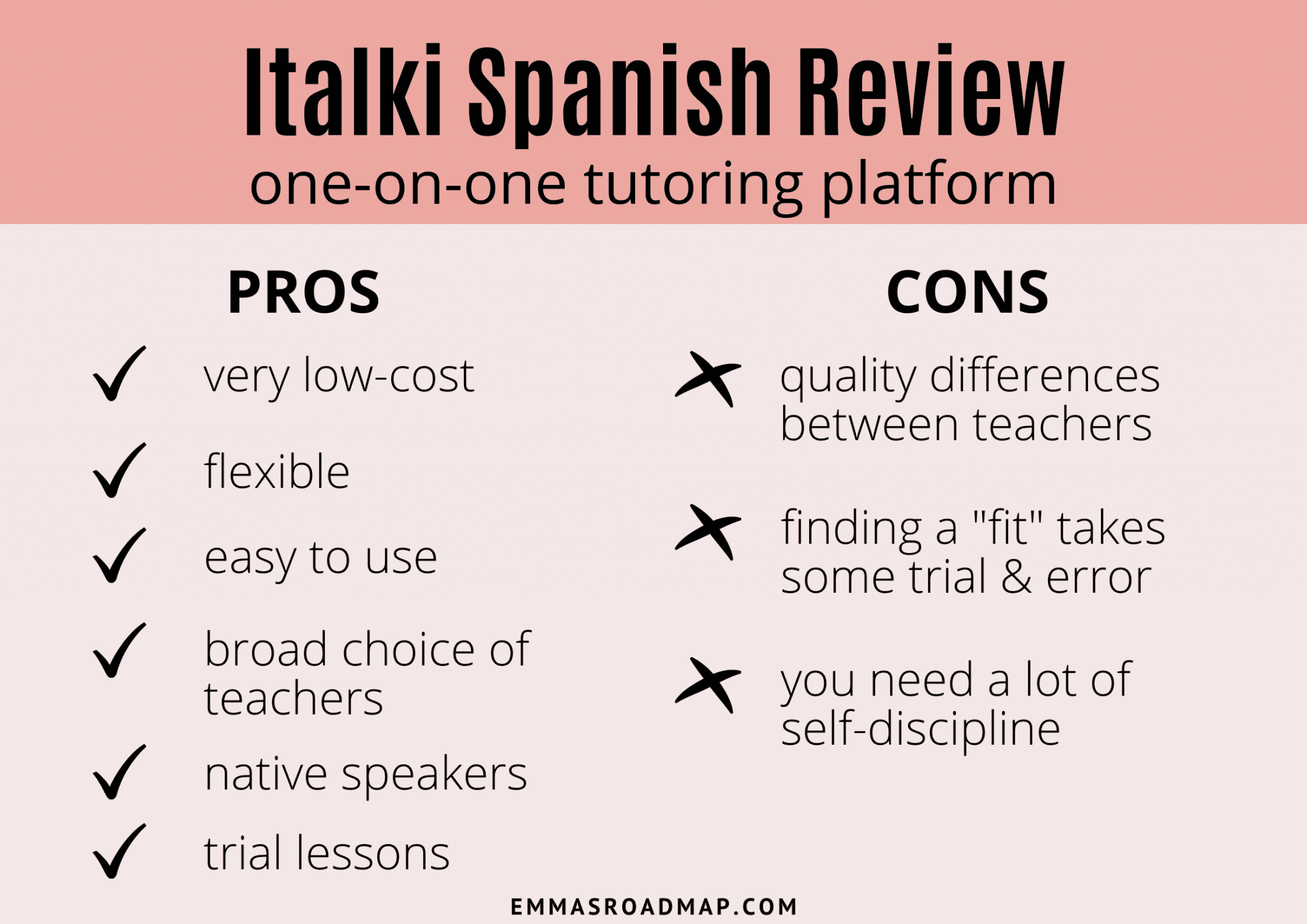 I can't hide it, Italki really took my Spanish skills to the next level. Now that I'm having one-on-one conversational lessons I am MUCH more confident speaking the language!
In my opinion, booking a few trial classes won't hurt, especially if you already tried all the other alternatives for learning a language!
I found the motivation again to learn Spanish and I hope this Italki review gave you the motivation too!
Try out some teachers, find a good fit and start your learning journey!
Related: how to use Italki effectively: step-by-step guide
Italki alternatives
Of course, Italki isn't the only language platform on the internet. Although I prefer Italki over all the others I still want to give you an overview of the other options!
Verbling is a very similar online tutoring platform that offers one-on-one tutoring as well. It actually resembles Italki a lot although I find the Italki platform a bit more intuitive to use. I also have the impression that teachers on Verbling charge slightly more for their classes.
Preply is another tutoring platform similar to Italki and could be one to consider as well. However, I find it harder to choose a teacher on Preply as most teachers don't have many reviews while you can find a lot of teacher reviews on Italki.
FAQ
Is Italki good for beginners?
YES!
Tutors on Italki teach many different language levels so whether these are your first-ever language classes or you're already at a decent level you'll definitely find the right teacher!
However, I recommend looking for complementary resources too since you'll likely want to learn beyond these one-on-one lessons as well. Some teachers give you homework but I also love to use the free app Duolingo for vocabulary and grammatics to learn on the go!
How much does Italki cost?
It depends.
All teachers can set their own rates so you'll have a whole price range to choose from! It can go from as little as $5 per hour to $50 per hour! This of course depends on the experience of the teacher and whether he or she is a professional or not.
Also, access to the platform is free!
How long are Italki lessons?
This is determined by the teachers. They can set classes for 30, 45, 60 and 90 minutes.
Some teachers offer multiple options which you can see on their teacher profile when booking a class!
Did you enjoy this Italki Spanish review and have you tried Italki yourself? Let me know what you think of it in the comments and help your fellow language learners choose the right platform!