When you're planning a trip to Slovenia, Lake Bled will be one of the must-see destinations on your bucket list. I'm sure that during your research about the best places to go in Slovenia, everyone will recommend Lake Bled!
Before my trip to Lake Bled, I was skeptical, why would I want to visit a destination that is clearly incredibly touristic? But once you arrive at Lake Bled and get to see its stunning views as well as all the things it has to offer, you quickly know why this is such a popular destination!
Most people go to Lake Bled on a day trip, often from Slovenia's capital city Ljubljana. Luckily, there are multiple options to get to Lake Bled from Ljubljana, but which option should you choose? And how long does it take to get there?
In this blog post, I'll present you with the best ways to get from Ljubljana to Lake Bled on a day trip! Let's dive into it!
4 different ways to get from Ljubljana to Lake Bled
By bus – best option
The bus station from where buses to Lake Bled will depart can be found at the Ljubljana train station. From there, buses will leave every half an hour approximately from 5 a.m. until 9 p.m. A single bus ride will take you somewhere between 1 hour and 1h30 and drop you off at Bled bus station which is only 5 minutes walking from the lake itself.
A one-way ticket will cost you €6.30 (2022 prices) and if you want to bring additional (large) luggage you need to pay an extra fee. However, you can also store your luggage at the bus station itself.
In peak season (summer months) it is wise to buy your tickets beforehand online since this is by far the most popular mode of transportation to Lake Bled, but if you haven't you can always buy them at the bus station as well. To plan your bus trip, take a look at the bus timetable!
By train
Another way to get to Lake Bled is by train. Trains depart from the same spot where you would take the bus so that is no different. However, a train ride is slightly less convenient since the train station (Lesce-Bled) is located 5 km away from the lake. This means that you'll either need to take an additional bus (ironically, the same buses that start in Ljubljana stop there) or a taxi to the lake.
A single train ticket is around €6 and the 45-minute train ride offers a more pleasant trip than the bus with better views for sure. Make sure to buy your tickets online through their website or at the train station, because if you buy a ticket on board you'll pay an additional €5. To plan your train trip and purchase tickets, take a look at the train timetable!
By car
If you have a car available, either your own car or a rental car, you can easily get to Lake Bled in about 40 minutes by taking the highway which runs almost the entire way. This is by far the easiest and fastest way to get to Lake Bled, but it's not without challenges.
First of all, if you use your own car, be aware that you need to buy a vignette to drive the highways in Slovenia. You can purchase this when you enter the country at the border for either a week, month, or year. Alternatively, you can buy an e-vignette online instead of a physical one.
Second, finding a parking spot at Lake Bled is quite difficult, at least when it's peak season. If you can, try to arrive as early as possible so that you have the highest chance of a parking spot close by. Do not attempt to park randomly because you will for sure get a huge fine!
Wherever you park, you'll most likely pay a price of around €2 per hour. If you drive into the village of Bled you'll see signs of parking spaces everywhere, which mostly are in the plain sun, don't have a website, and are managed by someone that comes to collect your money. I found parking at a spot called Pristava which was a pretty good location to reach the most interesting points of the lake.
Through organised trips
Another great way to visit Lake Bled from Ljubljana is to book a day trip via an organization. This way, you can just enjoy your visit while the organization takes care of all the practical details. One of the group tours I recommend is a 7-hour tour from Ljubljana to Lake Bled and Bled Castle. You'll be picked up at your hotel and the chauffeur will guide you around all the highlights of Lake Bled for only €55.
How long does it take?
On average, it will take you anywhere between 45 minutes and 1h30 to reach Lake Bled from Ljubljana depending on your mode of transportation. The fastest way to get there is by car, and the slowest but most convenient way to get to Lake Bled is by bus.
What to do at Lake Bled
Once you've arrived at Lake Bled, you have endless opportunities to spend your day depending on what kind of activities you prefer. In general, I would say that a visit to Lake Bled isn't complete without a visit to the little island in the middle of the lake. You can easily rent a boat on the waterside to paddle your way to the island. Make sure to take a look at the beautiful little church as well as the bell tower and enjoy a drink.
If you're on a budget, you can choose to find yourself a spot on the shores of the lake (the side of Vila Bled is perfect) and take a swim in the lake. In summer, this is a necessary refreshment! In addition, choose to hike your way up to the Mala Osojnica viewpoint where you'll have a panoramic view of the lake.
For those who like history, plan a visit to Bled's castle. This majestic building, standing high upon a rock is more than 1000 years old and today it's home to several museums and exhibitions you can't miss if you want to learn more about the history of the region. For an extraordinary experience, book yourself a table at its restaurant as well!
Also, be sure not to leave Bled without tasting one of its legendary Bled cakes, a local delicacy that can be tasted almost everywhere around the lake. For a great experience, go taste the cake with the view you get from the terrace of Vila Bled!
Where to stay at lake bled
If you're planning to stay overnight at Lake Bled, I have some suggestions for you!
The most stunning views of the lake can be found at Vila Bled, a mid-range to luxury hotel located high enough to overlook Lake bled.
When a little bit of adventure is more your thing, Glamping Ribno might be the place for you! It is definitely one of the most original stays near Lake Bled.
For an ecological yet luxury stay, you should be at ECO Boutique Hotel AMS Beagle. This unique stay is one of the most highly-rated hotels in the region!
A simple but great option if you're on a budget is Life Hostel Slovenia, located a few kilometers from the lake.
Best time to visit Lake Bled
The best time to visit Lake Bled is without a doubt in the shoulder seasons, especially late spring and early autumn. If you visit in summer, you'll have difficulties finding your way through all the tourists, not to mention finding a parking spot!
Winter can also be a great season to visit, but more for the other winter activities in the region such as skiing. At the lake itself, there won't be a lot of things to do as boats won't get out on the water.
Other trips from Ljubljana
Did you know that Lake Bled is only one of the many destinations in Slovenia that can be reached from Ljubljana? Some great options are even very closely located to Lake Bled!
Vintgar Gorge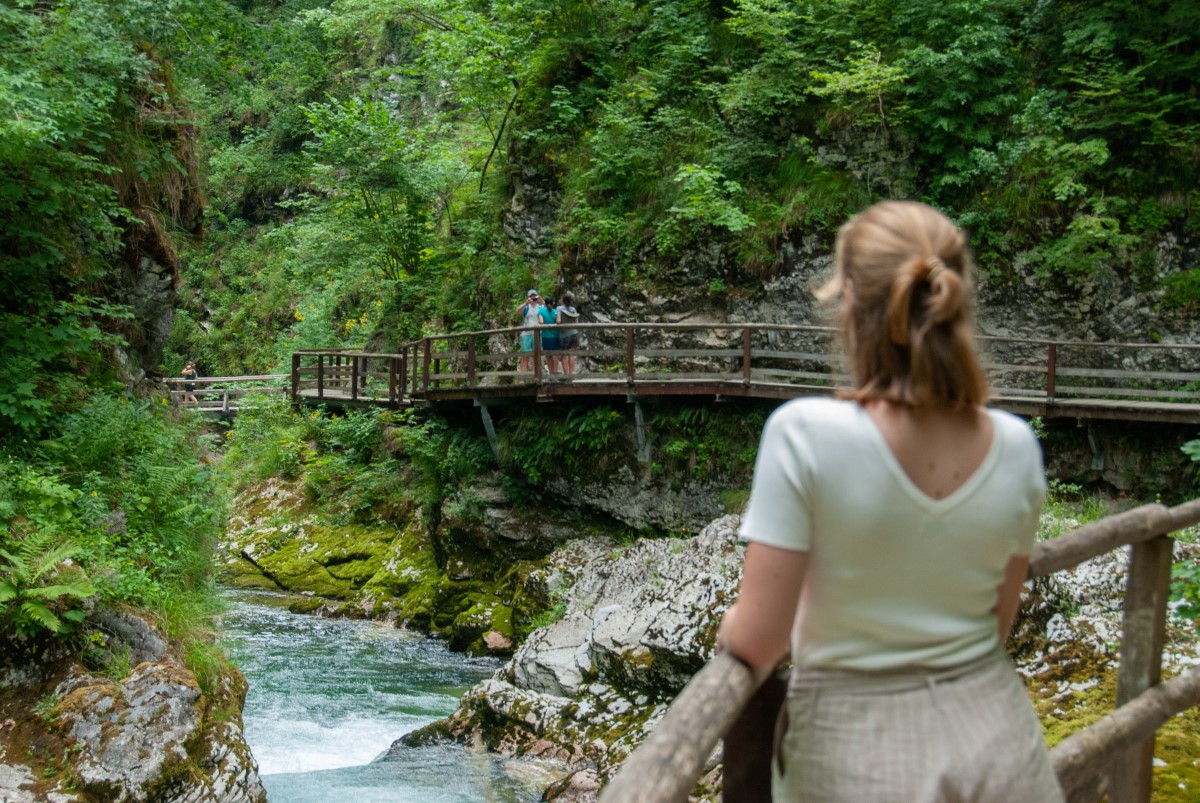 If you feel like visiting another natural phenomenon of Slovenia, look no further! Vintgar Gorge is located only a 10-minute drive from Lake Bled and thus perfect to combine if you're already there.
This gorge is 1.6 km long and you'll be able to walk through these rocks to be amazed by the fast-flowing water as well as the Šum waterfall at the end!
Lake Bohinj
This lake is lesser-known than its brother Lake Bled but nevertheless as wonderful to visit! Because this lake attracts fewer tourists, it might be a more pleasant experience in summer, also because of the many water activities that can be done on the lake!
But also in winter, Bohinj is a great destination for skiing, hiking, ice skating, and sledding. Plus, the many outdoor activities on land make this the perfect place for outdoor enthusiasts!
Conclusion
I hope by reading this post that you now have an idea of what the best way is to get from Ljubljana to Lake Bled for you, whether that's by car, by bus, or by train. Once you're there you'll have an endless amount of fun activities waiting for you, not only at the lake itself but also in the region!
If you know anything that should be added to this guide or any questions about visiting Lake Bled, feel free to comment below!