My first visit to Ottawa has been a short but intense one day trip and perfect to see the major highlights of the city. For me, it was a trip I had to take because you simply cannot visit Canada without seeing its capital!
My trip was highly unprepared (and I'm usually the most prepared traveller you can imagine), but randomly walking around a city can bring you to more interesting places than a planned visit can do.
But driving into Ottawa might seem a bit weird at first. The city is rather small and you don't see the big skyscrapers you find in Toronto. Why would you make this city the capital of Canada and not Toronto or Montréal?
For one simple reason: it's located in the middle of everything, on the border of Ontario and Quebec. Thus, Ottawa as the capital of Canada pleases the English- as well as the French-speaking population.
But you're not reading this post because you want an introduction to the history of Canada! You're probably reading this because you're interested in spending one day in Ottawa! Am I right?
In this post, I will give you an overview of the major places you absolutely have to visit when you only have one day in Ottawa. Here we go!
Parliament Hill
The major reason for which you should come to Ottawa is that Ottawa is the capital of Canada! From Ottawa, you're within a decent reach of all the major East-Canadian cities and, of course, most embassies and all political institutes can be found here!
Parliament Hill is the epicentre of Canadian politics. As the name says, it's located on a hill with a beautiful view over the Ottawa River. Right next to the Rideau Canal, the government buildings are located in the centre of the city!
For those who are interested in Canadian politics, there are 2 tours you can currently visit for free! Those are a tour of the House of Commons and a tour of the Senate.
House of Commons
The House of Commons is located on the hill itself and is a very special building to visit! At the moment, the actual House of Commons is built on a square that has been completely covered to make it indoors (if you don't get it, here is a picture).
The guided tour will provide you with more information about the political system in Canada and a deeper understanding of its history.
In addition, the tour will show you portraits of former Prime ministers as well as a memorial for those who lost their lives during the World Wars.
Senate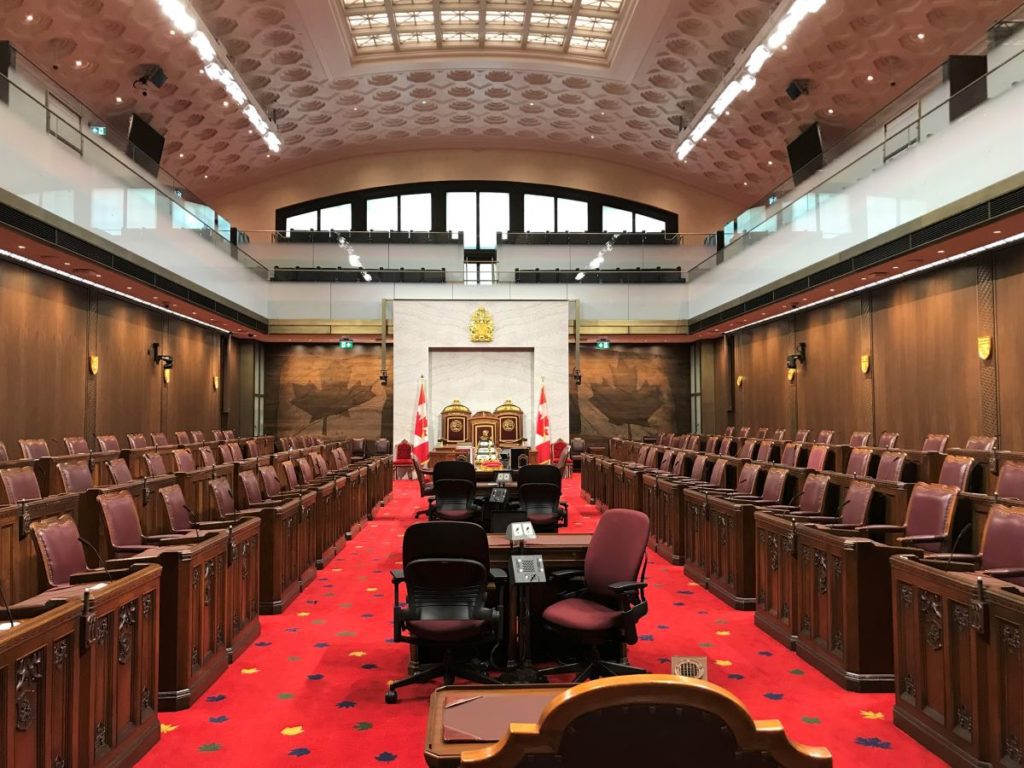 The Senate is located on the other side of the street in a building that used to be the central station of Ottawa. It's quite impressive on the inside and here you can take guided tours as well which will provide you with information about the Senate of Canada and also how it is still related to the monarchy of the United Kingdom.
If you are lucky, you'll have the most enthusiastic guide ever who won't hesitate to answer all your questions!
Byward Market
Byward Market is a large area where several small shops and restaurants are located. If you like to taste some local food or buy something special this shouldn't be missing on your one day in Ottawa!
I recommend passing by the most famous bakery of Ottawa, Le Moulin de Provence, and try to find the Obama cookies! They have lovely pastries and real fresh bread (which is difficult to find in Canada)!
This is the perfect spot to stop for lunch!
The Ottawa Sign
In almost every Canadian city you can find a city sign, gigantic letters of the city's name! Do you want to have proof of the fact that you've been to Ottawa? Then you should definitely take a picture with the Ottawa sign!
Notre-Dame of Ottawa
You haven't visited a city if you haven't gone into the Notre-Dame! At least, that's my opinion. Ottawa's Notre-Dame is a lovely church right next to the Byward Market and the overprotected American embassy. Go inside and enjoy the calm atmosphere!
The gigantic spider
Next to the Notre-Dame of Ottawa, you can find a gigantic spider! It's called the Maman statue and is a piece of contemporary art by Louise Bourgeois. It is part of the National Gallery of Canada (which is located just behind it). Students can visit it for only 8 CAD! Worth a visit if you like art!
China Town and Little Italy
When you visit Canada, in all major cities you'll find Little Italy and China Town. This is not different in Ottawa. It's nice to take a walk around or if you want to taste the delicious food! In need of a food break? You know where to go!
A cruise on the Ottawa River
Where there's water, there's an opportunity to hop on a boat!
Everywhere you walk you will be guaranteed to find information about short boat cruises on the Ottawa River. These are not cheap, but if you fancy a boat tour I would recommend it! Be sure not to buy the first one you see, but let the tourist centre inform you about the possibilities.
Walk along the Rideau Canal
If you don't want to sit on a boat but still want to see the river I recommend taking a walk along the riverside!
You can come down from the main street, next to the canal or from Parliament Hill. Or you can walk along the river and follow the Rideau Canal into the city.
At the river, you'll have a nice view over the water and the other side of Ottawa. It's a very nice walk to do in good weather!
Bytown museum
Are you interested in the history of Ottawa? In that case, you should visit the Bytown museum! This museum gives you insights into the whole history of Canada and more specifically Ottawa of course.
The museum has a set of relics from years ago and information on how Ottawa was build and how it became the capital of Canada!
Students only pay 4 CAD and adults 5 CAD. Even if you are not really into museums, you can still visit this one because it's rather small and won't take you that long.
Conclusion
Plenty of things to visit in Ottawa! My day in Ottawa has been a little short in time, but yours shouldn't! There is certainly enough to visit if you decide to come for a weekend.
Are you interested in visiting more of Canada? Read about the most beautiful cities in Eastern Canada!
Do you have any tips for me? Or do you want to share your own advice with other readers? Don't hesitate to comment below!
Related: the best Quebec road trip destinations