Since a worldwide pandemic doesn't allow us to travel, I decided to start sharing international recipes on Emma's Roadmap which you can try at home and this way bring the travel atmosphere in-house!
I'm thrilled to be sharing the first authentic Pakistani recipe on Emma's Roadmap. This recipe for Chicken Karahi definitely looks delicious and I hope you'll enjoy it as well!
Let's give the word to Ayesha!
Chicken Karahi
This wintertime calls for sharing the recipe of a dish that's cherished across the globe for its spicy taste! The famous Chicken Karahi!
Hi, I am Ayesha, mom to a monster, traveler in life, a marketer by profession and blogger by interest. In life, I'm a foodie by choice and cook by circumstances. The dish I am sharing today has the heart of many! Chicken Karahi is a dish known for its flavor burst with a spice level that is HOT.
Some cultural background
A specialty of Pakistan's street food, Chicken Karahi is made by stir-frying chicken in rich tomatoes and various fragrant spices in a wok (which in Urdu is called Karahi – hence the name chicken karahi).
For anyone visiting the subcontinent, chicken karahi is a must-have. Its origin is from Pakistan's northern province of Khyber Pakhtunkhwa (KPK), although there are variations of how it's made across various regions in Pakistan and India.
Some only cook chicken in a tomato base, few add onions. The Northern Indian region prefers adding capsicum too while in KPK it's made using mutton/lamb instead of chicken and making the overall experience richer, heartier & spicey. 
Overall, it's easy to make the recipe. You can adjust the spice level as per your liking. However, it's the spicy curry that brings the flavors in your mouth and has made people all around the globe fell in love with it. 
My Fusion to the dish
It's not a popular addition but I like to add a small quantity of onion in my dish which gives it a strong flavor. You can omit it from the recipe if you don't prefer it.
I also prefer using freshly grounded spices – they bring real depth of flavors.
I recommend using fresh ginger and garlic for rich flavorings instead of pre-made ones available in the market.
Let's get to the making of Chicken Karahi!
Ingredients
| | |
| --- | --- |
| 350 gm | Chicken (cut in medium sized pieces) |
| 3 Tbs | Vegetable Ghee / Oil |
| 1 medium size | Onion (sliced) |
| 5-6 pcs | Tomatoes (diced) |
| 2-3 pcs | Green chilies (Julienne cut) |
| 5-6 pcs | Garlic cloves (sliced) |
| 3/4 inches pcs | Ginger: ½ julienne cut for garnishingand ½ cut in tiny cubes  |
| ½ cup | Plain yogurt (whisked) |
| 1 ½  Tsp | Pink Salt |
| 1 Tsp | Red chili powder |
| 1 Tsp | Black pepper powder |
| 1 Tsp | Garam Masala |
| 1 Tsp | Cumin powder |
| 2 Tsp | Coriander powder |
Instructions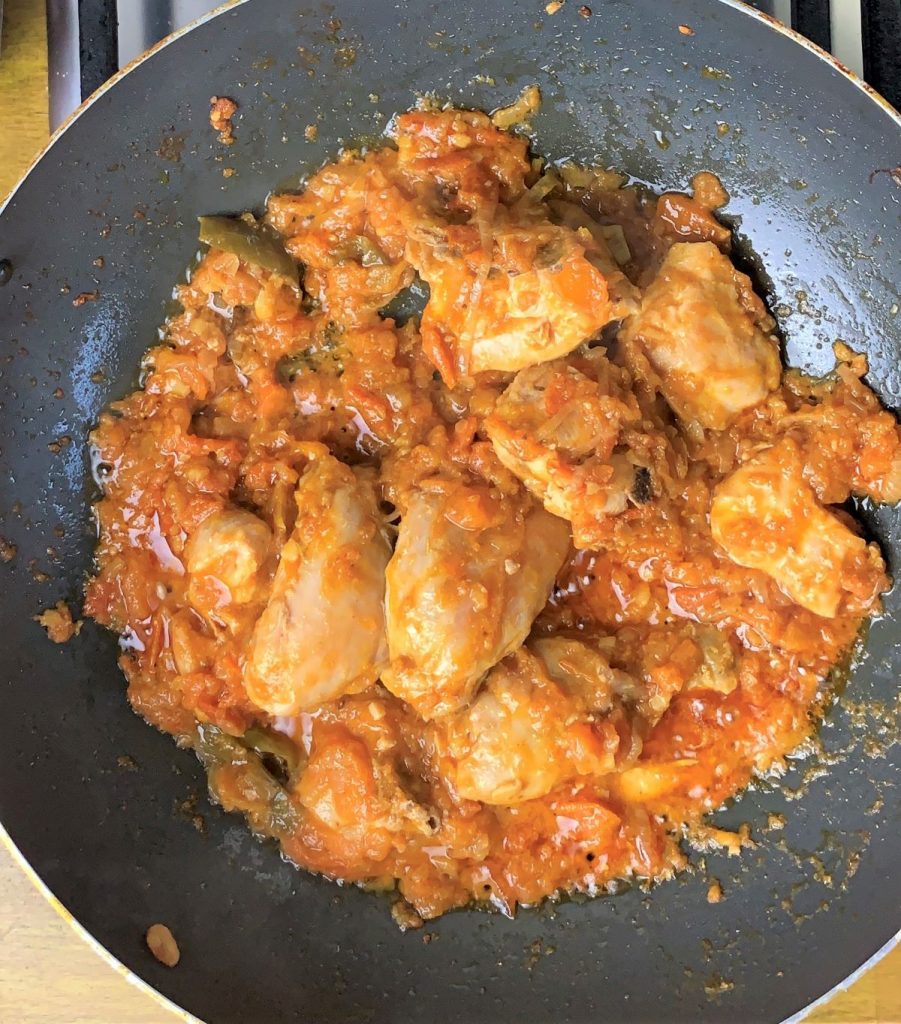 On medium-high heat add ghee/oil to the wok; Once hot, add garlic & fry for 2-3 minutes (this helps to bring aroma to the dish).
Add onions to the frying garlic and sauté for 5-6 minutes.
Once onions are light golden, add ginger cubes and green chilies and sauté for 1-2 minutes.
In the mixture, add chicken and sauté for 5-7 minutes turning sides until the chicken changes its color. 
Reduce the heat to medium-low, add tomatoes and mix thoroughly
Include salt, red chili powder, cumin powder and coriander powder and mix thoroughly
Now cover the wok and allow it to cook for 30-35 minutes on low heat. Stir 1-2 times in between to ensure all sides are well cooked.
Once the chicken looks golden brown, increase the heat to medium-high and add whisked yogurt. Continue to sauté until the oil separates (takes 10-12minutes) 
Add black pepper powder & garam masala to the karahi, mix it well.
The Chicken Karahi is ready!!
Serve it hot with naan/bread/Chapati and enjoy your meal!
Step-by-step video
If you want to have a visual overview of the dish, take a look at the video below in which Ayesha shows you all the different steps!
Don't also forget to visit Ayesha's Youtube channel for more recipes!
Looks delicious right?
I can't wait to try this authentic Pakistani Chicken Karahi recipe! What about you? Take a look at Ayesha's other recipes on her blog Me, Mom & Life and her Instagram!
If you'd like to see more international recipes, take a look at all the Recipes Around The World here on the blog!
Have you tried it? Let me know how it turned out in the comments below!