Quebec might just be my favourite province in Canada, and this is for several reasons. One of them is the incredible beautiful destinations you'll find here, reason enough to plan a Quebec road trip!
You might be wondering what kind of beautiful destinations you could be visiting in Quebec. Well, in this post, I'm going to make some excellent suggestions so that you can pick the destinations you like most for your Quebec road trip itinerary!
I'll be featuring suggestions of other experienced travel bloggers alongside mine, as I'm not an expert on all destinations. I hope these other travel bloggers can convince you of the wonderful experience they had at these destinations!
This post contains affiliate links. When you purchase through one of my links I get a small commission (at no extra cost to you). Read more in my Disclosure Policy.
Quebec road trip destinations
Montréal
The city of Montréal cannot be missed on your Quebec road trip itinerary! The largest city of the province of Quebec and the second-largest city of Canada will delight you with its many activities! Therefore, to properly discover this city you'll want to stay at least 2 days, preferably a bit longer.
Montréal is the perfect mix between French-speaking Quebec and English-speaking Ontario, although you can clearly see the French-European influences all over the city. Visit the old city center of Montréal to enjoy this to the fullest!
Plus, you'll also don't want to miss the Notre Dame Basilica of Montréal, which is by far one of the most impressive basilicas in the world, where among others Céline Dion got married. Make sure to take a guided tour inside to get to know more about the history of Montréal and the basilica itself.
Other top places to see in Montréal include the botanic garden of Montréal, climbing Mont Royal and enjoying the view of the city as well as a walk along the waterside!
During your time in Montréal, stay in one of the hotels in the center or rent an Airbnb a bit further from the heart of the city where it's easier to park your car. Use the metro lines running through the city to bridge any distances you can't do on foot.
The benefit of visiting Montréal is that even if you don't speak French, you're quite safe because most people in Montréal are perfectly bilingual!
Days needed: > 3
Related: Montréal itinerary: 9 places you have to see
Mont Tremblant
Contributed by Nina of Nina Out and About
Mont Tremblant is a must-see destination on any road trip itinerary in Quebec. 
The mountain is the highest peak in the entire Laurentian Mountain range, which spans all across Quebec and into New York State. The mont offers an exciting adventure for thrill-seekers to hike up one of its slopes to see spectacular views of the region. 
Mont Tremblant also boasts an incredible downhill skiing experience, with 37 slopes to take on. There's also the option of spending your days off by relaxing at one of the mountain's spas or luxury hotels, enjoying fine dining and first-class guest services. 
But winter isn't the only time to visit. Summer in Mont Tremblant is a delight! Whether you're looking to do a little shopping or get out into nature, Mont Tremblant has a wealth of activities for visitors to enjoy.
If spa treatments and lounging by the beach aren't your thing, spend your days in Mont Tremblant at outdoor attractions such as zip-lining through the treetops.
You'll need at least two nights in Mont Tremblant to enjoy the variety of outdoor activities. And you'll love the restaurants around downtown Mont Tremblant.  
There are a variety of hotels to stay in around Mont Tremblant, but the best way to stay on this road trip is in a cute cabin or cottage.
TIP: When driving in Mont Tremblant, remember your snow tires. It's illegal to drive in Quebec in the winter without them, and you'll need them to navigate the hills. 
Days needed: > 2
Eastern Townships
Contributed by Renee of Dream Plan Experience
The Eastern Townships, or Cantons de l'Est in French, sits at the foot of the Appalachian Mountains with an entire area covering 400-km. Bordering Vermont, New Hampshire and Maine in the US, the Eastern Townships lies between Montreal and Quebec City.
It's an area full of lush farmland with rolling hills, forests, lakes and mountains dotted with fruit orchards, wineries and maple syrup shacks. National Geographic names it as one of Canada's 50 Places of a Lifetime.
The Eastern Townships is known for its mountains, spas, and many charming small towns and villages. Visitors to this area come for the amazing hiking, biking, skiing, boating, as well as, gourmet food and wine experiences. No matter the season, there is something for everyone. Especially the scenic road trips. And, there are several.
Take the Brome-Missisquoi's Wine Route, a 140-km route with 22 stops at some of the best wineries. Maybe the Summit Drive, a 190-km loop to the peaks of Mont Megantic and Mont Ham. Or, the popular Townships Trail, or Chemins des Cantons, 430-km and 38 stops to the various heritage sites and the region's top attractions.
One of those top attractions is the 13 designated Les Coeurs Villageois. These unique villages earned the special title by showcasing the best of what they have to offer from products to culture. They are considered the heart of the Eastern Townships and cannot be missed. 
Days needed: > 3
Gatineau
Contributed by Claire of Claire Pins Travel 
The region of Gatineau, Quebec is located along the Ottawa River, directly across from the nation's capital. Many travelers who enter the province of Quebec from the west will start their journey here and Gatineau is well worth exploring for 2-3 days as part of a road trip across the province, or at least as a day trip from Ottawa. 
Travelers looking for outdoor adventures should plan a stop in Gatineau Park, which is known for the colours of the autumn foliage, cross country skiing and snowshoeing in the winter and swimming and hiking in the summer. The park is also home to the Mackenzie King Estate historic site, which has a museum, tea room, historical ruins, gardens and walking trails. 
For a break from long days of driving, try a relaxing visit to Le Nordik Spa-Nature, the largest spa in North America, which offers 10 outdoor baths, 9 saunas, yoga, meditation, massages, exfoliation treatments and more. 
Museum-lovers can stop by the Canadian Museum of History which is housed in a distinctive wave-shaped building beside the river. Permanent collections cover the history of Canada and a highlight is the Grand Hall which contains architecture and art from the First Peoples of the west coast. This site is also home to the interactive Canadian Children's Museum and an IMAX theatre. 
For meals, try Haru Izakaya for Japanese food, Chez Fatima for Moroccan dishes, Soif for well-regarded wine pairings or Bistro CoqLicorne for tapas, nachos and more.
For accommodation, travelers looking for a luxury experience could try the Hilton Lac Leamy, which features panoramic lakefront views, a rooftop pool, restaurants and a casino. Visitors on a budget could consider camping in Gatineau Park, which offers many standard tent, trailer and RV campsites along with a limited number of cabins and yurts available to rent.
Further dining and accommodation options are available just across the river in the Byward Market area of Ottawa as well. 
Days needed: > 2
Related: One day in Ottawa: an overview of the must-sees
Parc National de la Mauricie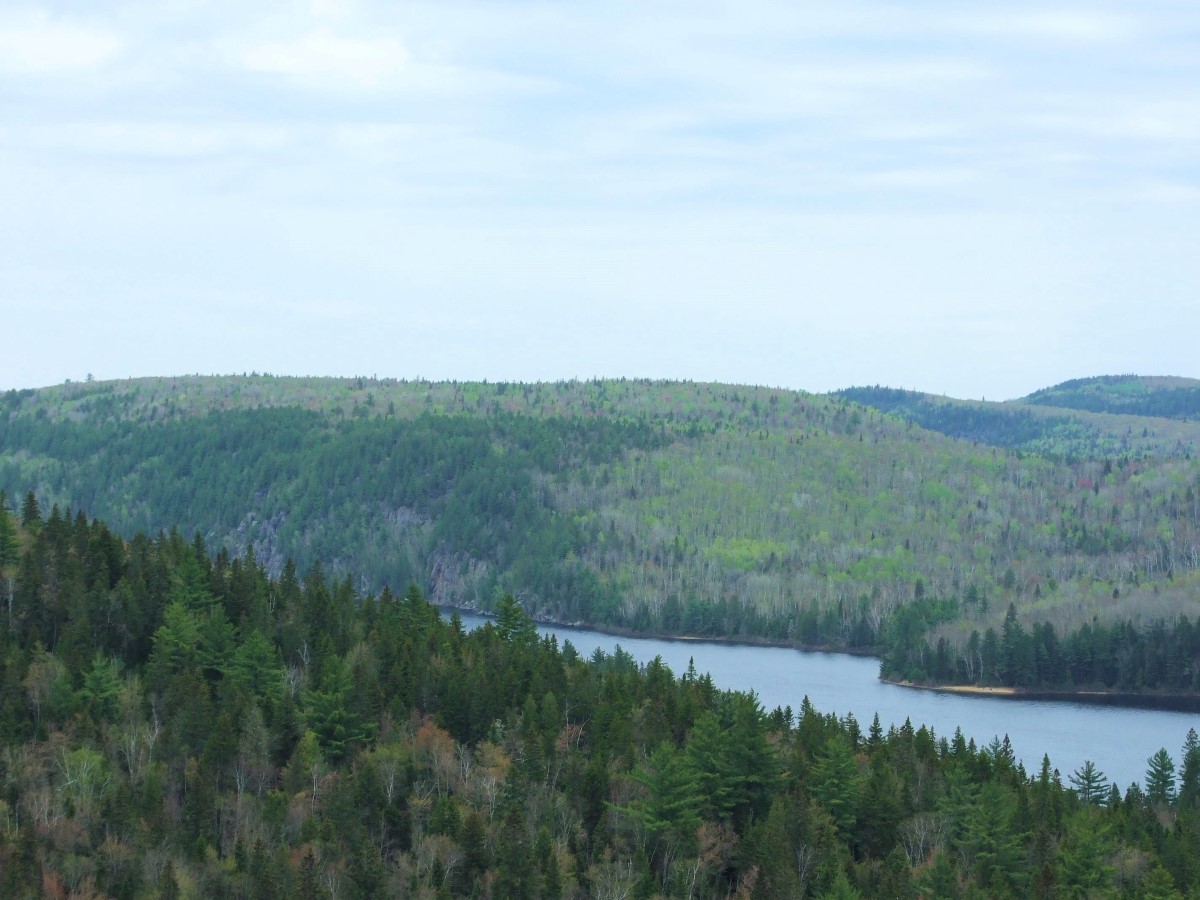 Contributed by Cosette of KarsTravels 
Parc National de la Mauricie is beautiful and some 2 hours driving away from Trois-Riviéres. It's unmissable on a road trip through Quebec or a Toronto to Halifax road trip. The park is rugged and has pristine nature. It's famous for its many lakes, such as Lac Édouard and Lac Caribou. Visit this park for the maple leaves, mesmerizing vistas and hikes to waterfalls.
La Mauricie is perfect to go hiking, swimming, biking or canoeing in Summertime. In Wintertime skiing and langlaufing are possible.
Not to be missed is the scenic drive along the parkway. A 63 kilometer long, bendy road that runs through the park, meandering along the large lakes in the park. It has beautiful vistas, especially in the Fall. The best stops for the perfect vistas are lookouts Le Passage and Île-aux-Pins.
Further, there are numerous great hikes, among them the Les Cascades trail and the Solitaire lake trail. The first one is an easy hiking trail that goes along a sandy beach, a picnic area and a beautiful waterfall. The second hike is one on which you get to see Solitaire lake from above.
Other fun things to do at this 536km² park with forests, lakes and pink granite is to go picnicking at Bouchard lake or visit one of the beaches. There's a lot of wildlife in the park so try to spot a brown bear, beaver or a moose.
Take at least 3.5 hours at the park, but longer if you want to do more than the scenic drive and one hike. Shawinigan and Saint-Jean-des-Piles are two towns near the park and best to stay and eat at. They have several hotels and campgrounds to choose from.
Days needed: > 1
Quebec City
Quebec City is without doubt one of the most charming destinations in Canada, and therefore, should not be missed on your Quebec road trip. This European-like city, with its cobblestone streets and German Christmas market in December, is a sight you'll remember for long after your trip!
There is plenty to visit, therefore, count at least 2 days to discover the city. Discover some of Quebec City's finest museums such as the Museum of Civilization and the Musée National des Beaux-Arts, as well as the cathedral Notre Dame de Quebec or the Augustinian Monastery.
However, the best way to start your trip in Quebec City is by exploring the lower village (Basse-Ville), starting in Rue du Petit Champlain. Then, take the funicular up to explore the upper part of the city with an amazing view of the Saint Lawrence River, where you'll see ice floating in winter!
Try to book a room at the prestigious Fairmont Le Château Frontenac, overlooking the city, or stay in the home of a local via Airbnb.
Quebec City is best done on foot, some places won't be accessible by car so it might be best to park your car outside the center and explore without it. Before you leave, also don't forget to add the Montmorency Falls as a pitstop on the way to your next road trip destination!
Days needed: > 2
Related: 13 fantastic places to visit in Quebec City
Other tips
What to pack
The different seasons in Canada make it hard to know what to pack. Winters can be extremely cold, especially in Quebec further up north, while summers can be pleasantly warm and autumn and spring fall somewhere in between these two.
To know what to pack for your trip in Canada, I made an extensive packing list for all seasons! In any case, I can tell you that winter is no joke and you should come well prepared. Certainly don't forget your snow tires!
Related: the ultimate packing list for Canada
Practicalities
The official language of Quebec is French, this means that all official communication will be in French, also on the roads! Although most signs are universal, it can't hurt to learn a few important words beforehand, such as:
Arrêt = Stop
Entrée Interdite = No Entry
Route Barrée = Road Closed
In general, there are no toll roads in Quebec with the exception of 2 bridges, the A-25 Olivier Charbonneau Bridge and the A-30 St. Lawrence bridge but these will not cost you more than a few dollars.
Because Quebec is rich in natural wildlife, it can happen that an animal crosses the road. It's therefore super important that you're very careful and attentive while driving as accidents can happen quickly.
As you might know, the official currency of Canada is the Canadian Dollar so if you're coming from abroad, you might want to change your cash before you start your Quebec road trip, but credit and debit cards are generally accepted everywhere so you likely won't need a lot of cash on hand.
In Canada, it is customary to tip about 15% of the price. Often, a lower bound of 10% and an upper bound of 20% is given.
Quebec road trip map
Conclusion
I hope you found the perfect destinations to add to your Quebec road trip itinerary so that you'll have an amazing time! I'm sure that all of these places are 100% worth visiting so you can't go wrong with them!
Let me know in the comments what your favourite destination is and how your ideal road trip in Quebec would look like!