You're planning to visit Rome but are looking for ideas, right?
Then, you've come to the right place!
There are not a lot of cities where you can find more history in one place than Rome so take advantage of that! Lucky for me, I have gotten the chance to visit this beautiful city twice already and now it's time to show you what's so special about Rome!
Below I will give you the best recommendations for your visit to Rome so you can check this Rome bucket list when you're there!
Top tip: I've included a handy checklist at the end of this post with the top 10 must-sees of Rome as well as a map with all the activities and experiences on it!
What to write on your Rome bucket list
Places to see
#1 Throw a coin into the Trevi fountain
This is probably the most cliché thing you can do in Rome but nonetheless very fun!
The idea is that you throw a coin into the Trevi fountain and make a wish! It's that easy and lots of tourists do it!
To avoid the crowd, I recommend going very early or very late during the day. This way you won't have to push other tourists away to take a pretty photo!
#2 Visit Vatican City
Did you know Vatican City is a country on its own?
In the middle of Rome, it's definitely a place you shouldn't miss. Visit Sunday morning and listen to the speech of the Pope, or book a ticket to the Sistine Chapel and admire Michelangelo's famous painting!
Be sure to also stop at St Peter's Basilica and the Vatican museum!
#3 Walk up the Spanish steps and enjoy the view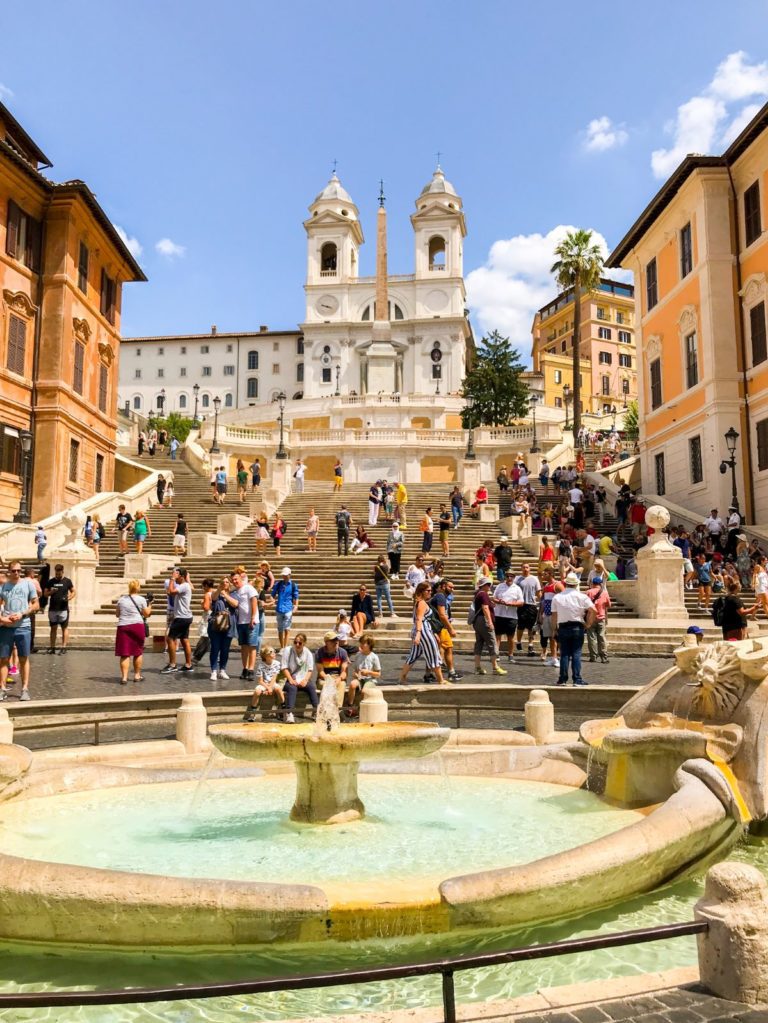 Take a walk up the 138 Spanish steps for a perfect view of the city. Walk to your left until you're at the Terrazza del Pincio, so you'll have the best view!
A fun activity here is to rent segways and drive through the park!
#4 Visit the Forum Romanum, the Colosseum and the Palatine Hill
During the time of the ancient Romans, this was the epicentre of Roman life. All buildings here refer to religious, political or economical activities of 2000 years ago.
As these places are practically next to each other, I suggest combining a visit to them and if interested also taking a look at the Circo Massimo, an ancient Roman Arena behind the Palatine Hill.
It's possible to buy a combi-ticket of the Forum Romanum and the Colosseum if you plan on visiting both, which I highly recommend!
However, either come very early or late because the place will be flooded by tourists. Either way, buy your tickets in advance to skip the (very long) queue!
#5 Visit the Pantheon
This Roman church is a masterpiece on its own. Don't compare it to our traditional churches as we know them now. This is something completely different as the building dates back to ancient times.
With its hole in the rooftop, it's a spot you cannot be missing on your Rome bucket list!
#6 Place your hand in the Mouth of Truth
The legend goes that anyone who puts its hand in the mouth of this statue cannot tell a lie, because the mouth would close and it would bite your hand off.
To see if it's true, you can go there yourself and place your hand into the carving as people did centuries ago!
#7 Walk through the Borghese gardens and gallery
Villa Borghese is a public park in the middle of Rome which is home to several museums and sculptures. Visit Galleria Borghese for art from the renaissance period.
Escape the busy city for a while and enjoy this piece of nature in the heart of Rome!
#8 Explore Trastevere
This alternative but trendy neighbourhood of Rome (also called the Jewish neighbourhood) is the place to be if you're looking for a nice restaurant at night or a cozy coffee bar!
#9 Take a walk to Piazza del Popolo
At this piazza, there will be one thing that immediately catches your eye: the obelisk.
You wouldn't expect this, but Rome is actually full of ancient obelisks, most of them transported from Egypt to Rome 2000 years ago.
On the Piazza del Popolo you'll find a masterpiece that was originally located in the Circo Massimo on the spina (around which the waggoners used to ride).
#10 Castel Sant'Angelo
This place used to be the Mausoleum of Emperor Hadrian but was quickly transformed to a fortress and is now a museum you can visit.
Even if you're not planning on visiting a museum, you should come to take a look at this building from the outside. The fortress is also called Castle of the Holy Angel and you can see this being represented by many statues of angels.
The legend goes that on this spot, the Archangel Michael appeared on the top of the castle swaying his sword to indicate the end of the plague in 590.
#11 Piazza Navona
One of the most beautiful squares of Rome is definitely Piazza Navona. The square hosts 3 fountains, a gladiator museum and numerous restaurants.
Go for a drink and admire some ancient architecture!
#12 Visit the Pyramid of Cestius
This pyramid was build just before Christ and is the tomb of Gaius Cestius, who used to be an important magistrate of Rome.
Today, you can visit this pyramid that also lies on the crossroad of 2 important ancient Roman roads!
#13 Piazza Venezia and the monument of Vittorio Emanuelle II
The immediate eye-catcher on this square is definitely the monument in honour of the first king of Italy, Vittorio Emanuelle II and the soldiers who died during World War I.
This colossal monument is an amazing piece of architecture that shouldn't be missing on your bucket list!
#14 Trajan's column
This column next to Piazza Venezia tells the victory of Emperor Trajan in the Dacian wars (almost 2000 years ago).
If you look at the column you can see that its whole story is carved out. An amazing piece of history that you can see for free!
#15 Santa Maria della Concezione crypts
Although this place is quite macabre, it should be one of the highlights of your trip to Rome.
The crypt under the Santa Maria church contains the bones of several hundreds of monks displayed in a rather artistic way.
This is an amazing experience but not for the faint of heart!
#16 Parco degli Acquedotti
Outside the city of Rome, you can still find the remainings of ancient aqueducts.
These majestic buildings used to provide the city of water coming from the mountains and the ancient Romans were famously known for them!
In Parco degli Acquedotti, you can still admire one of them!
Recommended experiences
#1 Taste the best gelato in the world
Besides pizza and pasta, Italy is known for its excelent ice cream, which by the way is called gelato and slightly different from ordinary ice cream.
Therefore, you should feel obliged to taste some of Rome's gelato! Don't worry, you'll be able to find it on every street corner!
Top tip: in Italy they have a weird habit of eating ice cream on a sandwich, if you see this, you should definitely try this typical Italian thing!
#2 Discover street art
As most large cities, Rome has some street art masterpieces as well!
Find the 10 best places to admire street art.
#3 Drink from a public water fountain
Rome has many public water fountains, and whether you're young or old, it remains fun to play with the water especially during summer!
The water in most smaller public water fountains is drinkable. In fact, Rome is known for the quality of its drinking water!
But please don't try to drink from the Trevi Fountain, for example. Water that stands still for a long time won't be drinkable.
#4 Enjoy a traditional Italian breakfast with coffee!
What's better than starting your day with a traditional Italian breakfast?
Forget the breakfast at your hotel for a day and go into a bar in the city where the locals have their breakfast! Enjoy a simple piece of pastry together with a good Italian coffee and you're all set for the day!
Looking for a spot? Consider Trecaffè!
#5 See an opera
Another thing for which Italy is known is its opera!
From modern pieces to ancient Roman plays, you can't miss this experience! However, you either love it or hate it. That's up to you!
#6 Explore Rome at sunrise
If you want to avoid visiting Rome full of tourists, consider waking up before sunrise and watch the sun go up while walking through the city. This experience will be magical!
Image how charming Rome could be without hordes of tourists!
#7 Drink local wines
I already told you that Italy is home to pizza, pasta, coffee and gelato. But if you enjoy a meal, the most Italian thing you can do is order wine with it!
You simply can't say you've visited Italy without tasting some of its wine! Ask the waiter some explanation about the wines they serve and which one fits your meal the best.
#8 Go on a vespa tour
Cliché but fun! Rent a Vespa and drive around Rome! It can't get more Italian than that!
But watch out when driving in Italy. Traffic is quite disorganized and drivers can be a bit aggressive on the road.
#9 Take a day trip to Ostia
Where do the Roman people go for a day at the beach? They go to Ostia!
However, don't be mistaken. There is also an ancient Ostia (Ostia Antica) where the ancient harbour of Rome was located! Today, it's an archeological site where you can learn about the daily life of a Roman 2000 years ago.
This ancient city is really good preserved and definitely a true bucket list item!
#10 Find the Flying Donkey
When you first see it, you might think: what's with this flying donkey? Actually a lot! This donkey is all that rest of Rome's first modern graffiti.
In the 1970s, the area of the donkey was in a slow urban decay. The people didn't like that at all and decided to raise awareness by painting graffiti of utopias and ideal cities such as the Flying Donkey on the walls. Right now, this is the only painting that rests from that time!
Can you spot it on your way through the city?
#11 Attend a gladiator show
One of the first things you think about when visiting Rome or after seeing the Colosseum must be gladiators, right?
To keep its history alive, Rome even has its own gladiator academy, where people are trained to be a gladiator just like 2000 years ago! How crazy is that?! (And yes, they fight with real weapons!)
However, not everyone can become a gladiator, you must have a good understanding of the history and a clear mindset.
Luckily, the school also performs Gladiator Shows with gladiator fights, ancient dances and Vestal rites.
During summer, the school host shows every Friday and Sunday which should definitely not be missing on your Rome bucket list! Find more information on their website.
#12 Watch out for the stumbling stones of Rome
All around the Jewish Quarter of Rome (Trastevere district) you'll find stumbling stones. These golden stones remember the Jews that died during World War II.
There are more than 200 of these stumbling stones and you'll mostly find them in front of the houses where these people used to live.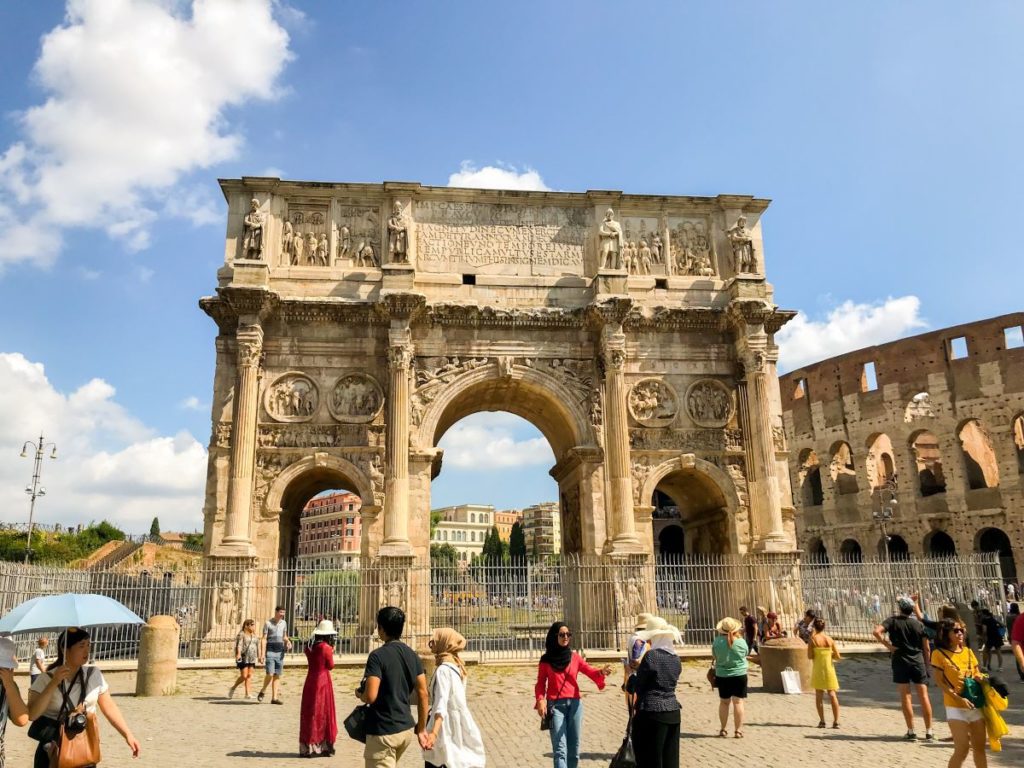 Bucket list map of Rome
Not much time?
Here are my absolute top 10 bucket list experiences in a row!
Pin this for later and check the boxes when planning your next trip to Rome!
Time to discover Rome!
Did you enjoy this bucket list for Rome? Did you gain inspiration for your next trip to this wonderful city?
Let me know what you think about this Rome bucket list in the comments!