Do you feel like visiting Europe during spring and enjoying the blooming trees, pleasant temperatures and wonderfully coloured gardens? Then you might want to take a look at these spring break destinations in Europe!
After all, planning your European trip during spring is an excellent idea since you'll be able to enjoy these incredible places without the usual crowds and at much more affordable prices than is usually the case!
So if you're eager to discover the best places in Europe in March, April, May or June, check out all the amazing destinations below, contributed by several travel bloggers who have first-hand experience traveling there!
Which one do you choose for your spring break?
This post contains affiliate links. When you purchase through one of my links I get a small commission (at no extra cost to you). Read more in my Disclosure Policy.
The best spring break destinations in Europe
Ljubljana, Slovenia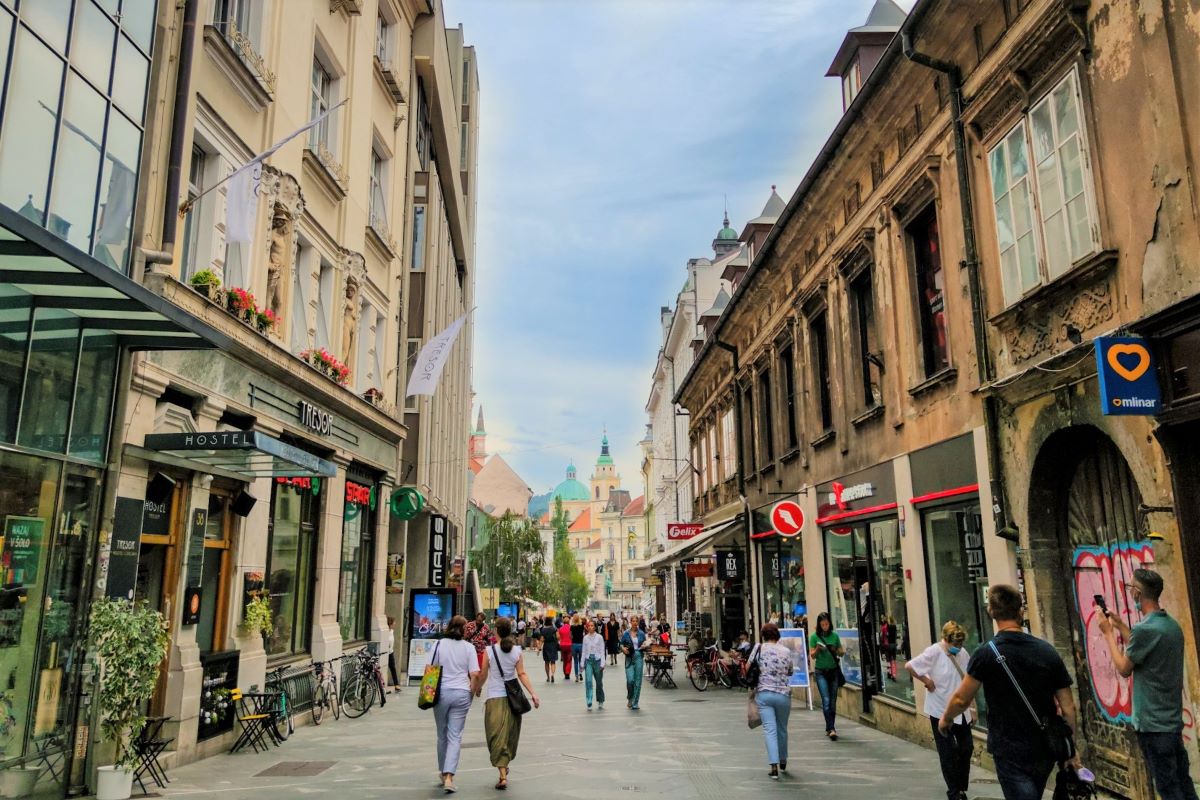 Contributed by Erki from Genem Travels
Ljubljana in Slovenia is one of the smallest capitals in Europe. There you will find a small charming city with a picturesque old town, interesting sights, mountains, and a laid-back Slovenian lifestyle.
In spring everything starts to bloom in Ljubljana: outdoor coffee shops, many tourist activities reopen after winter break and the weather is nice again. You will find several parks there to stroll around blooming fauna.
At the beginning of March, there is a traditional event called The Welcoming of Spring, where people let handcrafted wooden clogs with candles inside flow through the river. 
From mid-March, every Friday at Pogacar Square is held an event called Open Kitchen (Odprta Kuhna). The central market is turned into a big kitchen, where you can taste mostly local cuisine. The best event for a local food experience.
Most of the tourist attractions are around the city center, so it's better to look at accommodation in the center area. For budget travelers, I recommend Hostel Tresor. If looking for more privacy, then Hotel Cubo is an excellent place to stay.
Ljubljana has one international airport with some direct flights. It's about 31 km from the city center and between them is efficient transport with busses and shuttles available. Another alternative to visit Ljubljana is by train. Slovenia is located conveniently between bigger countries with connections to places like Zagreb, Vienna, Budapest, Venice, and more.
Related: How to spend one day in Ljubljana
Tallinn, Estonia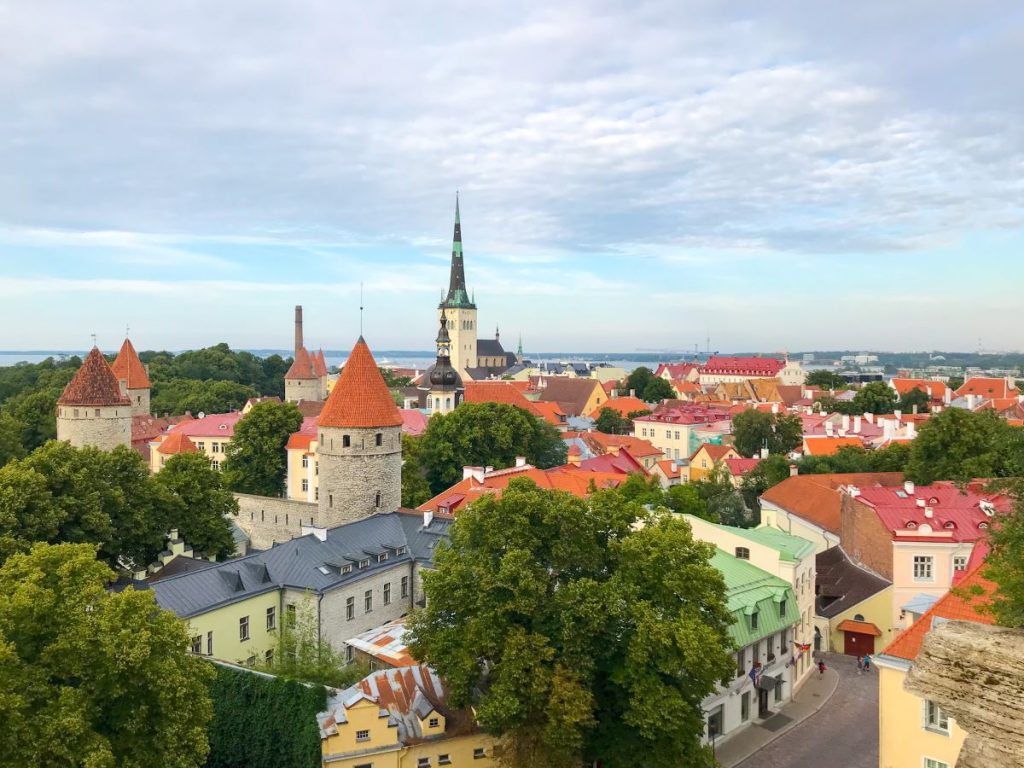 Contributed by Becki from Meet Me In Departures
Because of its location in the northern hemisphere, the warmer weather takes a little bit longer to arrive in Estonia compared to more southern European countries. However, the Spring is still filled with a ton of things to do in Tallinn.  
If you arrive in the earlier months of the season, you'll still have the chance to explore the city with snow; it's a regular occurrence up to March! This means it's a great opportunity to make the most of the snuggly warm saunas and photograph the picturesque streets with their icy facade.  
In early April, Tallinn Music Week (TMW) takes place. It's one of the biggest indoor music festivals in the Nordic and Baltic States. Various performances from local, regional and international destinations take place, with a variety of performances from about 200 artists.
For a more unusual event, the nearby Räime West herring festival happens. The festival breathes life into the little village after the long winter with everything to do with herrings. It takes place on the second week of April.
Naturally, the best place to stay in Tallinn is around the Old Centre where you'll find a range of accommodation types from hostels to 5-star hotels. If you prefer to stay in a more residential area then I recommend Kalamaja, just outside the city, filled with colourful little wooden houses and a more hipster vibe.
Getting to Tallinn is easy, the main airport is is located only 4 kilometres from the city centre. It's connected by either Tram number 4 or Bus number 2 with regular services running through the day.
Inside the historical centre, the pavements are mostly covered with cobblestones. Wear a pair of shoes with good soles to grip, and take extra care walking about, especially if it's icy.
Related: How to spend a perfect weekend in Tallinn
Vilnius, Lithuania
Contributed by Elizabeth from Three Week Traveller
Even though winter can be rough in Vilnius, spring here is absolutely perfect. The temperature is not too cold nor hot, going outdoors is comfortable and people, in general, are happy to enjoy spring sun. There are also fewer tourists here during spring making travelling much easier. With less crowd, you can book accommodations, tours, and transportation at the last minute without a price hike and visiting attractions are much enjoyable. It's definitely a great destination in Europe if you are on a budget.
There are many things to do during spring in Vilnius. First, the Bohemian town of Uzupis where arts are displayed right on the street or even on the river. Walking around Uzupis will take you to an unique outdoor art museum. From a piano sitting right next to the river, a massive penis statue, street paintings, to a swing under a bridge. All these can be done without booking a tour, if you prefer to have a guide, there's a free walking tour. Simply ask your hotel receptionist and they will tell you what time and where the walking tour will start.
You can get to Vilnius either via plane, train, or bus. But of course, it depends where you are coming from. The airport is just a 15-20 minute drive to the city centre. You can take the local bus, which works so great or order a taxi.
Amsterdam, The Netherlands
Contributed by Sinjana Ghosh from Backpack & Explore
Covered in tulips and cherry blossoms, Amsterdam is the place to be in Europe during spring. With temperatures averaging at about 20 degrees, it is a great time to walk and cycle around the city without perspiring. The canals are abuzz with flower markets and lots of activities.
The most popular thing to do in Amsterdam in spring is to take a day trip to Keukenhoff for the tulip festival. It's a visual treat to see the vibrant carpet of tulips and other spring blossoms. Another lesser-known festival in Amsterdam during spring is the King's Day. Watch out for the canals covered in boats where people in orange indulge in celebrations.
Other than that, you may also want to include day trips to Zaanse Schans, Voldem or Giethoorn in your Amsterdam itinerary. Within Amsterdam, walk in the lush green parks, explore the canals, and get lost in the romantic city. Marvel at the art of Van Gogh Museum and Rijk's Museum. Take a canal cruise in the lovely weather to introduce yourself to this beautiful city.
There are many hostels and hotels in the city center. You can also choose more tranquil neighborhoods like Amstelveen as the transport is amazing in Amsterdam and the Amsterdam card covers it for free. Amsterdam's Schipol airport is well connected to all major cities in the world. You can also reach Amsterdam via Euro rail.
Alsace, France
Contributed by Elisa from France Bucket List
Alsace, in Eastern France, is a great destination for a spring break in Europe. The list of things to do in Alsace is long, plus it is very easy to reach from Paris by train.
Spring in Alsace is lovely. After a long and cold winter, the flowers start to bloom, the hiking paths in the Vosges clear out, and the storks set their homes in the churches' bell towers. Storks in Alsace are so dear that you will find them everywhere (in the form of puppets or figurines) as souvenirs. There's also a theme park dedicated to storks, not far from Sélestat.
The best places to stay in Alsace are Strasbourg and Colmar. Both cities are very easy to reach by train from the French capital or other cities in France and a great base for day trips or guided tours. For extended trips, we recommend renting a car. With four wheels and a good road map, you can visit the typical villages of Alsace, some châteaux off the beaten path, and the vineyards.
Don't miss the traditional food in Alsace, with delicious dishes like cordon bleu, tarte flambée or the famous choucroute. Winstubs are the best places to eat local.
Related:
Budapest, Hungary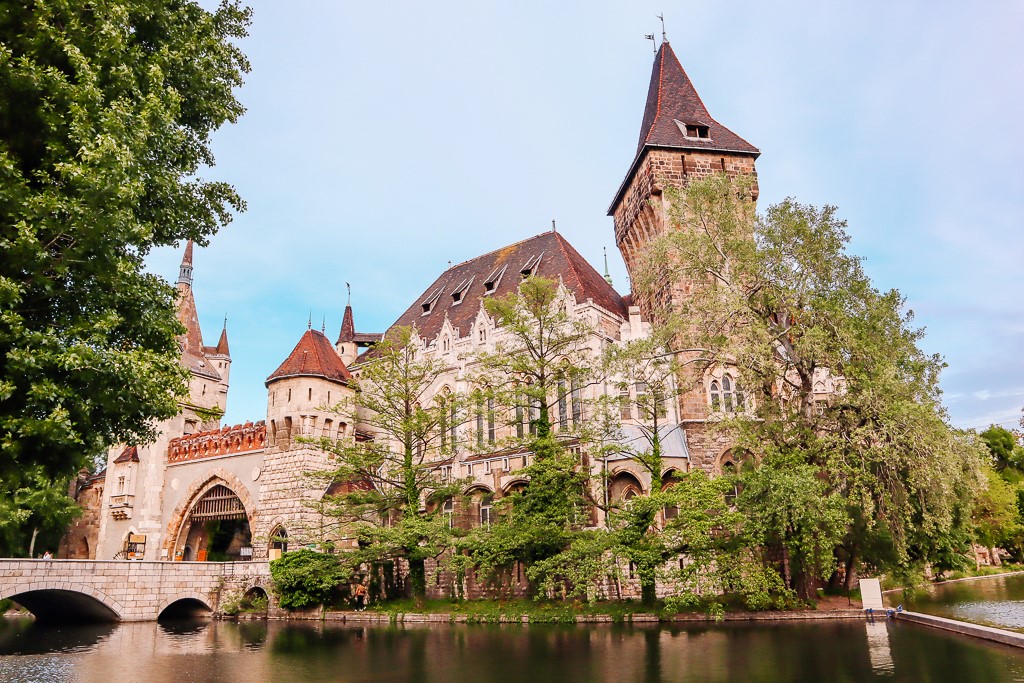 Contributed by Or from My Path in the World 
With perfect weather and unique seasonal events, Budapest makes a fantastic European spring break destination. The Hungarian capital is packed with historical sites, museums, cozy cafes, quirky bars, and stunning lookout points, and it offers dozens of things to do and see all year round, but you won't regret visiting it in spring.
Apart from enjoying colorful blooms in different spots in the city (like Margit Island and the Toth Arpad promenade), you can also attend a couple of spring festivals in Budapest. The most famous one is the 2-week Budapest Spring Festival, Hungary's biggest performing arts event. It hosts countless concerts and shows of classical music, dance, theatre, and much more. Other events worth mentioning are the cherry blossom festival at the Füvészkert Botanical Gardens, the Easter fair at Vörösmarty Square, and the Buda Castle Easter Festival.
It's also incredibly fun to wander around the city freely (as it is extremely beautiful), but other highlights that must be on your Budapest itinerary include Fisherman's Bastion, the Parliament, Széchenyi Thermal Baths, Vajdahunyad Castle, and the Jewish Quarter, but the list goes on. You can also take plenty of unique free tours like Jewish history and street art walking tours. To enjoy them, stay at Anabelle Bed and Breakfast overlooking the Danube.
Crete, Greece
Contributed by Claire from ZigZag On Earth
Crete is a fantastic destination to explore during Spring in Europe. It offers a wide variety of landscapes including mountains, canyons, caves, dreamy beaches, turquoise lagoons, historical sites, and charming towns. And you can enjoy it all, without the crowds and heat of summer!.
Plus, to complete one of the spectacular hikes in Crete, Spring is much more comfortable.
During this season, wildflowers color the land. And Easter is an important holiday period in Crete: you can enjoy many celebrations and festivities with the locals during that time.
The island is accessible by plane to Heraklion or by ferry from Athens or other Greek islands.
And once you arrive, the best way to explore the island is by renting a car and driving around, which is not difficult at all. Just don't overplan. Because of the mountains, it can take longer to get from point A to point B.
To explore the West side of the island, the best place to stay is the beautiful town of Chania. It is ideally located and has a lot of charm. To explore the East side, you can opt for the main city of Heraklion or head to the beach at Malia.
Ksamil, Albania
Contributed by Haley from Haley Blackall Travels
In the newly emerging country of Albania, the town of Ksamil offers a great spring break experience in Europe. Located on the emerald coast in the far south of the country, Ksamil offers pristine and picturesque beaches, exciting beach clubs, and cheap-as-chips food and drink. April and May offer lovely warm weather with plenty of sun. If you are looking to shake off the winter blues with your buds, this is the place for you.
Ksamil itself is quite small with the main attraction being time spent at the beach with a cocktail in hand. There are plenty of beaches to choose from, and fortunately, in Spring you will skip the influx of tourists and the increase in beach lounger prices. One of the best beach clubs to hit is located at Ksamil 7 Beach. 
A couple of the highlights just outside of town are Mirror Beach and Edon-Bida Beach, backed by towering cliffs and boasting clear turquoise waters. If you need a cultural break from basking in the sun, take the short bus ride out to the Butrint National Park & Ancient City to learn a bit about Albania's past.
You can reach Ksamil by landing at the Tirana International Airport and then taking one of the bus shuttles approximately 5 hours south. Drop your bags at Boda Boutique Hotel and hit the sand.
Berlin, Germany
Contributed by Ali from Berlin Travel Tips
Spring is a great period to visit Berlin, especially if you want to avoid the crowds. This is shoulder season in Berlin, and there will be fewer tourists. Seeing all the attractions without so many people around is much more enjoyable.
Berlin is also a gorgeous place to be in the spring. The weather is getting warmer after a long winter, and the city starts to feel alive again. It's also great to visit Berlin in spring since the summer months can get quite hot and air conditioning is rare.
In April or May, you can find lots of cherry blossom trees in Berlin. They're scattered all around the city, but there are a few really interesting places to see them. On the southern end of Berlin not far from the Lichterfelde Süd Sbahn station, there's a big park filled with cherry blossom trees. Other great places to look are near the Bornholmer Strasse Sbahn station and near Mauer Park.
While the weather is generally good in the spring, it can also rain or be cool at times. Make sure you include a jacket and umbrella on your Berlin packing list.
Looking for a great place to stay? Circus Hostel in Mitte is a popular and centrally located budget option. Or for a splurge, check out 25 Hours Hotel which has fantastic views over the Berlin Zoo.
The BER airport is located about 16 miles from central Berlin. You can reach several stations in central Berlin within 20-40 minutes using the airport express train (FEX) or the regional trains RB14 and RE7.
Kielce, Poland
Contributed by Jakub from Tymrazem
Spring is a special time of the year! Everything comes to life. Kielce and its surroundings are a place worth visiting at this time of the year. There are five nature reserves in the city, each of which has something special about it. You will see a lot of interesting species of plants and animals in them. In order not to look far, even the City Park (one of the oldest parks in Poland) takes on a completely new look after winter and explodes with vitality!
In the city, it is worth visiting the Botanical Garden in Kielce, which comes to life after a winter sleep. If you prefer to see nature in a natural environment, it is enough to go to the forest. Among the singing of birds, we can admire the first spring flowers that form colorful carpets.
Spring is also an ideal time to visit Kielce, because that's when gastronomic gardens open back up. The Market Square and main streets open up after the winter break and invite you to delicious dinners, lunches, beers with friends or a glass of wine with a partner.
A definite advantage of Kielce is the fact that you can check most of these places yourself without using a car because the city is not big and the public transport works very well. Buses will take you to the nearest forest in several minutes!
Hallstatt region, Austria
Contributed by Joanna from The World In My Pocket
Austria is a gorgeous country to visit in spring when nature awakes after the long snowy winter. One of the most beautiful parts of Austria is surrounding Salzburg and includes the beautiful villages of Hallstatt, St Gilgen and Bad Ischl. Also known as the Lakes District of Austria, the Salzkammergut area surprises through its dramatic scenery of the clear lakes reflecting the snowy peaks of the Alps.
The most famous village here is Hallstatt, popular for its postcard-like views. The village is also home to the oldest mountain salt mine – 7000 years old, which can be visited after a short funicular trip up the steep versant. The views from up there are fantastic.
Because this is a very popular destination, to be a sustainable traveler, it is highly recommended to arrive in Hallstatt by bike. The entire Salzkammergut region is well connected by bike paths which allow you to stop and enjoy the scenery much better than on a bus or in a car. Most of the hotels offer free bikes to their guests.
Hallstatt is great to visit in spring because it's not yet the peak season, which means that you won't experience the typical summer crowds.
Related: How to visit Hallstatt from Vienna in one day
St Petersburg, Russia
Contributed by Anna from Travel Cultura
Among all seasons, spring is probably the best time to visit St Petersburg in Russia. St Petersburg is a northern city, and the weather in March and April may be rather cold. However, the number of things to do in St Petersburg significantly increases. After long cold months, people can finally switch to outdoor activities.
In April, the navigation season begins. In winter, you can reach St Petersburg only by plane or train. But in spring, travellers have another option: a cruise liner or a ferry.
Have you heard about the world-famous fountains of Peterhof? Of course, you have. The fountain season starts in mid-April, and the opening ceremony is always a colourful performance.
In May, when everything begins to bloom, there are flower festivals in local parks, for instance, the Tulip Festival at Yelagin Island. At the end of May, St Petersburg celebrates City Day. During two days, there are festive marches all over the city, ice-cream festivals, outdoor concerts, and fireworks.
In case you like nature, head to the suburbs of St Petersburg. There you can opt for hiking or kitesurfing at the Gulf of Finland.
St Petersburg is a great city for exploring on foot. Think of staying in the historical centre (Tsentralny District). Thus, you will have dozens of landmarks and places to visit within walking distance of your hotel.
Maramures, Romania
Contributed by Corina from Another Milestone
Maramures, the region in the north part of Romania, is known for its unspoiled traditions and beautiful nature. If you decide to come here in spring you will have the opportunity to experience the Easter traditions and to see beautiful nature at its best. The people in Maramures celebrate Easter with painted eggs and local dishes.
The best way to get to Maramures is by car from Cluj Napoca (where there is a large international airport) or from Bucharest (the capital of Romania that also has the largest airport in the country. From Cluj Napoca, it will take you around 2 hours and from Bucharest a whole day, but you can visit other attractions on the way).
Once in Maramures choose one of the best local B&Bs for an authentic experience. If you want to explore the area you will need a car. This way you can visit the main attractions: the wooden churches, UNESCO heritage sites, the merry cemetery, the Memorial to the Victims of Communism and of the Resistance in Sighetu Marmatiei and arrive in Viseu de Sus for a steam train ride through the wild woods. But don't forget to book your ticket in advance!
Seville, Spain
Contributed by Justine Ancheta from Latitude 41
Seville, Spain is the capital of the southern region of sunny Andalusia. The springtime brings on fragrant jasmine and orange blossoms, and whitewashed patios of the Barrio Santa Cruz are beautifully lined with colorful, blooming flowers.
In early spring, Seville enchants visitors with its Semana Santa processions, a beloved cultural tradition for the local sevillanos. It's a week-long event when religious brotherhoods carry a Roman Catholic statue in pomp and circumstance. These men often have their faces covered because they're doing penitence as they carry and parade heavy statues on a platform. The solemn procession is often accompanied by bugles and drums.
Later in the spring, the festive Feria de Seville in April reignites the city. It's when ladies in frilly dresses and elegant men dance the local sevillanas, drink rebujito (an Andalusian cocktail), and display their festive dresses while riding in traditional horse-drawn carriages.
For traditional accommodations, stay at the Hotel Casa 1800, just a few steps from the Cathedral's La Giralda tower. This former mansion is in the Santa Cruz quarter, blending modernity, classic style, and warmth. It also has a lovely rooftop terrace.
It's easy to arrive at Seville because it has a well-organized, central airport. In Seville in the spring, don't forget to live like a local, and have a refreshing Cruzcampo beer on an outdoor bar or share tapas with a loved one on a decorated terrace.
Bologna, Italy
Contributed by Lori from Italy Foodies
Spring is a great time to visit Europe, and one of the best destinations for spring break is Bologna, Italy. Bologna is a great place to visit any time of year, but when the snow is gone and temperatures begin to warm into the 70s (F), the city comes alive. The city is easy to get to being served by the Bologna Guglielmo Marconi Airport. From there, it's a short drive to town by taxi or bus.
There are plenty of things to do in Bologna, especially for foodies. Renowned throughout Italy for its cuisine, the warm sunny days are perfect for enjoying a walking food tour tasting and drinking your way through the city. You can rent a bike or take a guided bicycle tour which will take you to many of the best historic and cultural sites.
Or simply enjoy the great weather at a street cafe with some wine. All around the University of Bologna, cafes are packed with students and locals enjoying the spring weather and socializing with friends. And there's nothing like an evening stroll through the city's softly lit covered porticoes — so beautiful in fact they were recently named a UNESCO World Heritage Site.
Stay at a hotel close to the town center. There are B&Bs and luxury hotels and the Hotel Corona D'Oro is highly recommended.
Split, Croatia
Contributed by Milijana Gabrić from World Travel Connector
Split is the capital of the coastal region of Dalmatia. It's the second-largest city by population and one of the most beautiful places in Croatia. Sunny Spilt is a popular summer destination for the pretty beaches (Bačvice beach, Zvončac beach, Bane beach). But sun-kissed Split on the turquoise Adriatic sea is a perfect Mediterranean gateway in spring as well. 
While summer in Split can be over-crowded (July and August are the peaks of the tourist season), spring is a perfect time for visiting Split. Air temperatures are rising and nature is starting to bloom from March to June, just after the cooler winter and before a hot summer.
Split in spring will bewitch you, even if you spend only one day in Split. Strolling sunbathed cobbled streets of Split, visiting celebrated Diocletian Place (a UNESCO site), touring famous Game of Thrones sites, and sipping coffee on the Riva seafront promenade with no crowds in spring is a special treat.
Besides that, the iconic Split food market called Pazar in spring is a feast for the eyes, to say at least. The market stalls are full of fresh foods from the local farms, like young artichokes, fresh asparagus, organic fava beans, sweet-scented strawberries, and fleshy cherries.
But if you want to see some of the most beautiful Mediterranean trees and plants in spring, head to green Marjan hill that overlooks the city of Split. The scenic forest and the views of Marjan hill will make your heart beat harder.
If you are an adrenaline seeker, take a day trip from Split to nearby Cetina canyon and choose ziplining over the Cetina canyon or rafting down the Cetina River. The river and the canyon in spring are surreal. In addition, if you want to see some of the most beautiful cascading waterfalls in the world, take a day trip from Split to the Krka Waterfalls National Park. 
Looking for a perfect stay in Split? Choose the stylish Grisogono Palace Luxury Apartment in the heart of the city. Split International Airport is 11 mi (19 km) from the city of Split. It's connected well with many European airports. Split is also a 3-hour drive from Dubrovnik Airport and a 4-hour drive from Zagreb Airport.
Snowdonia National Park, UK
Contributed by Kerry Hanson from Adrenaline Junkiez
Snowdonia National Park in North Wales is an amazing region located in the UK. You not only have Mount Snowdon, the highest mountain in Wales but you also have breath-taking landscapes all around. While you can get buses or trains to the region, by far the best way to travel is by car so you can really revel in the beauty of the location.
Snowdonia covers more than 823 square miles and is home to over 100 lakes. In spring, not only will you see the odd flurry of the Welsh daffodils and flowers brighten up the area, but you will also see fields upon fields of adorable lambs. 
As you'd expect with such a monumental mountain in the region, there are many hiking trails to challenge yourself with, including Mount Snowdon itself. Another activity that you can enjoy in the spring weather is the Snowdonia Zip Wire or the mountain go-karts located in Penrhyn Quarry.
A great place to stay in the region is Bets-y-Coed. This quaint Welsh village has beautiful architecture and trendy restaurants and pubs to unwind within after an adventurous day. There are also other areas such as Portmeirion or cabin parks that would make great additions to your stay.
Provence, France
Contributed by Nadine from Le Long Weekend
Spring is the ideal time to see the South of France at its best. Awakened from the dormant winter with an explosion of colourful flowers, you'll be treated to a feast for the senses.
First, the delicate almond blossoms start appearing, followed by the vibrant yellow rapeseed fields, and finally, the landscape is covered with the unmistakable scene of beautiful red poppies popping up everywhere.
The weather in Provence in Spring is typically mild and sunny, and it's an excellent time to take advantage of the region's hiking trails, such as those in the Calanques National Park and in the Alpilles.
Events are everpresent in the region during Spring, especially around Easter time when you'll find one of the largest Antique markets in Europe taking place in L'isle-sur-la-Sorgue, along with the strawberry festival in Carpentras, the Pottery market in Bonnieux, and the much-loved Festival of wine that takes place throughout the region in May.
To get to Provence, you can fly directly to Marseille, or take the TGV to Avignon, Aix, or Marseille directly from Paris. Consider staying somewhere central such as in the Luberon. One stunning property that offers a tranquil retreat is La Bastide de Marie in the beautiful Menerbes.
Related: 21 cool weekend breaks in France
Bansko, Bulgaria
Contributed by Sarah from A Social Nomad
Bansko, Bulgaria is an incredible place to visit for spring break. Early Spring in Bansko will let you take a few days skiing on the mountain, which is Bulgaria's biggest and Europe's cheapest ski resort. Once the snows start to go, then there is fabulous hiking here. 
Bansko is located just 2 hours drive from Bulgaria's capital city, Sofia, and is perched on the edge of Pirin National Park. There are easy transfers from the airport, 6 daily buses, or car rental is simple too. 
You'll get up to 13 hours of daylight here during April and likely 8 hours of sunshine, which gives you lots of time to explore. There are mountain bike trails, horse riding and depending on the snowmelt, white water rafting too. 
There's no shortage of places to stay in Bansko, but the five-star Kempinski is a bargain during Spring – pick up a room for around 45 euros a night! Spring in Bansko will let you celebrate Easter with the Bulgarian Orthodox Church and see some unique celebrations and traditions. 
Come also to visit the "retirement home" for rescued bears nearby – spring is a perfect time as the bears come out of hibernation at the Dancing Bear Park at Belitsa, a short distance away from Bansko and they are truly glorious creatures in a mostly wild environment. 
Krakow, Poland
Contributed by Karolina Klesta from Polish Foodies
Krakow makes a perfect spring break destination in Europe! It's the most touristy Polish city but no wonder why! With the heartbreakingly beautiful old town, vibrant atmosphere, and low prices, it's a place everyone should visit at least once in their lifetime.
Why spring is the best time to go to Krakow? The weather is great and it's still not that crowded. If you are visiting Krakow in May, you will have the chance to attend Juwenalia, the biggest students' festival in Poland.
There's an international airport in Krakow, so you can easily fly there. Some of the carriers you may choose are WizzAir, RyanAir, and Lufthansa.
The best areas to stay in the city are Rynek and Kazimierz. You will be able to walk to all the tourist attractions. It's the heart of Krakow, so you will have amazing shops and restaurants at your fingertips. While in Krakow, be sure to try Polish cuisine, especially the famous pierogi (dumplings), gołąbki (stuffed cabbage rolls), and bigos (hunter's stew).
Dublin, Ireland
Contributed by Pamela from The Directionally Challenged Traveler
One of the most underrated spring break destinations in Europe is the charming city of Dublin, Ireland. Engulfed in a rich history, with pubs on every corner and friendly locals inside, it'll steal your heart without you even realizing it.
Spring is when Ireland comes to life – the rolling hills of green become even more vibrant, the weather is warming, and the St. Patrick's Day festivities start in March. There's no spring break quite like celebrating St. Patrick's Day in Dublin. It's unlike any other festival in the world.
Be sure to pack enough green items to celebrate. If you're wearing green, the leprechauns can't see you. Locals may pinch you if you're not wearing green on St. Patrick's Day! The St. Patrick's Day parade starts at noon and proudly displays Irish history through mystical art. 
If you need a break from the celebrations, there are plenty of things to do in Dublin. The beauty of the city is on display from the River Liffey and Ha'Penny Bridge to Dublin Castle and Trinity College. Walking around the cobblestone streets of Dublin there is no shortage of beauty. 
History fans should stay at The Schoolhouse Hotel. It's a historic hotel that has seen much of Dublin's events including the 1916 rising. The rooms are named after important historical figures as well.
Prague, Czech Republic
Contributed by Samantha from The Wandering Wanderluster
Springtime in Europe means the welcome of warmer weather and colourful spring blooms, and in Prague, Czech Republic it is no different. Some people argue that springtime is the best season to visit this popular city, with enticing hotel and flight prices, fewer crowds and pleasant sunny days that make exploring the city a pure delight. 
Between the months of March and May, the already colourful city of Prague becomes engulfed in pastel shades of cherry blossoms and magnolia trees that can be found in many of the city's beautiful parks and stately gardens that begin opening for the season. If you visit during Easter, you'll find the cultural Easter markets in full swing.
Enjoy festival concerts, crafting events and demonstrations and the return of the wooden huts from the Christmas markets fill many of the city's public squares, only this season decorated easter eggs, colorful buntings and sprays of spring flowers.
In the Old Town Square where the main Easter market is held, find intricately hand-painted eggs, traditional embroidered cloths, wooden toys and various culinary treats for sale, a small live petting zoo for children and a wooden footbridge where you can stand and take in the numerous architectural styles of the surrounding square.
Those who want to explore a number of different markets and events should explore the local neighbourhoods such as Karlin or Vinohrady that surround the historic centre where you can enjoy cheaper prices and an opportunity to see areas of the city where tourists rarely visit! 
Sorrento, Italy
Contributed by Helen from Helen on her Holidays
Sorrento is a wonderful place to visit in springtime. This part of southern Italy has warm, sunny days from March onwards, and the spring flowers make the already-beautiful scenery even more stunning.
The lovely Spring weather is also perfect for sightseeing. Sorrento is surrounded by amazing, world-famous attractions and the sunny but not-yet-too-hot weather of March, April and May is the perfect time to explore. 
Easy day trips from Sorrento include trips to the ruins of Roman cities Pompeii and Herculaneum, as well as a hike up to the crater of the volcano that destroyed them, Mount Vesuvius. Take a boat out to the glitzy, gorgeous island of Capri, or visit Ischia, another island in the Bay of Naples and relax in one of Ischia's 100 hot springs. For a day you'll never forget, head to the Amalfi coast, just south of Sorrento, and take in the picture-perfect villages and beaches.
To get to Sorrento, fly into Naples or take a fast train from Rome. Hotels in Sorrento can be significantly cheaper in spring compared to the peak summer season; for a bargain stay, try the Grand Hotel Cesare Augusto, a 4-star hotel conveniently close to Sorrento's train station.
Paris, France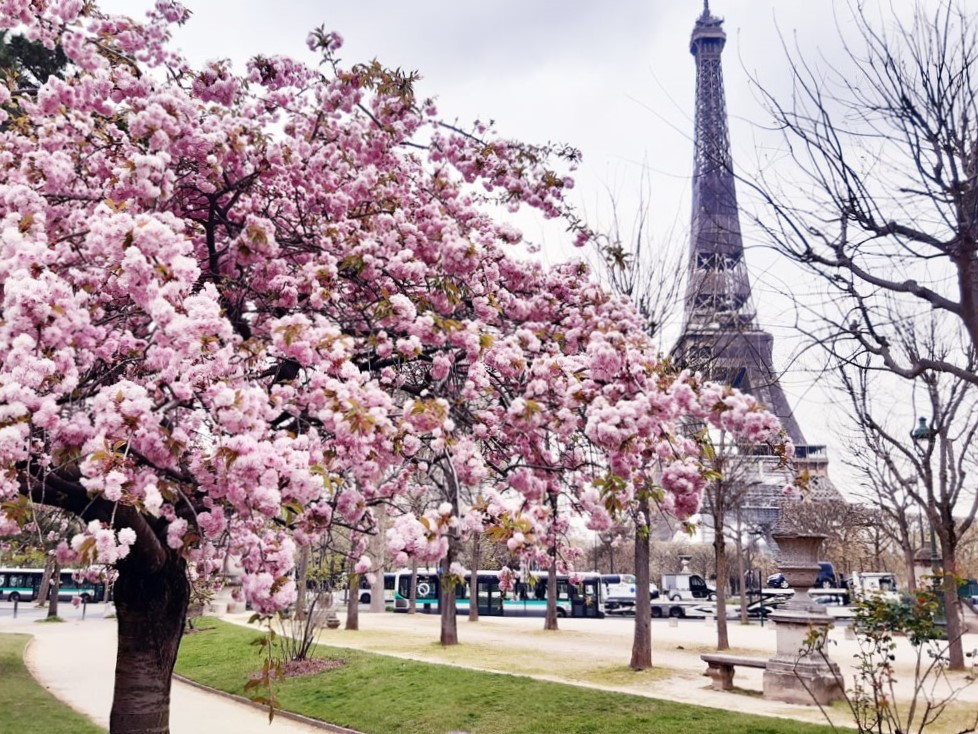 Contributed by Norbert from World in Paris
There is no wrong time to visit Paris, but spring is a great season to travel to the French capital on a weekend getaway or a more extended trip.
After a long winter, spring in Paris comes with the magnolia blossoms followed by the cherry blossoms, and locals start to populate the café-terraces and the river banks.
With spring, the festival season also kicks off, and there are plenty of food festivals, wine festivals, sports events, or outdoor concerts. The parks show their best colors, and also the gardens surrounding Versailles, Chantilly, or Fontainebleau.
From March to June, it is also a good time to explore the surroundings of Paris before the summer crowds arrive. A day trip to see Provins, Auvers-sur-Oise, Monet's Gardens in Giverny, or the Loire Valley Castles is easy to organize and complete your Parisian holiday.
There are many ways to travel to the French capital, by train, car or plane. The main airports in Paris are Orly and Roissy-Charles de Gaulle. However, we don't recommend visiting Paris by car because parking is expensive and difficult to find!
While in Paris, don't forget to taste the local cuisine, with dishes like the onion soup, steak-frites, coq au vin and different salads, all washed down with a glass of good French wine.
Related: 21 cool weekend breaks in France
Conclusion
I truly hope that you've found your perfect spring break destination in Europe between all these possibilities! Of course, I'm already looking forward to planning my own holiday this spring! How about you?