Are you looking for the perfect destination in Europe to spend your vacation this summer?
Then you've come to the right place! In this post, 25 travel bloggers will guide you through the most beautiful places to visit in Europe in summer whether you want to go in July, August or even September.
This is the best representation I can give you about this diverse continent. From la Bella Italia to the cooler northern Iceland, there's a perfect holiday destination for everyone!
Are you ready to get inspired by these beautiful summer destinations?
Map
Use this handy map to see where your dream summer destination is located in Europe.
Best summer destinations in Europe
Iceland
Contributed by Suzanne of Meandering Wild
Iceland is the perfect location for a summer trip. While it is often associated with snow, dark winter nights, and the northern lights, the summer brings almost constant daylight, beautiful flower meadows and puffins.
The midnight sun means that you can explore for long days.  You don't need to think about getting back to your hotel before it gets dark. This also means that you can visit the larger attractions late in the evening and have them to yourself.
The best way to explore Iceland in the summer is to complete the ring road as a road trip. This will take you past the well-known waterfalls including Godafoss and Skogafoss and the beautiful Diamond Beach which is scattered with icebergs. You will visit geothermal areas with steaming mud pools and see the large geysers. A summer road trip also means you can explore the more remote areas which are often cut off in the winter months. 
The weather in the summer can be variable. Lots of layers of clothing are needed as well as waterproofs and winter layers. Even in July, the temperature may struggle to be a few degrees above freezing and the Atlantic storms can bring heavy rain and strong winds.
This is not a warm lazy summer destination, but the landscapes and adventure make up for this completely.
Pula, Croatia
Contributed by Martina & Jürgen of Places of Juma
One of the most beautiful summer destinations in Europe is definitely Pula in Croatia! On this trip, you can expect a beautiful historic old town where you can even visit the famous Croatian amphitheater. This dates back to Roman times and can even be compared to the Arena in Rome. But not only the landmark of Pula is worth seeing, in the city center there are other Roman buildings and temples waiting for you. Picturesque are also the small alleys and pretty city squares, where you can enjoy the wonderful summer scenery with a cocktail or ice cream. In summer there is often live music and lots going on.
Another highlight that makes Pula extremely attractive as a summer destination is the countless magnificent bays and beaches. They are located outside the city and delight with beautiful nature and fabulous watercolors. Perfect if you want to relax for a few days and still do some sightseeing and excursions.
But the region around Pula is also worth seeing, so you can experience a lot here also in summertime. Some of the most beautiful sights of Istria, such as Cape Kamenjak or the mountain village of Motovun are not far from Pula.
Sarajevo, Bosnia Herzegovina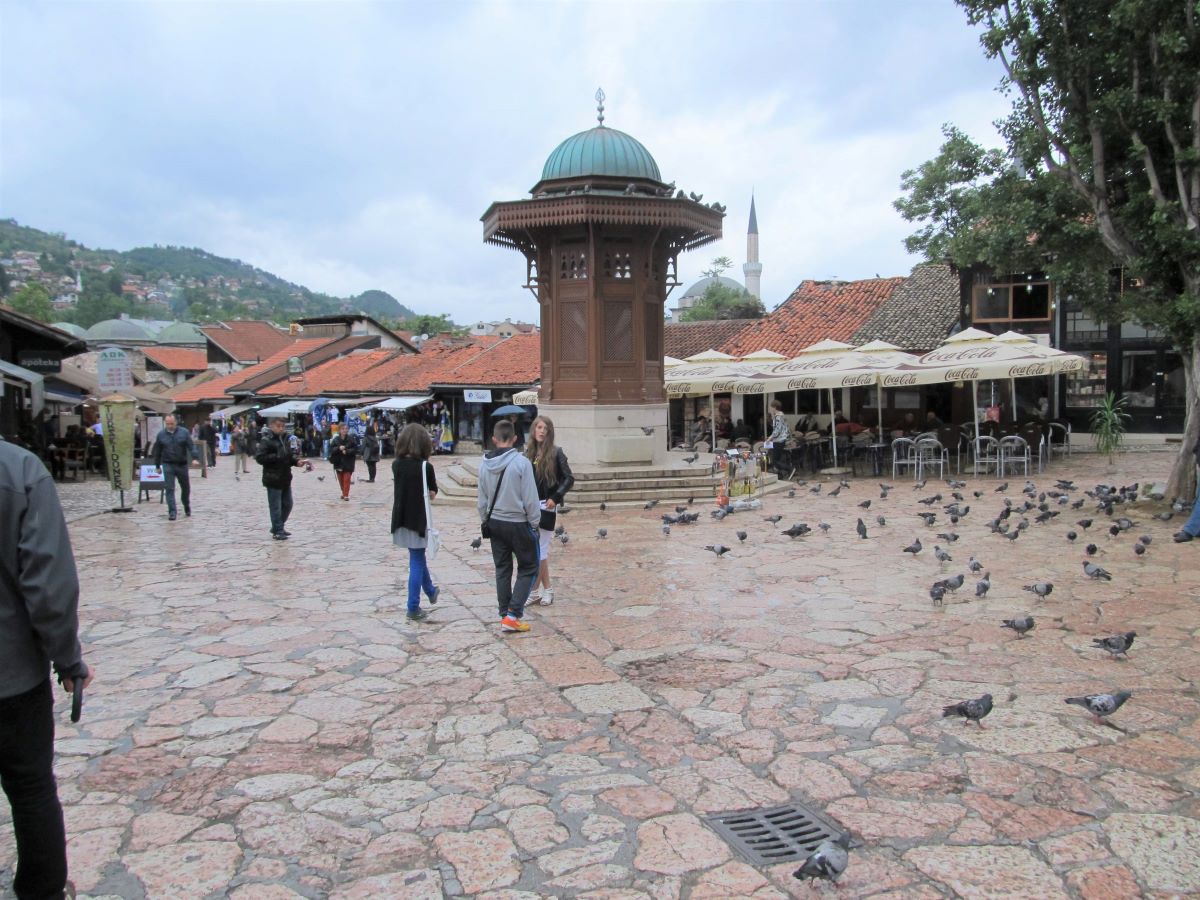 Contributed by Džangir Kolar of Dr. Jam Travels
Sarajevo is the capital of Bosnia and Herzegovina, a country in southeast Europe. One should visit this city for many reasons, but the main 6 would be history, culture, people, food, nature, and prices. History and sites you can find in the city ranging from medieval Ottoman times, the Austro Hungarian empire, Yugoslavia with Tito, the winter Olympic games in 1984, up to the late independence war in the 1990s.
The cultural mix here is something rarely seen in one place. In a square of a few 100 meters you have temples from the four main monotheistic religions (catholic, orthodox, Muslim, Jewish) and it has been this way for over five centuries.
People here are kind, relaxed, and constantly joking. Food is again a mixture of cultures, heavily influenced by Turkish cuisine. You should try ćevapi meat rolls or one of the pies at Baščaršija Bazaar. Also, the aščinica dinner type of venue is a place to taste many things like Beg soup or stuffed peppers. For dessert, you should order baklava and coffee prepared in a special way.
Within half an hour from the city center, you have beautiful hills, rivers and waterfalls. Summers here are hot, 30+ celsius degrees. Last but not least are prices: Sarajevo is one of the cheapest capitals in Europe. For example, a beer would be 1.5 €. If you put all these features together, it is a no-brainer where you will spend your next summer vacation.
Santorini, Greece
Contributed by Monique of Trip Anthropologist
One of the most romantic and beautiful European summer destinations is Greece's Santorini Island. This summer is a fantastic time to visit Santorini because it will not be as crowded with cruise ships as in other years.
This is particularly so with beautiful Oia which is the most sophisticated and photographed town on the island. Make sure you walk down the many wide steps to tiny Ammoudi Bay where you can swim, snorkel, dive or just eat fresh seafood right by the water in the tiny restaurants.
Watching the sunset over the volcano across the caldera and the Aegean sea is a magical experience. Exploring the island from the sea, sailing around Santorini, hiking from Fira to Oia, and exploring the central ancient villages such as Megalochori, are all must-do experiences!
At the southern end of Santorini is Akrotiri which is home to the archaeological site of Ancient Akrotiri, Greece's equivalent of Pompeii. Around the central villages are wineries, some with views over the caldera.
Traditional cave hotels make a wonderful respite from the fierce summer sun. It is a great idea to hit the beaches or take to the water in the middle of the day. Sunset is the most lovely time of day and thousands of people gather near Oia castle to watch the sun sink below the volcano.
Lisbon, Portugal
Contributed by Venaugh of Venaugh
Lisbon, Portugal is a summer destination that you'll never forget. The weather is perfect! It's lovely and cool around 22 degrees Celsius even when the sun is still out, and it's not an intense sun that's extremely hot when you stand in it. However, some places are very windy as you go further out of the city.
There are so many wonderful sites to see like the Tower of Belem, Boca de Inferno, and of course, the breath-taking architecture. There is also Roca da Cabo which is the most western point of the entire European continent. And it looks like an image from a postcard!
Although there are also some gorgeous beaches, be prepared for extremely cold waters. Also, many of the buildings have historic value, including the places you may rent, however, there are also some more modern alternatives that can be found as well. All these reasons, plus so many more, make Lisbon a great summer destination.
Related: 19 famous landmarks in Portugal you should visit!
Alghero, Sardinia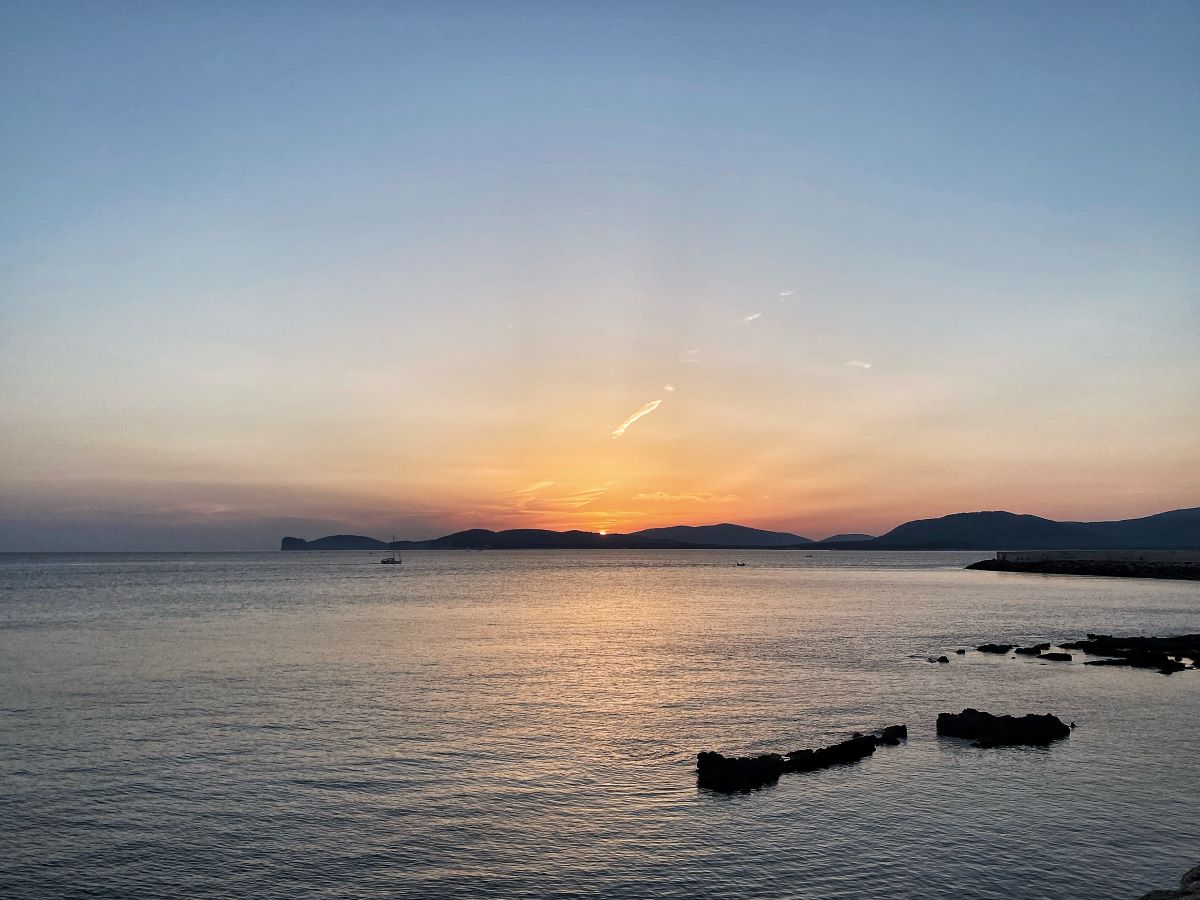 Contributed by Claudia Tavani of Strictly Sardinia
Alghero is easily one of the best summer destinations in Europe. This small town on the northwestern coast of Sardinia is truly unique. Famous for being a Catalan-speaking town, thanks to the fact that for a long time it was under Catalan influence, Alghero is a great place to visit year-round but it becomes fully alive during the summer months. 
Among the best beaches in Alghero there is Le Bombarde and right next to it, Lazzaretto beach. Both are small coves surrounded by a thick forest of Mediterranean pine trees populated by thousands of cicadas whose sound is almost deafening – in an absolutely pleasant way. Mugoni is another beloved beach, a favorite of locals and offering views of Capo Caccia (also visible from town), a promontory from where you can enjoy perfect sunset views and where you'll find walking and hiking trails.
Capo Caccia will also give you access to Neptune Caves: the Escalade Cabirol is a stairway of more than 600 steps that will take you to the spectacular caves. Alternatively, you can go there by boat from Alghero tourist harbor. 
Not far from Alghero, Porto Conte Park is perfect for nature lovers; Nuraghe Palmavera is a well-kept archeological site and Sella & Mosca is one of the best wineries in Sardinia where you can also go wine tasting. 
Alghero is well connected to the rest of Europe via direct budget airline flights.
Scotland, UK
Contributed by Kristin of Adventures with Ensuite
Scotland has some interesting cities but the main reason it is such a great destination is its countryside and magical scenery. The highlands and the Hebridean islands are paradises for lovers of the outdoors and summer is the best time to experience the unique landscapes.
You will be spoilt for choice when it comes to hiking in Scotland. Some areas not to miss are Glencoe and nearby Ben Nevis, the tallest mountain in the UK.
Fort William, the town close to Ben Nevis, is also home to the Jacobite Express steam train – although this train is more famous as the train featured in the Harry Potter movies.
A few hours further northwest is the Isle of Skye with its fairy pools and unique rock formations such as the Old Man of Storr and the Quiraing. 
The summer months bring the dreaded midges but don't let them stop you from visiting. Summer is the best time to experience the Scottish outdoors since the weather is warmer and it rains less.
But be aware that the weather is very variable in these parts, even during summer. So come prepared for all four seasons in a single day so that nothing can stop you from enjoying the beauty of the landscape.
Algarve, Portugal
Contributed by Alya and Campbell of Stingy Nomads
Algarve, a region in the south of Portugal is an amazing summer destination in Europe. The region offers great weather, many outdoor things to do, beautiful historical towns, sandy beaches, a warm sea, and delicious local food. Algarve can be a perfect holiday place for any traveler; a solo traveler, a romantic couple, or a family with children. 
The most popular beach holiday places in the Algarve are Lagos, Faro, and Albufeira. All three towns have beautiful sandy beaches, charming historical centers, many restaurants, and hotels. Outdoor activities in the Algarve include surfing, kayaking, hiking, cycling, dolphin watching, etc. Hiking is one of the most popular activities here. A wide range of walking routes along the coast including the famous Rota Vicentina offers stunning views.
In summer in the Algarve the weather is great. It's hot and sunny every day with very little rain and a refreshing sea breeze. August is the busiest time in the Algarve with thousands of foreign and local tourists coming here for the summer holidays. If you want to skip crowds it's better to come in June or September. 
The quickest way of getting to the Algarve is to fly to the international airport of Faro; there are direct flights from many European cities. From Faro, you can take a bus, a train or rent a car and drive to your final destination.
London, UK
Contributed by Alice of Adventures of Alice
London is the capital of England, but it's also one of the best cities in the world with plenty to do for any kind of traveler. It's a magical place, always buzzing with new and exciting things to do. There's so much to offer and whether you're spending 24 hours in London or a whole week, the city has something for everyone.
The best way to navigate the many choices on offer is by following locals around their native boroughs, or simply taking in the sights from above with a ride on one of London's iconic double-decker buses.
The city also has a rich history that spans centuries. It has survived gunpowder plots, The Great Fire of London and two world wars, plus, it's also home to some of England's most famous landmarks like Big Ben, The Tower Bridge, Westminster Abbey and Buckingham Palace. 
You'll find plenty more incredible sights when you explore this city on foot or via a riverboat tour. There are countless parks throughout London, which makes it easy to find outdoor activities like cycling through Richmond Park or visiting Kew Gardens for a stroll among acres upon acres of beautiful botanical gardens. 
Plus, the food scene here is out of this world – after all, London is considered one of the culinary capitals and has everything from Michelin Star dining to fantastic street food. Perfect for culture, history or just good old-fashioned fun, London is one of the best summer destinations in Europe.
Baku, Azerbaijan
Contributed by Ellis of Backpack Adventures
Baku is a city that is both European as well as Asian. Located on the Caspian sea coast it is at the crossroads between east and west. There are modern shopping streets and futuristic architecture but also a beautifully renovated historic center that brings you back to the days of the Silk Road. 
In Baku, you can visit old caravanserais, mosques and hammams. Some buildings, such as the maiden tower, are so old that people only know mysterious legends about its dynamic past. Baku is one of the oldest cities in Europe and it was founded before the 5th century BC. 
Baku was fought over by the Romans, the Persians, the Arabs, the Ottomans and the Russians. Nowadays it is the capital of independent Azerbaijan, but it remains a melting pot of different cultural influences. At the same time, Baku is changing with new futuristic buildings such as the flame towers that rise above the city
Summers are warm and dry and the great weather is perfect to explore the city. If it gets too warm in Baku itself, it is very easy to escape the summer heat. Baku is close to the Caucasus mountains and before you know it you can be surrounded by fresh air, green alpine meadows and snow-capped mountain peaks.
Provence, France
Contributed by Nadine of Le Long Weekend
Summer in Southern France is absolutely magical. Bathed under a golden sun, and with impossibly blue skies, Provence positively glows in the warmer months. It's a time when the farmer's markets are in full swing, fun & entertaining cultural events fill the city streets, and long lazy lunches are savored under the shade of a plane tree.
The weather is typically hot and sunny, with sweltering days and warm nights. Because of this, it's best to go exploring in the mornings and reserve the afternoons for a dip in the sea, or to spend time by the pool. Of course, there's one attraction in particular that draws in visitors to this bucolic corner of France every year, and that's the lavender fields of Provence. Early-mid summer is the ideal time to witness the spectacle before the fragrant crop starts getting harvested in mid-July.
But even if you miss this key event, there's plenty to keep you busy in summer. Hire a pedal boat and float down the spectacular Verdon Gorge, shop for souvenirs in the antique markets in L'isle-sur-la-Sorgue, discover the region's famed rosé & go on a tasting tour of several vineyards, or spend time in the charming seaside village of Cassis. The Provence is incredibly varied and has something for everyone to enjoy.
Related: 21 cool weekend breaks in France
Granada, Spain
Contributed by Joanna of The World In My Pocket
Granada is one of the most beautiful cities in Andalucia, a perfect destination for a summer holiday in Europe. You can almost be guaranteed that the weather will be sunny and hot if you visit Granada during the summer months. Granada is one of those cities that offers something for every member of the family, no matter what they are interested in.
One of the main attractions in Granada is the Alhambra, a fantastic Moorish fortress which has stood the test of time and is now the most visited landmark in Spain. If you want to visit, make sure to book your entry tickets ahead of time, as they usually sell out at least three months before. Even if you didn't manage to book a ticket, you should still visit the gardens of the Alhambra, which are one of the best examples of the Nasrid landscaping.
Another great thing to do in Granada is to attend a flamenco show in one of the caves outside of the city center. It is a unique, emotional experience, that shouldn't be missed.
Summer in Granada is a perfect time to enjoy tapas at the many outdoor terraces around the city. Remember that this is one of the few places in Spain where you get free tapas when you order a drink.
Related: Malaga one day itinerary
The German Alps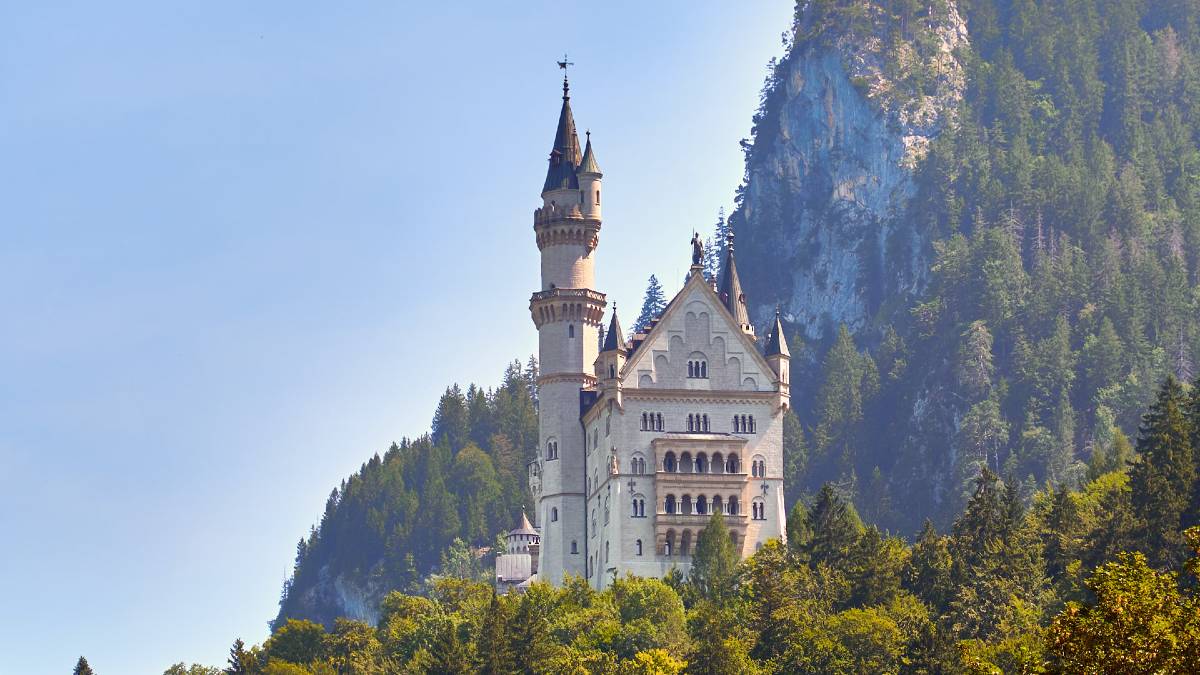 Contributed by Daniel and Ilona of Top Travel Sights
The Alps in Southern Germany are amongst the best European summer destinations. Here, you can find a wide variety of attractions, from castles to cute mountain villages and various hiking trails.
One of the highlights of Southern Germany is visiting Neuschwanstein Castle. The fairytale castle, which inspired Walt Disney's Sleeping Beauty castle, is amongst Germany's most famous landmarks. You can easily spend a whole day in the area, exploring the viewpoints around the building. Plus, did you know that you can visit a second castle, just a few hundred meters away?
Hohenschwangau Castle might not be as well-known as Neuschwanstein Castle, but the interior is stunning, and it's well worth a visit. For both castles, make sure to book your tickets in advance as a limited number of visitors can tour them every day.
Another fantastic thing to do in Southern Germany is to hike in the Alps. You can find hundreds of hiking trails in Southern Germany. Some, like the hike to Lake Schrecksee, take you to alpine lakes. Others allow you to climb mountain tops or walk across meadows.
The weather in the Southern German Alps often gets hot enough in summer to swim in the alpine lakes. Nevertheless, some days might be cloudy or windy, so remember to pack a light jacket.
Malta
Contributed by Emily of Emy's Way
An amazing summer destination in Europe that is often overlooked is Malta, a small Mediterranean island located south of Italy. I arrived with no expectations but quickly fell in love with its gorgeous views, old medieval towns and delicious local cuisine. On top of that, Malta offers so many adventurous activities that will make your trip truly unforgettable.
One of the things you can't miss when visiting Malta is its historic capital, Valletta. It's one of the most impressive cities I've ever seen, its old glory completely intact. Definitely check out the Barrakka Gardens and enjoy some stunning sea views.
If you love snorkelling or want to marvel at clear turquoise waters, I suggest a boat trip to Comino and Gozo. For the best sandy beach in Malta, head to Ghajn Tuffieha Bay. Another amazing sight to see are the ancient towns of Mdina and Rabat, as well as the nearby Dingli Cliffs (try to catch a sunrise if you can!).
If you're visiting Malta during summer, you can definitely expect hot temperatures around 30°C. However, since you're on an island, there are plenty of opportunities to go for a swim and cool off! If you don't want to rent a car, there's a great bus and ferry system that'll take you to pretty much anywhere.
Puglia, Italy
Contributed by Ophelie of Limitless Secrets
Puglia is one of the best destinations to visit in Europe in summer! Located in the south of Italy, exactly at the heel of Italy's boots, this region is not too touristy yet and is worth being discovered!
Firstly, the coastline here is stunning with impressive cliffs and crystal-clear waters. You will find some amazing beaches here too! Also, Puglia is famous for its charming towns and the beautiful architecture in its cities. It's quite warm and sunny here in summer so you can enjoy the best of what Puglia has to offer!
Go to Monopoli and Polignano a Mare if you like pretty towns on the coastline. If you want to be blown away by some impressive cliffs, coastal views and natural pools, you should drive to the south around Torre dell'Orso and Torre Sant'Andrea. Do not miss the little village of Alberobello with its Trulli. These houses look like they are coming right out of a fairy tale! If you like history and architecture, you can visit Locorotondo, Lecce or Ostuni.
The best way to travel around in Puglia is to do a road trip. You can start in Bari, the capital of Puglia and then head to the south. 
Lucerne, Switzerland
Contributed by Dymphe of Dyma Abroad
One of the best European summer destinations is the city of Lucerne in Switzerland. The city of Lucerne is one of the most beautiful places in the country. It is a very fun city with lots of things to do and see. Especially during summer, Lucerne is amazing!
One of the best things to do during summer is going to Lake Lucerne. This is one of the most beautiful lakes in Switzerland and there are lots of water activities you can do here. For example, you can swim at many places at the lake. Furthermore, you can rent a boat and explore the lake from the water.
Another great thing to do in Lucerne is going to the Kapellbrücke, which is a wooden bridge from the Middle Ages. Besides that, the old town of Lucerne is great to visit too! There are lots of beautiful buildings here, and you find here lots of shops, which is great if you like shopping! Another great thing about Lucerne in summer is that there are many flowers throughout the city! Also, the weather in Lucerne is very pleasant in summer. July is the warmest month and it has an average temperature of 77°F (or 25°C).
Budapest, Hungary
Contributed by Nate of Travel Lemming
Summer is a wonderful time to visit Budapest because the warm, but not overbearing, weather is perfect for strolling along this extremely pedestrian-friendly city. Summer is also when Budapest plays host to one of the most popular music festivals in Europe: the Sziget Festival, a week-long festival attracting nearly 1,000 performances from around the world. 
Even if you're not a music buff, though, you'll find lots to do in Budapest in the summer. You can't miss the famous Hungarian Parliament building, perhaps the most beautiful structure in the world. Then stroll across Budapest's Széchenyi Chain Bridge and climb Buda Castle for sweeping vistas of the city. In the evening, be sure to check out the unique atmosphere at one of Budapest's famous ruin bars like Szimpla Kert. 
For a real treat, take an evening river cruise along the Danube. While there are many companies selling organized boat tours, you can actually take one of four public transit boat lines to get the same experience on a budget. A ride costs a mere 750 HUF, or about 3 USD, and the boats even have bar service! 
Whatever you do in Budapest, you're sure to soon discover why this incredible city is undeniably one of the best summer destinations in Europe. 
Constanta & Mamia, Romania
Contributed by Richard of RJ On Tour
The Black Sea Resort of Mamaia is a district of Constanta in the East of Romania. It really is a fascinating and fun place to visit and it is hot and sunny in the summer. Mamaia is a beach resort with long sandy beaches, great bars and restaurants. Visitors can take part in many watersports or relax on the lovely beaches. The resort has a cable car running along it, a funfair and water parks.
Constanta however is the oldest inhabited city in Romania and has a history dating back to 600BC, thus it has some fantastic historical buildings to explore. The cathedral is a splendid sight, as is the iconic Art Nouveau Casino. The city is fascinating and very different from other places in Romania.
Dining out and drinks in Mamia and Constanta are relatively cheap by European standards. There are also many options to suit most tastes. Dishes such as mici and ciorba are delicacies in the area and Ursus is a great hot day tipple. This is the most popular beach holiday destination in the country for great reasons. One of the special aspects of the coast here is the spectacular Black Sea sunrises every morning.
Cyprus
Contributed by Lavina of Continent Hop
Cyprus isn't too famous a spot for a European summer getaway; however, not many know that it is one of the best places to spend summer in Europe where the weather is warm (even super hot sometimes in August), the sea is pleasantly refreshing (think Indian Ocean temperatures) and calm, and it's perfect in almost all aspects!
Cyprus is compact yet packs a punch. It's got numerous archaeological spots that one can spend hours exploring. Most of them are concentrated in Paphos like Tombs of the Kings, Neo Paphos, Paphos castle, and the Agios Neophytos Monastery, to name a few. There are also numerous natural attractions like Adonis Baths Waterfalls and Petra Tou Romiou, which are very pretty and worth a visit.
It isn't just about the things you can see and visit, though. Traditional food in Cyprus is simple yet tasty. The Mezze platters are a sight to behold with items like hummus, tzatziki, sausages, grilled halloumi and another ten things in the least. Cyprus has wineries, too, so expect some delightful drinks to go with it!
There are many options for snorkeling, kayaking, surfing, and even cave scuba diving available on the island for those who prefer an active holiday.
Corfu, Greece
Contributed by Daniela of No Hurry To Get Home
Corfu is one of the best Greek islands and one of the dreamiest summer destinations in Europe if what you're after is a mix of beaches and gorgeous nature. Aside from being home to some of the best beaches on the continent, this gem of an island also boasts lush mountains that are perfect for a hike.
Aside from its turquoise beaches, what makes Corfu so special is just how much there is to do. A must-do is Porto Timoni, which is one of the most gorgeous beaches on the entire island and has some amazing snorkeling opportunities. Another awesome thing to do is checking out Canal D'Amour (Love Channel) and spending a few hours exploring the historical goodness of Corfu Town. Summer is the best time of the year to visit thanks to its wonderful mild weather (hot during the day and mildly chilly in the evenings.
As for where to stay in Corfu, Porto Demo Boutique Hotel is a wonderful choice if you're looking for a luxurious vacation. If you're on a budget, San Georgio Hotel is another great option. If you'd like to party, Corfu Town is probably your best bet!
Faroe Islands, Denmark
Contributed by Sunetra Biswas of Globetrotting Su
Dreaming of towering cliffs with unspoiled natural beauty, views of vast oceans with epic roads to traverse endlessly, surrounded by magical and fairytale villages, then the Faroe Islands is the place for you. One of the best destinations for a summer road trip, Faroe Islands is an untouched and underrated gem in the world. Faroe Islands is a self-governing archipelago that consists of 18 rocky, volcanic islands, situated between Scotland, Iceland & Norway in the North Atlantic Ocean.
The best time to visit the Faroe Islands is in summer (June-August) when the average temperature is around 13-15˚C with yellow buttercups blooming all over the island. The islands are generally windy, cloudy and cool throughout the year. But the long hours of daylight (~19h) during summer with reasonably dry and settled weather makes it an ideal time for hiking and driving across the stunning landscape. The ultimate way to explore and experience the Faroe Islands is through road trips where the islands are very well connected by roads and ferries.
Although it may seem like a tiny nation, there's a lot to do and explore. Some of the main highlights of this nation are the islands of Vagar, Streymoy and Eysturoy. Don't miss the cute flock of puffins in Mykines, fairytale villages of Saksun and Gjogv, hiking the Kallur lighthouse in Kalsoy and exploring Tinganes, Tórshavn's old town. To best experience Faroe Islands, dedicate a week to 10 days for the most amazing summer trip of your lifetime.  
Ljubljana, Slovenia
Contributed by Mansoureh of Travel with Mansoureh
At the heart of Slovenia, lies Ljubljana, one of the most charming and underrated European capital cities. This city has plenty to offer and is an ideal destination for a summer holiday when you can go paddle-boarding on the river, or have a drink on a boat tour around the city. 
One of the main attractions is Ljubljana Castle, standing on top of a hill above the town center. You can visit the courtyard free of charge, but you need to purchase a ticket to be able to visit other parts of the castle. The ticket costs €10 per person, by adding €3 more, you can also access the funicular. 
Strolling around the town center is a delight. There are shops, restaurants, cute cafes with beautiful settings and amazing views over the river. Ljubljana is famous for its beautiful bridges, the two famous ones are Love Bridge and Dragon Bridge. Keep in mind that a dragon is the symbol of the city.
By staying in Ljubljana, you will be able to take day trips to other popular destinations in Slovenia. Lake Bled, one of the prettiest lakes in the world, and Postojna Cave one of the largest caves in Europe are only 40 mins drive from Ljubljana. 
Related: how to spend one day in Ljubljana
Paris, France
Contributed by Elisa of World in Paris
Paris in the summer is a moveable feast! In the summer, the weather is always good, and the sun sets late. It is the time of dinners on a terrace, canal cruises, picnics in the park, and fun festivals.
Paris in the summer sees the Paris Plages, when the banks of the Seine River are covered by sand and invaded by hammocks, chaise longues, and beach bars. It also celebrates the arrival of the Tour de France and the National Day (14th of July), usually with a military parade and a show of music and fireworks around the Eiffel Tower.
Two days in Paris can give a taste of what the city has to offer. For a unique Parisian experience, however, aim at three days or more so you can also have the time to get lost or wander around your favorite neighborhood. If this is your first time in Paris, this list of things to do in Paris will come in handy.
Paris in the summer is high season and booking transportation and accommodation in advance is paramount. Also, consider skip-the-line tickets for the most popular attractions, like the Eiffel Tower, the Louvre Museum, or the Versailles Palace.
Related: 21 cool weekend breaks in France
Dublin, Ireland
Contributed by Krystianna of Volumes & Voyages
Dublin is the perfect destination to visit in the summer, whether you're traveling solo or with your friends and family. It's the capital of Ireland and is located right on the coast. Dublin is also a transportation hub in Ireland, making it the perfect location to base yourself while taking day trips across the country to places like Blarney Castle, the Cliffs of Moher, and even Belfast in Northern Ireland.
There are so many fun activities in Dublin that you won't want to miss out on. Make sure you take the time to see the Book of Kells at Trinity College (even if you aren't a literature fan), have a fresh pint of Guinness at the Guinness Storehouse, and explore the Temple Bar area. Dublin County is also home to lots of great coastal getaways that can be reached using the Dublin Bus, including Howth and Bray, which are incredibly underrated locations with gorgeous cliff walks!
The weather in Dublin during the summer is perfect, and it never really gets too hot. The average temperature during the summer is 68°F/20°C, and it doesn't rain as often as you may think. When you visit, be sure to pick up a Leap Card as soon as possible to save yourself money on public transportation, which is rather reliable in comparison to some other European cities.
Rome, Italy
Contributed by Debbie Fettback from World Adventurists
There is nothing like the feeling of Rome during the summer. With its thousand-year-old buildings and the feel of the city being a huge open-air museum, its beauty appeals to everyone. Wandering ancient cobblestone streets, admiring the fountains, ruins, historical and religious sites under the shining sun, you will fall in love with summertime in Rome.
The historic center (Centro Storico) is where you will find many of the well-known churches, fountains, and piazzas. You won't want to miss The Colosseum, the largest amphitheater in the Roman world, and one of Rome's biggest attractions. The details of the Trevi fountain will blow you away. Don't forget to throw your coin into the fountain and make a wish! Vatican City is another must-see. The Sistine Chapel, designed by Michelangelo, is one of the greatest treasures of Vatican City and St. Peter's Basilica is one of the largest churches in the world.
Summertime in Rome can get quite warm with temperatures between 30-45°C. However, that also means you'll have plenty of extra opportunities to cool down with different flavors of gelato!
With so much to see and do, the eternal city of Rome is sure to steal your heart. Everyone should visit Rome at least once!
Related: the ultimate Rome bucket list
Related: how many days should you spend in Rome?
It's time to plan your summer in Europe!
I hope you gained a lot of inspiration for your next summer holiday in Europe because these destinations above represented the absolute best places to visit in Europe in summer!
If you're not sure whether summer is the best time to visit or you want to avoid the crowds, check out my blog post about the best fall destinations in Europe!
Do you need more help planning your summer holiday? Download my FREE travel planning workbook that'll help you plan with ease!