One of the most charming places in Belgium is without doubt Durbuy. This place, located in the Belgian Ardennes is also called the 'Smallest City in the World'!
Whether this is actually true remains to be seen. However, Durbuy is indeed very small (only a few streets large)!
So you might be wondering, what can you do in a city that is so small?
Let's be honest, if you're only there to visit the city, one day will be more than enough for sure! However, if you're also interested in outdoor activities, you have a lot more options!
In this post, I'll give you several recommendations (based on my own experience) for the top activities in Durbuy.
Let's dive into it!
Top activities in Durbuy Belgium
Always a good option for when you're not sure what to visit in any city is to take a look at the tourist office. Since Durbuy is so small, its tourist office is not very hard to find. Here, you'll find a brochure with the main activities in Durbuy as well as the surroundings of the city.
However, if you want to plan your trip beforehand (which I suggest you do if you want to save your spot on certain attractions!), read on.
I also included a handy map on which I indicated all the spots I'll tell you about below! Use it to plan your trip!
#1 Start by strolling around the city
First things first, start by walking around the city and enjoy the view. It's always a good idea to start exploring the city on foot first, especially when it's this small!
Most buildings date from medieval times which gives the city its charming look. Moreover, during your walk, you'll pass by lots of little shops and places where they sell local delicacies!
#2 Take a guided tour
A guided tour through Durbuy will definitely be the most effective way to learn about the history of the city.
On the official website of Durbuy Tourism, you can book 2 types of tours. The first one is a simple tour of the city while the second one combines this with a tasting of local delicacies!
If you would like to visit one of these tours, be sure to book well beforehand or you might not be able to get a spot!
The tour will take you around the city while giving you a good insight in the stories and history behind it.
| | |
| --- | --- |
| Guided Tour – 1 hour | €6 |
| Guided Tour with tastings – 2 hours | €12 |
#3 Enjoy a ride on the mini train
Another great way to see and get to know a lot about the city is by taking the touristic train. This small train departs in the centre of the city and will take you all the way around the city as well as to one of the top spots where you'll have an amazing view over Durbuy!
The train starts in front of the hotel "Le Sanglier des Ardennes" and drives almost every hour. This is also the place where you can buy your tickets.
For more information, take a look at their website.
| | |
| --- | --- |
| Train Ride – 30 minutes | €7 |
#4 Take a walk to the castle
Although the castle is a prominent figure in the city, it is unfortunately not open for visitors. However, you can walk to its gates and enjoy its beauty!
Durbuy got its own castle around 899 (yes, it's that old!), but it got destroyed several times during history. Right now, it's the propriety of the family d'Ursel that renovated the whole castle!
The best view like you see it on the picture here, you'll get by going to the topiary park.
#5 Topiary Park
This topiary park is said to be the largest in the world. Trees and bushes are carved in the shapes of animals and figures, and are a very pretty sight to see! The best of all, this topiary park contains 250 of them!
It takes about 20 years to form one bush and some of them are over 100 years old! Moreover, you'll also have a nice view of the castle of Durbuy when you're standing in the garden.
The park is opened all year, except for 2 months in winter, so be mindful of your dates!
You are able to visit the park on your own or take a guided tour (only for groups starting at 10). Tickets can be booked online or at the entrance.
For the kids, they have a little treasure hunt where they can solve enigmas in order to give them an interesting visit as well!
#6 Anticline Rock
This massive rock has gotten a prominent place in the city. The layers of rocks are wrinkled in what they call an anticline. 350 million years ago this U-form was shaped and has become visible due to erosion of the Ourthe river.
Right now, it is a very impressive place to visit in Durbuy. On the parking close by there is also a trail going uphills that will take you on the anticline. You can easily go to the edge of this massive rock and have an amazing view over the city! However, be very careful!
#7 Saint Nicholas Church
Although this church is not large or very impressive, it's a cute little church (just like the city of Durbuy) where you can stop by to take a look inside and maybe burn a candle for your loved ones!
#8 Midget golf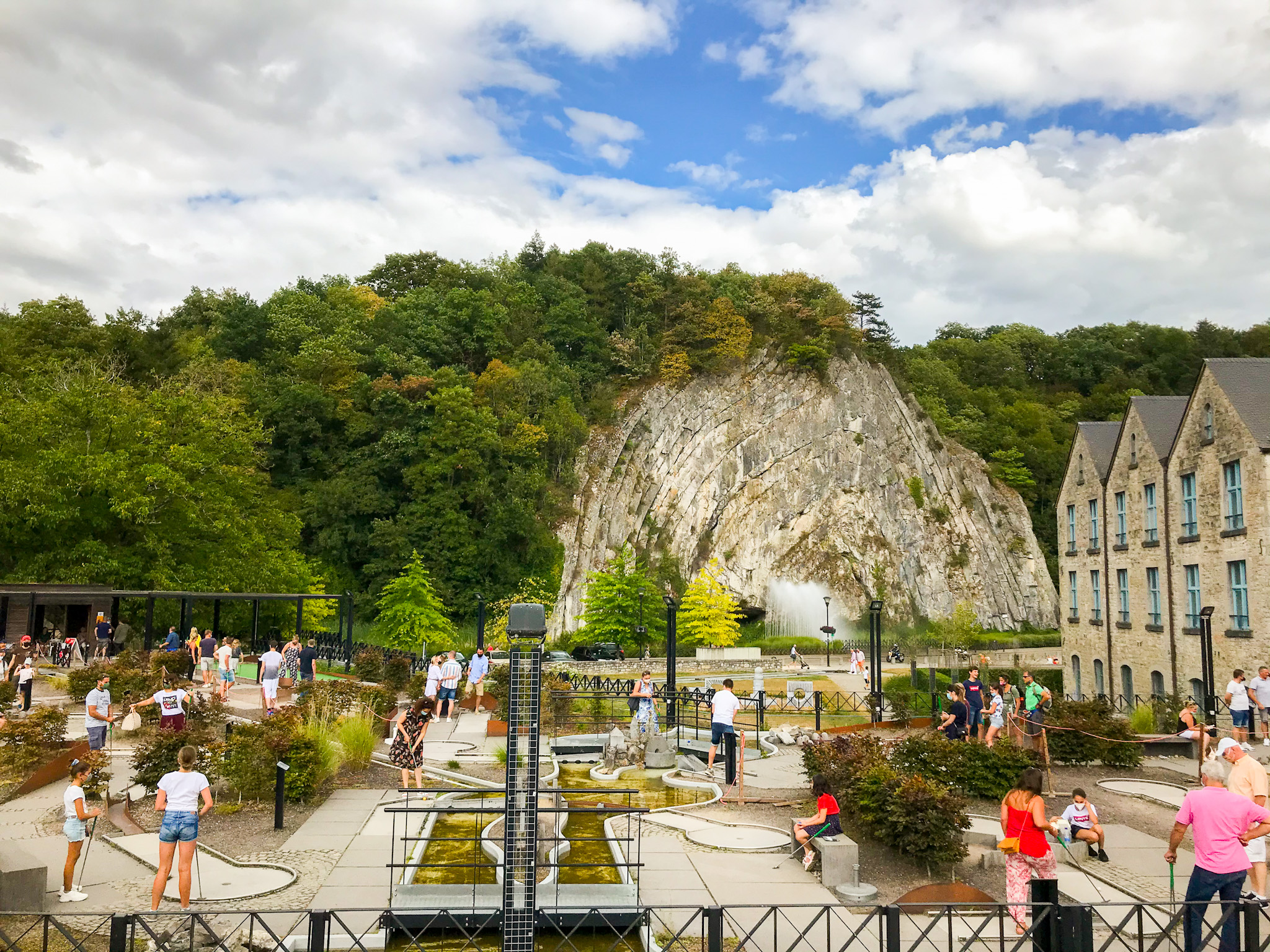 If you want to do a fun activity together with your family and friends, you should definitely consider Durbuy's mini-golf! It's located in the small city close to the anticline and consists of 18 holes.
The mini-golf is outdoors and therefore depends on the weather forecast. Buy your tickets at the topiary park or the mini-golf itself!
| | |
| --- | --- |
| Mini Golf | €5 |
| Combined ticket with topiary park | €8 |
#9 Museum for Modern and Contemporary Art
It might surprise you a lot (at least I was surprised!) but since 2018, Durbuy has its own Museum for Modern and Contemporary Art!
The museum features Belgian art from several renowned or rising artists. There is also a permanent exhibition of 80 paintings by Marcel Lucas.
The building itself is classed as Belgian heritage and therefore a piece of art on its own!
So if you'd like to visit a museum instead of the typical tourist activities you'll find in Durbuy, you're in the right spot!
| | |
| --- | --- |
| Museum visit | €5 |
| Students/seniors | €3 |
#10 Adventure Valley
In Durbuy, you can find a whole new adventure park, called Adventure Valley. If there's any outdoor activity you can think of, they probably have it there!
There is a kids playground, a 3D labyrinth, bike park, treetop park, tubing slide, mega zip line, free fall, big air, laser game, escape rooms… and you can also do speleo, climbing, kayaking, renting bikes… even glamping and staying in a bungalow!
As you can see, the options are almost endless if you're in for a little adventure!
However, the park is very busy, it resembles a bit of an amusement park, and is also quite expensive! So if you're in the Ardennes to escape the crowd, I would suggest finding another option.
Within the park, you can buy tickets to separate attractions or buy one of their passes which gives you access to a combination of activities for the whole day.
#11 Belvédère watchtower
If you'd like a spectacular view over Durbuy and its surroundings you should make your way to the Belvédère viewpoint!
During the day, the touristic train will take you there, but you can also make the climb yourself. However, the watchtower will be closed if the touristic train is not driving (which doesn't mean you can't walk up there and enjoy the view on the hill!)
#12 Eat in La Canette
What I believe is one of the best restaurants in Durbuy is La Canette! You can't walk past this restaurant in the city without noticing it in the street. The outside alone looks incredibly charming with all its greenery and the inside is even cozier (if that's possible).
The food won't disappoint you either, because their meals and desserts are delicious! In short, this is the perfect spot for a romantic night out or for trying to impress your parents with dinner!
However, as with all restaurants in Durbuy prices are higher than average.
| | |
| --- | --- |
| Starters | €10 |
| Main course | €25 |
| Dessert | €10 |
#13 Labyrinth of Durbuy
Every year, in the fields around Durbuy, they build a huge corn maze. It consists of 6 km of alleys, various challenges for kids and live actors to bring the experience to life!
The labyrinth is located on only a 10-minute drive from Durbuy (address: Rue Basse Commène, 6940 Barvaux-sur-Ourthe) and opens its doors in July and August from 10 am until 7 pm with shows and entertainment. In September and October, shows are not available on weekdays and the opening hours are 11 am – 5 pm (except for weekends).
A visit approximately takes you half a day.
If you're visiting the area with kids I would definitely consider this. The place looks quite amazing, to be honest, and you can check out their website here.
Important! The 2020 edition is currently cancelled due to COVID-19!
| | |
| --- | --- |
| Adult's entrance | €15 |
| Children's entrance | €12 |
#14 Dolmen of Wéris
If you're in for a bit of history and a beautiful walk, you should visit the Dolmen of Wéris. These ancient stones have been placed there nearly 5000 years ago and right now there are nice hiking routes passing by the dolmen and other menhirs in the region.
Also bring a visit to the museum of Wéris where they can give you more information about the village and the hiking routes passing by the menhirs!
#15 Horseback riding
Who's in for adventure?
Book a horse riding tour in nature on 3 km from Durbuy! Experience doesn't matter, as long as you are interested! Take a look at Durbuy Horse Riding.
Are you not into riding but does a tour with horses still appeal to you? Take a look at the possibilities for a tour with horse and carriage! For more information, send an email to Elevage de Durbuy.
#16 L'Herbe Rouge
This cute little shop sells wonderful decoration for your home as well as nice women's clothes. It's a very cute place to walk around for a minute and maybe you'll even find a nice new dress! (At least I did ;))
#17 Durbuy Christmas Market
From November 2020 until January 2021 you'll find a wonderful Christmas market as well as an ice rink in the old village of Durbuy!
Take a walk around the different stands, soak up the atmosphere, buy a little Christmas gift or find inspiration for your new Christmas decoration!
#18 Go hiking
Everywhere in the Belgian Ardennes you'll find lots of hiking routes, this is not different around Durbuy. If you've seen the city and want an escape in nature I suggest you put your shoes on and follow one of the many routes that go over the hills of Durbuy!
You can easily buy a topographic map in the tourist office with all the hiking routes to make sure you won't get lost! But don't worry, even without a map you'll find your way. The routes are visibly indicated everywhere you walk with their coloured signals.
#19 Rent a bike
Another very popular activity in the Ardennes is to rent some bikes and go mountain-biking!
Rent your mountain bikes, normal bikes or electric bikes at Adventure Valley or gain information at the tourist office. Mountainbike maps are also available at the tourist office.
#20 Go kayaking
You can't go to the Ardennes nor Durbuy without renting a kayak to head down the Ourthe river!
This is undoubtedly one of the most popular activities in the region, but depending on the weather there isn't always enough water in the river to do every route.
When you visit in July or August make sure to check the website of renting companies because due to a low water level they may shut down their activities.
The moment I visited in August, there was still one company guaranteeing us a 4 km route (others had shut down temporarily) and that was Adventure Valley. However, be aware that consequently there will be a lot of people on the same few km of water!
Other options are: Ardennes Kayak, Kayak Remous and many others!
Pricing will depend on the distance/time you rent.
#21 Tortuga Bar
The Tortuga bar in Durbuy is probably the most original bar you'll find in the city! This bar is decorated as a pirate bar with the barman even being dressed as a pirate!
If you fancy a drink and a good time in an original atmosphere, you should take a look inside! Of course, they serve lots of alcoholic drinks (they're pirates you know) and an elaborate collection of rum. Although drinks are not cheap, the original atmosphere makes up for that!
#22 Geocaching
Do you know that everywhere in the world little treasures are hidden? And do you know people can search for them?
Geocaching is a very fun activity to do with friends or family. You download the app which will indicate where the little treasures are hidden, you're job is making sure you find as many as possible of them!
Around Durbuy, many geocaches are hidden and it's especially nice to search for them during a hike in the Ardennes!
Just download the app Geocaching and start your quest! Have fun!
Parking in Durbuy
Let's face it, Durbuy is not a cheap place to visit, and so is parking your car. Luckily, there is more than enough parking available around Durbuy which you can find on the map below together with the prices!
Ready to discover Durbuy?
Did you find the activities in Durbuy you were looking for? I'm sure that one of these attractions will appeal to you and you'll have a great time exploring Durbuy!
If you're looking for more interesting places to visit in the area, take a look at the Belgium section on my blog. Visiting Belgium in winter? Take a look at my post about winter in Belgium!
PS: if you like this post, why not share it with your travel friends?