The United States is such a huge country that there's an endless amount of incredible places to discover!
That might sound overwhelming when you're thinking of visiting the USA because how can you choose when there's so much to see and experience?
But don't worry, because I've got you covered!
In this post, several travel bloggers provide you with amazing recommendations to put on your USA bucket list!
So not sure what to visit? Find your inspiration below!
Top USA bucket list experiences
Visit Mackinac Island
Contributed by Kris from My Michigan Travel
Mackinac Island is a small island located between Michigan's Upper and Lower Peninsulas. Mainly accessed via ferry, the island has banned motorized vehicles for over 100 years and all transportation is on foot, by bike, or horse-drawn carriage. With its beautiful Victorian architecture and the clip clop of horse hooves replacing the sound of cars, visiting feels like stepping back in time.
Popular things to do on Mackinac Island include biking around the 8-mile road along the shore, visiting Arch Rock, a natural arch high above the water, touring the historic fort looming over the harbor, and visiting the spectacular Grand Hotel's gardens. Don't forget to try the famous Mackinac fudge while you're there. It's legendary. Mackinac Island is accessible year-round, but late spring through early fall is the best time to visit. For extra fun, time your trip for the annual lilac festival in late June.
Drive Route 66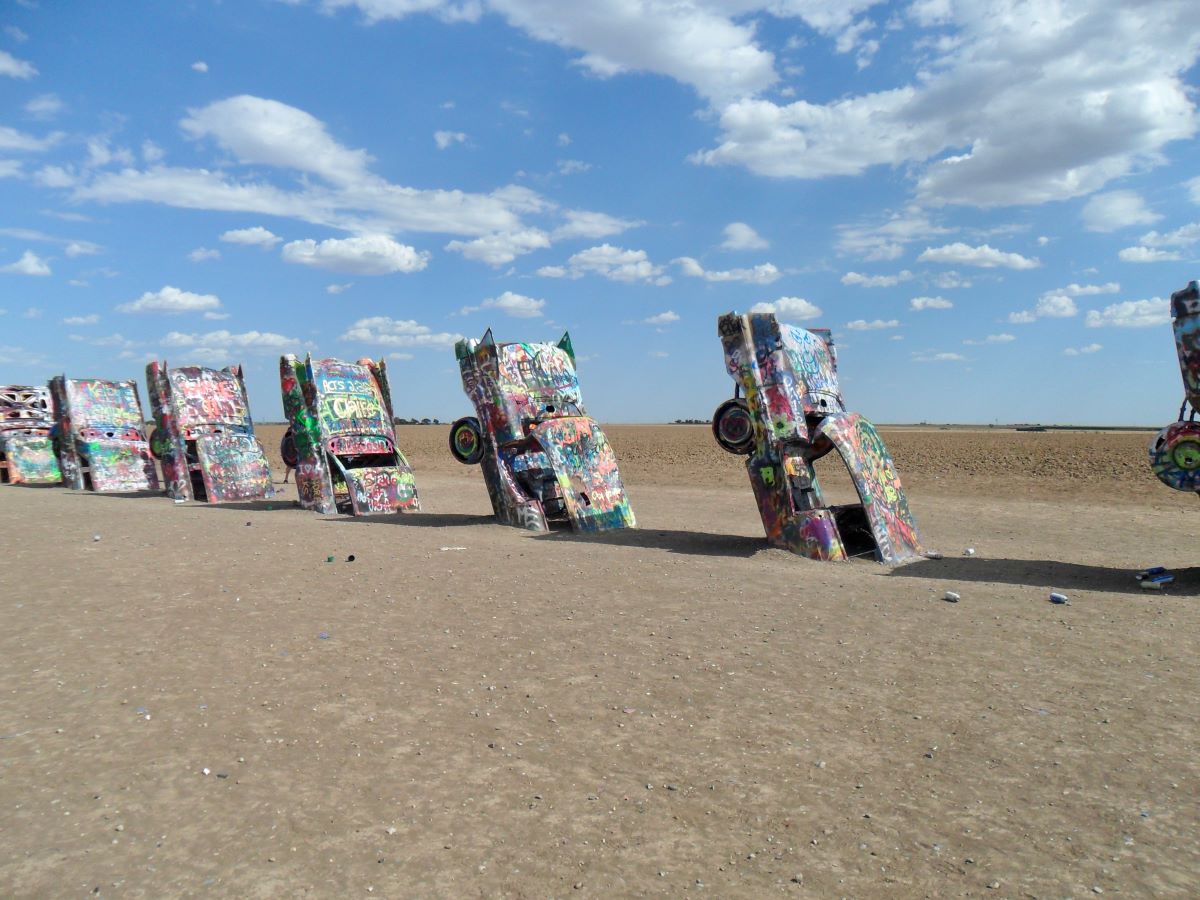 Contributed by Kylie from Between England and Iowa
A bucket list experience in the USA is driving Historic Route 66! This 2448 mile road trip starts in Chicago, Illinois and finishes in Los Angeles, California. It passes through 8 US states (Illinois, Missouri, Kansas, Oklahoma, Texas, New Mexico, Arizona and California).
If planning to drive the whole of Route 66 in one go, it's best to spend at least 2 weeks on the road. The desert regions can get very hot in the summer, so it's best to keep this in mind. The old route passes by a wide range of unique roadside attractions such as Cadillac Ranch and The Blue Whale.
The Oatman Highway heading into Oatman AZ is a great stretch of road not to be missed and Wigwam Motel in Holbrook is a fun overnight stop. Many characters and locations in the Disney Pixar 'Cars' movie were inspired by people and places along Route 66!
Climb the Empire State Building
Contributed by Martha Knight from May Cause Wanderlust
New York City is one of the  – and the Empire State Building one of its most iconic monuments.
It was the world's tallest building from the time it was built in 1931 until the World Trade Centre towers were constructed in 1970. It has been immortalised in many classic movies, including Kong King, Sleepless in Seattle and Independence Day.
This art deco masterpiece sits proudly on 5th Avenue in midtown Manhattan. You can buy tickets for the observation decks on the 86th and 102nd floors to enjoy the panoramic views of the city and across six states. The views are incredible, but plan your wardrobe because it can be chilly that high up! Go in the morning if you want to beat the crowds.
Top tip: if you're more interested in seeing the Manhattan skyline with the Empire State Building in it, then head to the Top of the Rock Observatory in the Rockefeller Centre instead.
Experience the Mardi Gras Carnival in New Orleans
Contributed by Kerry Hanson from VeggTravel
Mardi Gras Carnival in New Orleans is fun for all ages and is worthy of being on your USA Bucket list. Mardi Gras begins 2 weeks before 'Fat Tuesday' with many different 'krewes' (float riders) and parades throughout this time. However, the busiest time to go is the weekend just before the parade ends and this is when you can see some of the biggest and best floats.
People travel far and wide to experience Mardi Gras and if you want a good spot to catch the best throws, then turn up early. The night parades are spectacular and are lit up in so many vibrant colours. New Orleans in general is spectacularly decorated in purple, yellow and green and you can find beads everywhere.
If you are visiting with your family, the parades, floats and bands will give you enough entertainment. However, if you're looking for nightlife, then head to Bourbon street to enjoy a lively 'spring break' style side to the Mardi Gras carnival. For this reason, Mardi Gras is great for Solo Travellers. 
Visit South Dakota & Mount Rushmore
Contributed by Mark and Kristen from Where Are Those Morgans
Often overshadowed by the likes of Utah and California, South Dakota is home to one of the most underrated but remarkable bucket list road trip routes in the entire US.
Badlands National Park's extra-terrestrial and moody landscape is unique and fascinating. Mount Rushmore is the world-famous pin-up landmark for South Dakota tourism and the symbolic sculpture does not disappoint. Don't forget to walk the tranquil presidential trail.
But it is Custer State Park that will capture your heart in the charming Black Hills of South Dakota. Iron Mountain Road and Needles Highway are among the most scenic of scenic drives. Cathedral Spires, Sunday Gulch and in particular Black Elk Peak are wonderful hiking trails, and an 18 mile wildlife loop is perfect for the whole family.
Fall is the best time for an unforgettable South Dakota road trip, when golden yellows and emerald greens contrast beautifully against smooth grey granite boulders, painting the Black Hills a vibrant and memorable picture.
Insider tip – Arrive at Mt Rushmore before sunrise to have the entire memorial to yourself and watch as grey transitions into striking pinks and yellows as the sun rises.
Visit the Seattle Space Needle
Contributed by Hannah Ackroyd from Get Lost Travel Blog
There are several reasons why you should visit Seattle. But whatever your motive for visiting, you cannot miss a trip to the iconic Space Needle.
This 605-foot-high structure defines the Seattle skyline and the view from the top is the best way to admire the city and the surrounding Cascade Mountains.
A visit to the Space Needle is an amazing experience at any time, but if you want to avoid the crowds, weekday evenings are the best. Be sure to book your tickets online as the queues for the Space Needle get long!
Your ticket also includes a digital 'Sky High Selfie' on the observation deck. Make sure you keep an eye out for the camera!
There are some additional experiences you can also enjoy on your visit, including drinks in the Loupe Lounge, the world's first and only revolving glass floor, or a sky-high dining experience at Atmos Café.
Visit the Niagara Falls
Contributed by Džangir Kolar from Dr Jam Travels
Niagara Falls are the most famous waterfalls in North America with more than 30 million visitors yearly. It is a spectacular 60 meters high waterfall, separated in two parts by Goat island; Horseshoe 790 meters and American/Bridal Veil Falls 320 meters long where 2,400 m3 of water is passing each second. There you can walk around the park and continue onto Goat island. For experience there, you can take a boat tour under the waterfall, expect to be wet.
Also, interesting is the Journey Behind the Falls tour where you walk behind the Horseshoe part of the falls. During the wintertime, you can observe partially frozen waterfalls. At night time you can enjoy a light show until midnight. Here you will have quick access to Canada by crossing Rainbow bridge where you can visit the observation tower or gamble at the casino. 
Drive the Extraterrestrial Highway in Nevada
Contributed by Audrey from That Backpacker
If you're looking for a quirky American road trip you won't soon forget, I recommend driving Nevada's Extraterrestrial Highway!
State Route 375 may seem like an ordinary stretch of road, but for those who believe in alien life, driving the ET Highway is akin to a pilgrimage. This road trip spans a total of 98 miles between the towns of Warm Springs and Crystal Springs and it is punctuated by desert landscapes, empty roads, and a few rather unusual attractions.
Some places not to miss include ET Fresh Jerky for alien-themed snacks, the ET Highway route marker which is covered in stickers, the Alien Research Center for stories from out of this world, the Black Mailbox where alien enthusiasts leave notes and mementos, and the Little A'le'inn which is a motel and restaurant that boasts a UFO-towing pick-up truck out front. 
As a tip, driving the ET Highway is something that you can do any time of the year, but Area 51 is strictly off-limits. No one can enter the facility and there are no tours for visitors, so save yourself the drive down that 12-mile dirt road.
Visit Mesa Verde National Park
Contributed by James Ian from Parks Collecting
Mesa Verde National Park is home to over 2,000 cliff dwellings. The ancestral Puebloan people built villages in overhangs on the side of cliffs, and seeing and visiting them is a unique bucket list experience you will love. 
Although you can visit Mesa Verde National Park all year, tours into the cliff dwelling are only offered May – September, so this is the best time to visit. You need to make reservations for dwelling tours online. If you can't get tickets, seeing the dwellings from overlooks is still incredible, but seeing them up close and personal definitely gives you a greater appreciation for life there hundreds of years ago.
Visiting them does require climbing down and up ladders, so you need reasonable mobility. Top picks are Cliff Palace (the largest), Long House and Balcony house. 
Hike to Diamond Head Lookout
Contributed by Chris Fry from The Aquarius Traveller
When deciding on any US bucket list item, you must not forget about Hawaii. On the mainland of Oahu, this includes hiking to the top of Diamond Head and admiring the views of the famous Waikiki Beach. Initially, the hiking trail was formed for military defense, but now has hundreds of tourist's everyday learning about the history of the World War and providing stunning views over the skyline.
The hike itself is on a formed path, a little short at 1.6 miles return, and only requires a moderate level of fitness. It can get steep in some areas, and there are lots of stairs, but you can expect to complete it in 1.5 to 2 hours.
Once at the Diamond Head lookout, you're provided with 360-degree views around the Island of Oahu and Waikiki's outstanding Beaches. The best tip would be starting early morning or late afternoon, which allows fewer crowds. 
Visit Black Canyon of the Gunnison
Contributed by Lotte from Eschbach Consulting
Visiting Black Canyon of the Gunnison is definitely something to put on your USA bucket list! This is one of the deepest, narrowest and steepest canyons in the country. In fact, the Black Canyon of the Gunnison owes its name to the fact that some parts of the canyon only receive 33 minutes of sunlight a day.  
Black Canyon of the Gunnison is a great park for outdoor lovers. This National Park offers splendid views, lovely hikes, and interesting stories about past expeditions to map the canyon. 
Some of the easier trails are the Oak Flat Loop Trail and the Rim Rock Nature Trail, both are suitable for any fitness level as well as traveling families. If you are traveling with a baby or very young kids, leave the stroller in your car and bring a baby carrier instead. 
While you can visit this beautiful National Park year-round, the best time for a trip is April until November. Note that both the North Rim and East Portal Roads remain closed throughout the winter months, the South Rim Visitor Center stays open but the road beyond the visitor's center is closed as well.  
Go Skydiving in Vegas
Contributed by Debbie from World Adventurists
There are endless activities to do in Vegas, but the biggest thrill and adrenaline rush is jumping out of a perfectly good airplane. Skydiving in Vegas would be a great way to top off an epic Vegas weekend.
After signing the waiver, you will be given a short lesson on how you need to position your body as you fall out of the plane. Then, you will be suited up and ready to go!
The wind can be intense as you are free-falling. Cheer in excitement and it will help relieve the momentary pressure.    
Falling through the sky while looking down at the world around you is an incredible feeling that is bucket-list-worthy. Another amazing feeling is turning to watch the airplane fly away as your freefall begins.
Keep in mind that Las Vegas has a desert climate that reaches scorching temperatures during the summer months. You may find your experience more comfortable if you do not feel like you are melting.
Visit Key West Florida
Contributed by Lori from Travlinmad
A place that's on every traveler's USA bucket list experiences is the fun laid-back city of Key West, Florida, also known as the Conch Republic. Whether it's just for a long weekend or an extended stay, Key West is a great place to unplug and relax.
Fly into any airport in south Florida and drive down through the Florida Keys on the famous A1A highway. However, having a car in Key West is useless and parking can be a hassle. The best way by far is to fly into the Key West Airport and take a taxi to your hotel. Stay in Old Town in the heart of the historic district and you can walk or bike just about anywhere, and Mallory Square is just around the corner.
There's always a lot happening in Key West from monthly festivals to daily sunset celebrations. If you don't mind the heat or the chance of a hurricane, summer is quiet and uncrowded, but most visitors enjoy Fall through Spring.
Hike Mount Whitney
Contributed by Allison from She Dreams of Alpine
Mount Whitney is the highest peak in the lower 48 states, so it should be high on your bucket list, too! You'll find Mount Whitney in the stunning Sierra Nevada mountain range in California, near the town of Lone Pine. You can do some free camping in the unique landscape of the Alabama Hills before making your way up to Whitney Portal.
In order to hike Mt. Whitney, you need to get a permit during peak season, from May through October. The permits are made available through a very competitive lottery system, so they are pretty hard to get. The hike itself is also extremely difficult since it's 20 miles round trip with 6,600 feet of elevation gain. But standing on the top of the summit and taking in the spectacular views at 14,505 feet makes all the effort totally worth it!
Visit the Historical District of Charleston
Contributed by Soumya from Stories by Soumya
Charleston, with its gorgeous historic center, is one of the best places to visit in the USA. It is home to some of the most beautiful antebellum architecture, centuries of history, and a delicious culinary scene.
Whether you are spending only a day in Charleston or a week, there are several interesting things to do in and around the city.
Take a stroll down the Waterfront Park, enjoy the waters of the Pineapple Fountain, get clicked at the Rainbow Row, and spend some relaxing moments at the Battery. Be sure to check out the stunning churches and historic buildings of the French Quarter. If you have time for more, dig into America's history at Fort Sumter and Boone Hall Plantation.
Even though Charleston is an all-year destination, the best time to visit is spring or fall when the weather is perfect, magnolias are in full bloom, and the city is peppered with festivals of all kinds.
Visit the Washington DC Monuments
Contributed by Emma from Emma Jane Explores
Washington DC is the engine room of the United States of America, so it is only right that it makes it onto a list of bucket list experiences in the country. The many memorials and monuments of Washington DC are an absolute must for any traveler interested in American history, the founding of the country, and the significant leaders and events that have shaped it through the years.  
There are so many memorials and monuments to visit, but undoubtedly the most famous is the imposing and breathtaking Lincoln Memorial, where the former President sits pondering as he looks out over the reflecting pool.  
The Korean War Memorial and Vietnam War memorials are all located nearby the Lincoln Memorial, and in particular, the Korean memorial that features ghostly soldiers on patrol is very haunting. The Jefferson Memorial is also a beautiful spot to visit, especially in cherry blossom season when the nearby Tidal Basin is surrounded by pink flowers.
Spend Christmas Time in New York
Contributed by Trisha and Modi from Try Wandering More
New York during Christmas is a magical time as you're surrounded by shimmering lights, dazzling displays, and a merry vibe. It's a festive winter extravaganza with much to do – ice skate in Central Park, view spectacular displays along 5th Avenue, watch the Rockettes at Radio City Music Hall and see the gigantic holiday cheer opposite it, hit the fun-filled holiday markets at Bryant Park and Union Square, marvel at the Christmas light decorations at Dyker heights, and more.
You'll gawk at an uncountable number of sumptuous Christmas trees especially the ones at Rockefeller Centre and in The Metropolitan Museum of Art.
Visit early to mid-December to avoid the throng. If you want to watch the epic ball drop at Times Square on New Year's Eve then it would be best to arrive in New York by the 23rd of December and stay on. Book hotels in advance and be ready for crowds but with red noses and sparkling eyes.
Visit the Grand Canyon
Contributed by Karee from Our Woven Journey
The Grand Canyon is one of the most famous landmarks in America and one that deserves a spot on everyone's bucket list. It's over 200 miles long and is so big it can even be seen from outer space.
There are three entrances into Grand Canyon National Park, although the North Rim closes during the winter months. The West Rim is popular for its glass Skywalk that juts 70 feet past the rim, giving visitors an unobstructed view of the canyon below them.
Mather Point at the South Rim is one of the most popular viewing areas for visitors. Sunrise is also quite popular at this location. You'll want to show up at least 30 minutes before sunrise to be sure you have plenty of time to get from the parking lot to the viewing area and find the best spot before the sun comes up over the Grand Canyon.
Related: Best West Coast National Parks You Should Visit
Hike the Flatirons in Boulder, Colorado
Contributed by Krystianna from Delightfully Denver
Hiking the Flatirons in Boulder, Colorado, should be on everyone's bucket list. The Flatirons are located just north of Denver and make the perfect day trip from the city should you be in the area.
The Flatirons are arguably one of the most popular hikes to do around Denver. One of the things that makes them so great is that there are multiple trails, so no matter your hiking experience, you'll be able to enjoy the view from the mountains! While you may think it's best to visit in the summer, avoid the crowds and still experience great weather by visiting during the spring or fall.
If you plan on driving a car to get to the trailhead, try to get there as early in the morning as you can. The parking lot fills up really quickly, and you don't want to get stuck parking a long way away!
Drive Blue Ridge Parkway
Contributed by Megan Johnson from Red Around The World
The Blue Ridge Parkway is one of the most iconic road trips in the US. It's 469 miles of gorgeous road that connects Shenandoah and Great Smoky Mountains National Parks, taking you through Virginia and North Carolina to Tennessee.  
With around 200 overlooks and countless hiking trails, you could easily spend a couple of weeks driving the parkway, but 4-5 days is good if you have limited time. The best time to drive the Blue Ridge Parkway is in the fall so you can see the leaves changing which is amazing. There is no bad time to drive it, but fall is the best.  
I would recommend spending most of your time in the Blowing Rock to Great Smoky Mountains section. There are so many waterfalls and hikes in this area, you could stay busy for years. Just don't rush the drive and don't plan too much driving each day because you'll want to make a lot of stops without feeling rushed.
Visit Everglades National Park
Contributed by Lavina Dsouza from Continent Hop
Located in southern Florida, about 40 minutes away from the center of Miami, Everglades is a national park featuring tropical wetlands and a unique kind of ecosystem that is not found anywhere else in the world! This large marshland used to be the indigenous land of Native American tribes like the Calusa, Tequesta and Seminole tribes – before the European colonization.
Today, this national park is a great place for outdoor and nature lovers and should be included in your Miami itinerary. With various hiking trails like the Anhinga Trail, kayaking, and biking in place, one can spot the national park's diverse wildlife like alligators, herons, turtles, crocodiles, manatees, panthers and even dolphins!
Inside the national parks are swamps, mangroves, prairies and, to add on to your experience, visitors also have the option of camping in chickee huts which were traditionally used by the Seminole tribe.
Visit the Statue of Liberty
Contributed by Melissa from Navigation Junkie
Standing tall in the NY Harbor, the Statue of Liberty is an icon representing the freedom of the United States and is one of the most well-known attractions in the US, making it a must for any USA bucket list!
When visiting the Statue of Liberty, you can choose to reserve a ticket with ground, pedestal, or crown access. A short 15-minute ferry ride will take you to the grounds of Liberty Island, where you can explore the island, view the statue, and visit the café and gift shop.
Tickets also include access to Ellis Island, the historic immigration center. Here you can explore the restored main building and tour the museum. For a unique experience take the Hard Hat Tour to visit the island's untouched hospital buildings.
It is recommended to choose an early morning tour to avoid the crowds you will find mid-day. Spring and fall are the best times to visit to avoid the summer crowds.
Visit Green Sand Beach, Hawaii
Contributed by Constance from The Adventures of Panda Bear
The Green Sand Beach in Hawaii is one of the best places to add to your Kona trip itinerary when visiting the Big Island of Hawaii. Also known as Papakolea Beach or Mahana Beach, it is famous for its dark green sand and is one of only four green sand beaches in the world.. 
The beach is located within a volcanic tuff ring that was formed by a Mauna Loa eruption over 49,000 years ago. The sand is olive green in color due to olivine erosion from the tuff ring. 
Beautiful at any time of the year, the beach is an approximately 1.5-hour drive from Kona and a 5.6-mile hike to the beach and back. Be sure to wear closed-toed shoes on this hike as the trail is not paved and can have rocks and pebbles. 
Watch sunrise atop Haleakala Crater
Contributed by Jess from I'm Jess Traveling 
If you are looking for a bucket list experience that is literally out of this world then watching sunrise atop Haleakala Crater is the activity for you. 
Haleakala is a volcano on Maui and the summit sits above the clouds at 10,000 feet. There's nothing quite like witnessing the sun rise above the clouds that are hovering over a crater floor.  
You can experience sunrise atop Haleakala year round but you must make reservations in advance here.  The sun begins to rise about 530 am and although you can see the summit, be sure to give yourself ample time as it takes a few hours to get to the top.  
I recommend leaving around 3 am and dressing warm. Although this is Hawaii, temperatures can still get below freezing. Dressing appropriately can ensure an enjoyable and memorable time as you check off this once in a lifetime bucket list experience.  
Visit Yellowstone National Park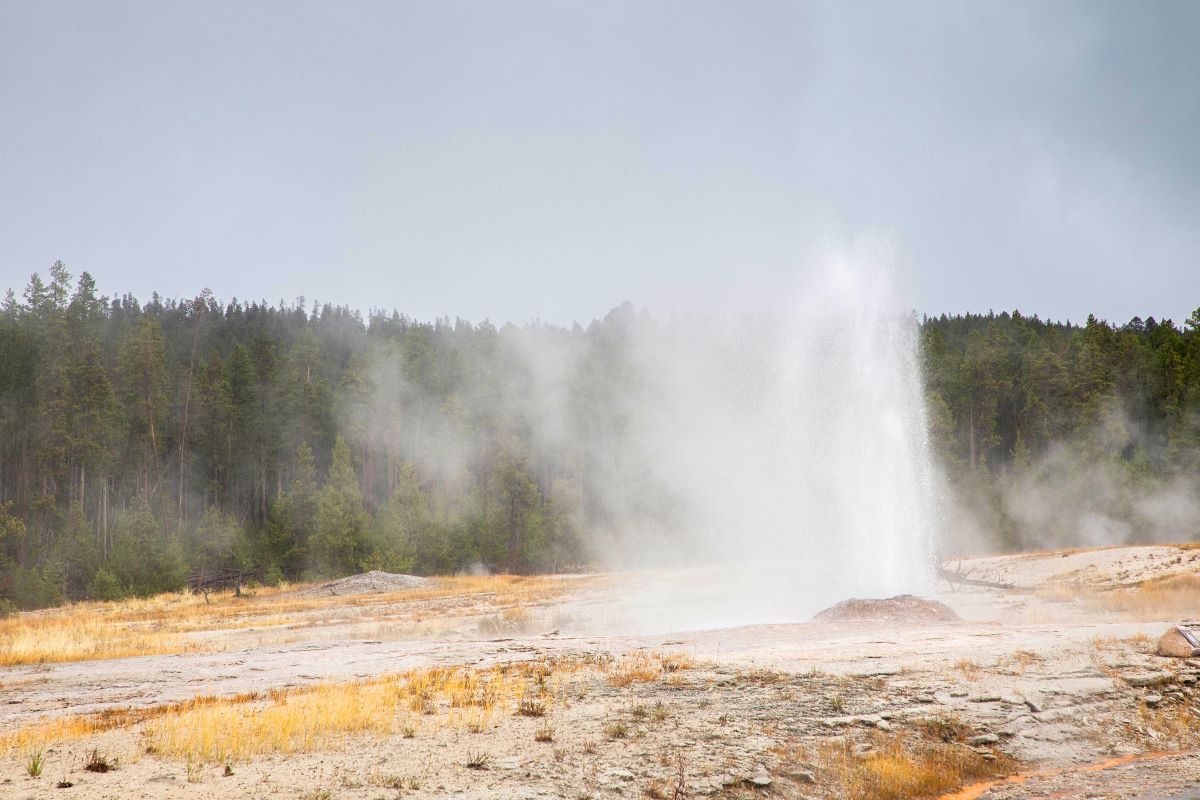 Contributed by Corinne Vail from Roving Vails
Yellowstone National Park, the first national park in the United States, is a wonderful place to visit. Located in the northwest of Wyoming, with a little area flowing into Montana, Yellowstone is both wild and beautiful. 
There are tons of things to do there, like marveling at the geothermal activity and watching Old Faithful erupt or looking out for the many species of wildlife.
Some animals you can see in the park are wolves, bears, elk, and plenty of bison. The best time to visit is in the summer months, but we've also been in September and that was great. We had all kinds of weather, even snow, and there were much fewer people at that time. It's easy to stay in the small town of Gardiner if you don't want to camp.
For a bit of history and a lot of fun and beauty, Yellowstone National Park should be on everyone's bucket list.
Drive the Going-to-the-Sun Road in Glacier National Park
Contributed by Nikki from She Saves She Travels
One of the most unforgettable bucket list experiences in the United States is driving the Going-to-the-Sun Road in Glacier National Park. Located in northern Montana, this winding, narrow road provides incredible views of the most majestic mountains you may ever see!
Driving the Going-to-the-Sun Road in Glacier National Park will take you only a couple of hours, but you'll want to stop at the dozens of overlooks, hiking trails and scenic alpine lakes. With so many things to do in Glacier National Park, this is definitely one of the best!
With so much snowmelt, the best time of the year to go is mid-July through mid-September in order to ensure that the road is completely open. Be sure to stop by Lake McDonald and Saint Mary Lake, see roadside waterfalls and the continental divide. If you enjoy being active, hikes such as Hidden Lake Trail and Avalanche Lake are amazing!
Golden Gate Bridge
Contributed by Alice from Adventures of Alice
It's been over 75 years since the Golden Gate Bridge was built, and it still captures the hearts of visitors to San Francisco. It's a marvel of engineering, standing at 4,200 feet long and about 230 feet high. It was built in1937, connects two cities – San Francisco and Oakland – and offers stunning views of the Pacific Ocean on either side, Alcatraz in the distance on one side and the city skyline on the other.
If you have a bucket list, then the Golden Gate Bridge should be on it. This famous landmark is one of the most iconic symbols in America and has been featured in many movies – from Alfred Hitchcock's "Vertigo" to Disney Pixar's "Cars". It will make for some really memorable photos and videos too.
Today, if you're coming to San Francisco for the first time or just want another reason to fall in love with this beautiful city again, get ready for a jaw-dropping moment when you see this gorgeous bridge spanning across the bay.
Conclusion
I hope this post gave you tons of inspiration for experiences to put on your USA bucket list!
Whatever type of activities you like, I'm sure you must have found at least one addition to your bucket list.
Do you have any other suggestions? Let me know in the comments!