One of the most popular tourist attractions in Slovenia is without doubt Vintgar Gorge. This wonderful gorge is perfect for a scenic walk that'll leave you breathless about the insane blue colour of the water.
No wonder thus that I saw many nationalities visiting this place, from Ukrainian to Lithuanian and Dutch, many people from all over Europe (and even the world) drive up here to take a look at this wonderful gorge!
But don't let the touristiness of the place scare you, if you come at the right moment in time, you'll have a great experience without the crowds.
So, if a walk through Vintgar Gorge was on your Slovenian bucket list, then read on! Because you'll find all the information you need for an unforgettable experience below!
This post contains affiliate links. When you purchase through one of my links I get a small commission (at no extra cost to you). Read more in my Disclosure Policy.
Is Vintgar Gorge worth visiting?
I'd say yes!
To be honest, I think that the price is a bit much and it's quite curated around tourists, but that doesn't take away the fact that it's a beautiful place.
The water is so crystal-clear and the gorge looks so magnificent, that a visit (on the right time) is definitely a must!
How to get to Vintgar Gorge
The easiest way to get to Vintgar Gorge is by car. Several parking lots are available to leave your car, either close (P1 & P2) or further away (P3 & P4). Parking your car in each of these parking lots will cost you €5.
Contrary to what you (and I) might think, there are no parking automats available to pay, but employees will notice your arrival, ask you to pay the fee and give you proof of payment. We had to pay in cash, so make sure you have some at hand! Luckily, there's also an ATM machine on parking 1.
If you don't have a car at your disposal, it's also possible to arrive by public transport. There is a train station at Podhom, a short walk away, and bus stations at both Podhom and Spodnje Gorje, also within walking distance.
Moreover, Vintgar Gorge is only a 10-minute drive away from Bled, which is, therefore, the perfect place to stay on your visit!
Vintgar Gorge Price
Then we come to a very important question you might ask yourself when planning your visit. How much does it cost to visit Vintgar Gorge?
Well, the adult entry fee (in 2021) is €10. Be aware that a lot of discounts are available, so if you're a student, senior, or have children, definitely mention this at the cashier (or online)! I was a student at the time of visiting and only paid €7, which is definitely a discount worth getting!
Contrary to the parking, it is possible to pay by card for your entry tickets. You can also buy these tickets online, and I'd highly recommend that since you won't have to wait in line at the moment you enter Vintgar Gorge.
My prices might become a bit outdated, so don't forget to check current prices and online booking possibilities beforehand.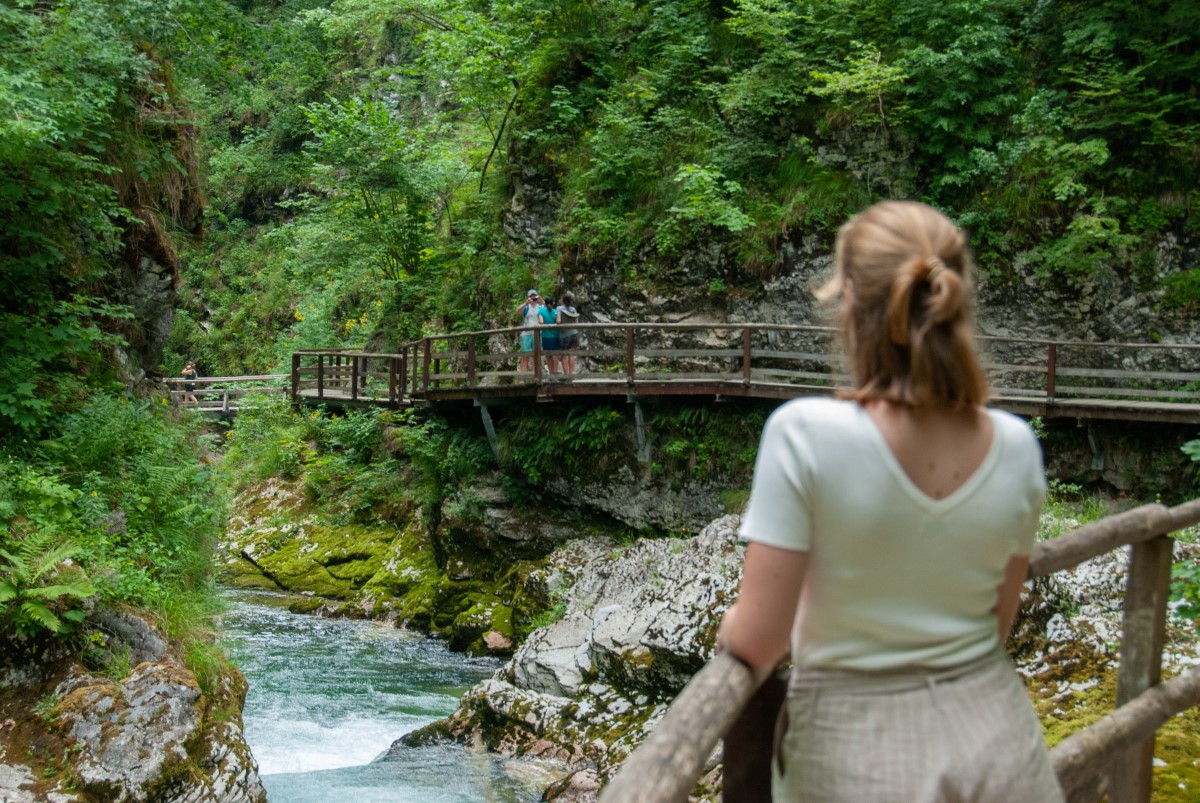 When to visit Vintgar Gorge
As I mentioned before, Vintgar Gorge is a popular tourist destination, inside as well as outside of Slovenia. Many people die to visit this place, and therefore, it can get quite busy.
At the time of my visit, on a Monday afternoon and with pandemic regulations in place, it was quite calm and it didn't feel crowded. However, I would suggest avoiding a visit during the weekend (when Slovenians have time to visit as well) and coming either early morning (in summer it opens as early as 7.30 a.m.) or late afternoon.
About the Vintgar Gorge hike
It's very important to know that Vintgar Gorge is a one-way walk. This means that you can only walk from the beginning to the end without returning the same way.
But obviously, you need to get back to the parking lot right?
To get back there are 3 options. Either you walk, and take a shuttle bus, or you walk all the way back to the parking lots. Upon entering the gorge, you'll get a little information sheet with the options on it.
In short, you'll have a steep hike of 4.3 km (which I did and recommend because fewer people take this one), and another, longer but easier hike (5.7 km) that gives you a view of the waterfall where the gorge ends. Both are beautiful to walk back!
Halfway through the easier hike, you can decide to take a shuttle bus to the parking lot instead of walking there. Calculate about one hour to walk back to your car taking the longer one, and 45 minutes for the shorter one.
So in total, calculate at least 2 hours to walk through the gorge and back.
Although at the end of the gorge, you'll find a little snack/drinks bar, I would advise you to take enough water and a little (or bigger) snack with you on the way.
Related: 17 hiking gadgets for the truly prepared hiker
Where to base
As I mentioned before, the entrance to Vintgar Gorge is only a 10-minute drive away from Bled. So the perfect location to base yourself would be the region of Bled or Bohinj as these are located close by and there's enough to do.
If you're a sporty type, there's also a self-guided e-bike tour available that starts at Bled and takes you all the way to Vintgar Gorge (and back of course). I love that they included a stop to taste a local Bled cream cake (a delicacy there!).
Of course, you can just take a trip here from Ljubljana instead. Driving from Ljubljana will take you between 45 minutes to an hour. If you don't have a car at your disposal, there's also the option to see Vintgar Gorge through an organized group tour.
Did I convince you?
I hope so!
And if not, there's also an alternative gorge close by which is a bit less touristy (but I didn't visit), called Tolmin gorge. Of course, you can also find other, smaller and lesser-known gorges in the region if you prefer that.
Are you planning to visit more places in Slovenia? Then check out my blog post about the best things to do for a day trip in Ljubljana or how to get to Lake Bled!