When you think of Belgium, you might think of chocolate, waffles and beer, but there's so much more Belgium is famous for! This country might be tiny compared to others, but nevertheless, there are a lot of curiosities to discover in Belgium! Think about the world's largest dance festival, The Smurfs or Manneke Pis!
To get to know Belgium a bit more, I've listed 31 things Belgium is known for below. I bet some will be very surprising!
Let's take a look!
31 things Belgium is known for
Lots of chocolate & pralines
Probably the first thing people think about when they hear the world Belgium is chocolate! Belgium is a real chocolate hub and you'll hear a lot of people say that they're addicted to it! In fact, people in Belgium belong to the top 3 chocolate consumers in the world!
The country is especially known for pralines, chocolate with a delicious filling. When walking through any city in Belgium, you'll find lots of stores that sell this delicacy and it's definitely something you should try when visiting!
Delicious waffles
Another very obvious thing Belgium is famous for is waffles! Waffles are true Belgian delicacies so you'll be able to find them everywhere in Belgium! The most famous ones are the Liège waffle and the Brussels waffle. Personally, I prefer the first one, but I encourage you to try both of them!
Don't forget to also order a topping with your waffle! Chocolate, whipped cream or sugar is always a good choice ;)!
1000 different beers with matching glasses
Did you know that there are more than a thousand beers brew in Belgium? Many of them are local beers and every one of them has a matching glass (those are real collectors' items)!
Probably the most famous beers are Stella Artois, Jupiler or Duvel and the largest brewery in the world is originally Belgian, traditionally still located in Leuven. So even if you're not able to get to Belgium, chances are high that you might find a Belgian beer in your local supermarket!
Full of historical, medieval cities
Belgium is also known for its historical, medieval cities, most of which are UNESCO World Heritage. These cities have a history that dates many centuries back in time, even before the foundation of the country Belgium (which was in 1830)!
You probably all know Brussels and Bruges, but also Ghent, Durbuy and lots of smaller municipal villages and towns date back to medieval times.
For a list of the most beautiful cities visit my blog post about winter in Belgium!
Not "French" but "Belgian" fries
Although people call them "French" fries, they're actually invented in Belgium! Fries are a national pride for the country and you'll be able to order fries in every small town you go! Across the whole country, there are local takeaway shops where you can buy them. Just like a takeaway pizza!
Did you know there is actually a difference between Belgian and French fries? Belgian fries are much thicker, while French fries traditionally are very small.
The Atomium is the national monument
Just like France has the Eiffel tower, Brussels has its Atomium! This building was constructed for the world exposition in 1958 taking place in Belgium. After that, the building remained in place and became a very famous attraction for the city! You can visit the building daily and have lunch on top!
The Atomium has nine spheres, each for every province in Belgium, at least… at that time. Right now, Belgium counts 10 provinces!
Belgium has its own "Venice of the North"
One of the most well-known cities in Belgium is Bruges. Even though you might be inclined to only visit Brussels on your way through the country, Bruges definitely is much more charming and picturesque!
The medieval city is known for its canals, and therefore also called "Venice of the North"! And this is something they've also noticed in Asia! The city is namely a very popular destination for Chinese tourists!
Tomorrowland, the largest dance festival in the world takes place in Belgium
Did you know Belgium hosts the largest dance festival in the world? Tomorrowland attracts a lot of famous artists from around the world each year and tickets are very hard to get since the festival is almost immediately sold out!
However, if you do get a ticket, the festival is said to be epic!
Capital of Europe
Belgium is often called the capital of Europe. This is because many of the European institutions are located in Brussels. Thus, often, when you hear something about the European Union, chances are high that it comes from Brussels!
Of course, you can also visit these institutions!
Diamond capital of the world
Did you know that Belgium is the center of the diamond industry? More specifically, the city of Antwerp! Through the harbour, lots of diamonds arrive in Belgium and, for a long time, were also polished in Antwerp. Therefore, you'll also be able to find a lot of diamond museums in Belgium!
Comic books are everywhere!
Belgium is home to more than 700 comic book creators! This tiny country has the most comics artists per square kilometre and comics books are an integral part of the Belgian culture! All kids grow up with iconic figures as Suske and Wiske, Tintin, Jommeke, the Smurfs and much more!
Yes! Even the Smurfs were invented in Belgium!
In Brussels, you can find the comic strips street art route and the comic strip art museum! Certainly worth a visit!
The national symbol is a peeing boy
I know, it's weird, but one of the icons of Belgium is a peeing boy.
You can visit Manneke Pis in Brussels, as well as a peeing girl and a peeing dog! On special occasions, Manneke Pis gets dressed as different figures, for example, Santa Claus!
This is definitely something that can't be missed if you visit Brussels!
Record days without a government
The least you can say about the government structure in Belgium is that it's quite complicated. I won't bore you with the details but this is one of the reasons that forming a government is so difficult in Belgium!
A few years ago, Belgium even broke the record of the most days without a government! (And no, the country didn't fell apart ;).) You might find other sources saying that Belgium doesn't need a government since it can function without it, but unfortunately, the corona pandemic has shown that this isn't ideal at all.
Anyway, a very odd record to hold right?
Waterloo, where Napoleon got defeated
You might have heard about Napoleon when you were still in school. In case your wondering, I'm not talking about the candy, but about the emperor!
After the French revolution, Napoleon decided he wanted to conquer parts of Europe. Although he appeared to succeed at some moment, other European countries combined their forces and defeated Napoleon in… Belgium! More specifically, Waterloo! You might also know the ABBA song about it ;).
On the place of the battlefield, there's now a large monument of a lion standing! You can climb the monument and have an amazing view over the region or visit the museum to get to know everything about this part of European history!
Soccer/football madness
Belgium is a real football country (or soccer so you wish)! Although the country is divided in a French- and Flemish-speaking part, both sides are equally enthusiastic about our soccer team. When the Red Devils play, the whole country is watching and the atmosphere is just amazing!
And for a reason, at the last World Championship, Belgium made it to the semi-finals!
Belgium has great inventors
Except for the saxophone, there are many more inventions Belgium is famous for! For example, the World Wide Web was co-created by a Belgian, Robert Calliau, and the Body-Mass Index (BMI) was invented by Adolphe Quetelet!
Birthplace of Adolphe Sax
Did you know that the inventor of the saxophone was Belgian? And that he lived in the picturesque village of Dinant?
The city is so proud of him that they've put huge saxophones everywhere! Plus, there's a special dedicated Adolphe Sax museum you can visit!
It's always raining in Belgium…
At least, that's what people think and what Belgium is famous for! But contrary to this belief, it's also often quite sunny in Belgium! Especially during the summer months! However, when you're unlucky and you're visiting in fall or winter, it might be raining non-stop!
World wars shaped our history
As Belgium has always been a neutral country in between France and Germany, it quite often suffered from the tensions between these countries, especially during the two World Wars. Belgium became a battlefield and today, many graveyards with soldiers from all around the world remind us of that.
These days, you can visit the remainings and remembrance monuments of this era in the Westhoek at the border with France. Each year, many international citizens and families come to remember those who fought for their homeland.
If you'd like to know more, take a look at the website of Flanders Fields.
Belgium counts 3000 castles
Belgium is home to an insane amount of castles! The fairytale types, the royal types, the deserted types, ruins… you'll find every kind of castle in Belgium. And wherever you are in the country, there will never be a castle too far away!
This because the country counts an average of about 3000 castles! Crazy right?!
I you'd like to see some of these beautiful castles, take a look at the post I wrote about Castles in Belgium!
Cycling is very popular
Not only does the average Belgian love to ride a bike, cycling can also be considered a national sport, probably the second most popular sport after football!
This leads to a weird phenomenon where people sit in front of their television screen on a Sunday afternoon to watch this sport. Can you imagine?
There is no "Belgian" language
Contrary to what some people might think, there is no such thing as a Belgian language. In fact, most Belgians are bilingual since we have three national languages: Flemish, French and German!
Most people either speak Flemish or French, but at school, all children have to learn the other languages as well. Plus, most Belgians also speak a decent amount of English!
Belgian highways are visible from the moon
In Belgium, we have the weird habit of lighting our highways at night and so much light is apparently also visible from the moon!
Although not eco-friendly, people have the habit of driving in a lot of light and most Belgians consider this much safer than if you would turn it off. Therefore, no-one is keen on changing this!
We have Sint Nicholas instead of Santa Claus
In Belgium, there's no real Santa Claus. We all consider that an American thing. The reason is that we have Saint Nicholas! In fact, Santa Claus is an American derivate from Saint Nicholas.
On the night of 5 on 6 December, Saint Nicholas delivers presents to all children who behaved fair that year. And yes, all children up to a certain age believe that Saint Nicholas is bringing them presents!
The world's smallest city is in Belgium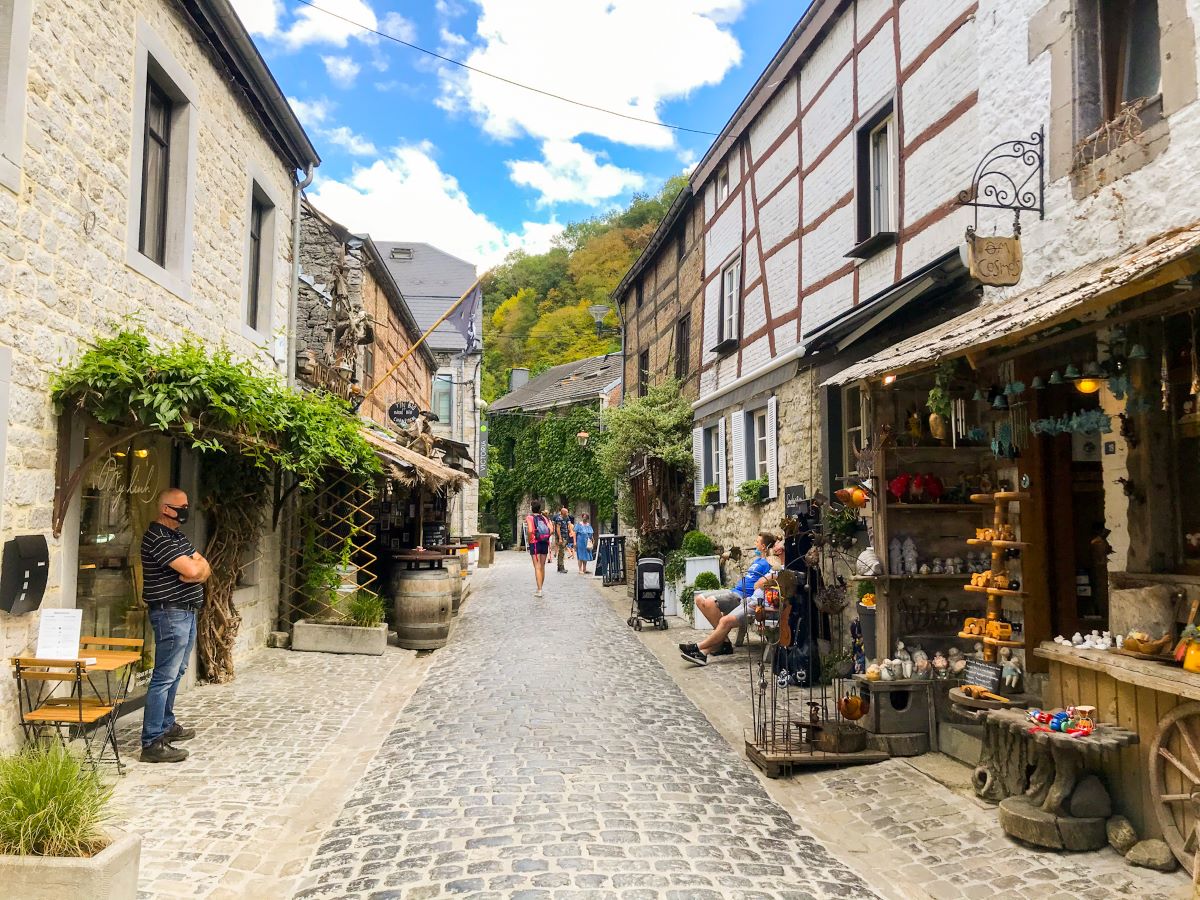 Belgium is home to what people call 'the smallest city in the world', Durbuy! This little village is located in the Belgian Ardennes and a really popular destination for tourists.
Whether Durbuy really is the smallest city in the world is open for debate, but although Durbuy can hardly be called a town, it has the title of 'city' which it got hundreds of years ago (in 1331)!
Very high taxes!
Unfortunately, Belgium is also known for its high taxes which averaged 42.9% in 2019. According to an OECD study, this tiny country ranks third on the list of highest taxes in Europe (after France and Denmark)!
This already is an improvement compared to previous years. But although citizens pay a lot, there is pretty good healthcare etc. for everyone.
The finest lace
Many centuries ago, in medieval times, Belgium (which actually did not exist then) was known for its high-quality lace. This was a huge export product for our region and one that remains famous until today. In Bruges, you'll find many shops selling real Belgian lace!
Supplies 85% of the world's billiard balls
Apparently, 85% of the world's billiard balls are being manufactured in Belgium! Not that this is a popular activity here, but the market leader (Saluc) is settled in Belgium and exports its billiard balls all over the world!
Spa refers to a Belgian city
The word 'spa', used to indicate wellness activities, actually comes from the village Spa, in Belgium! In the 18th century, the city became widely known for its healing wellness facilities, so much that the world now refers to this as 'spa'!
Belgians are amongst the tallest in the world
Belgian people belong to the tallest people in the world! According to Business Insider, Belgium ranks 7th in the list of tallest people and is preceded by other northern European countries.
Of course, number one on the list are the Dutch people!
Lots of beguinages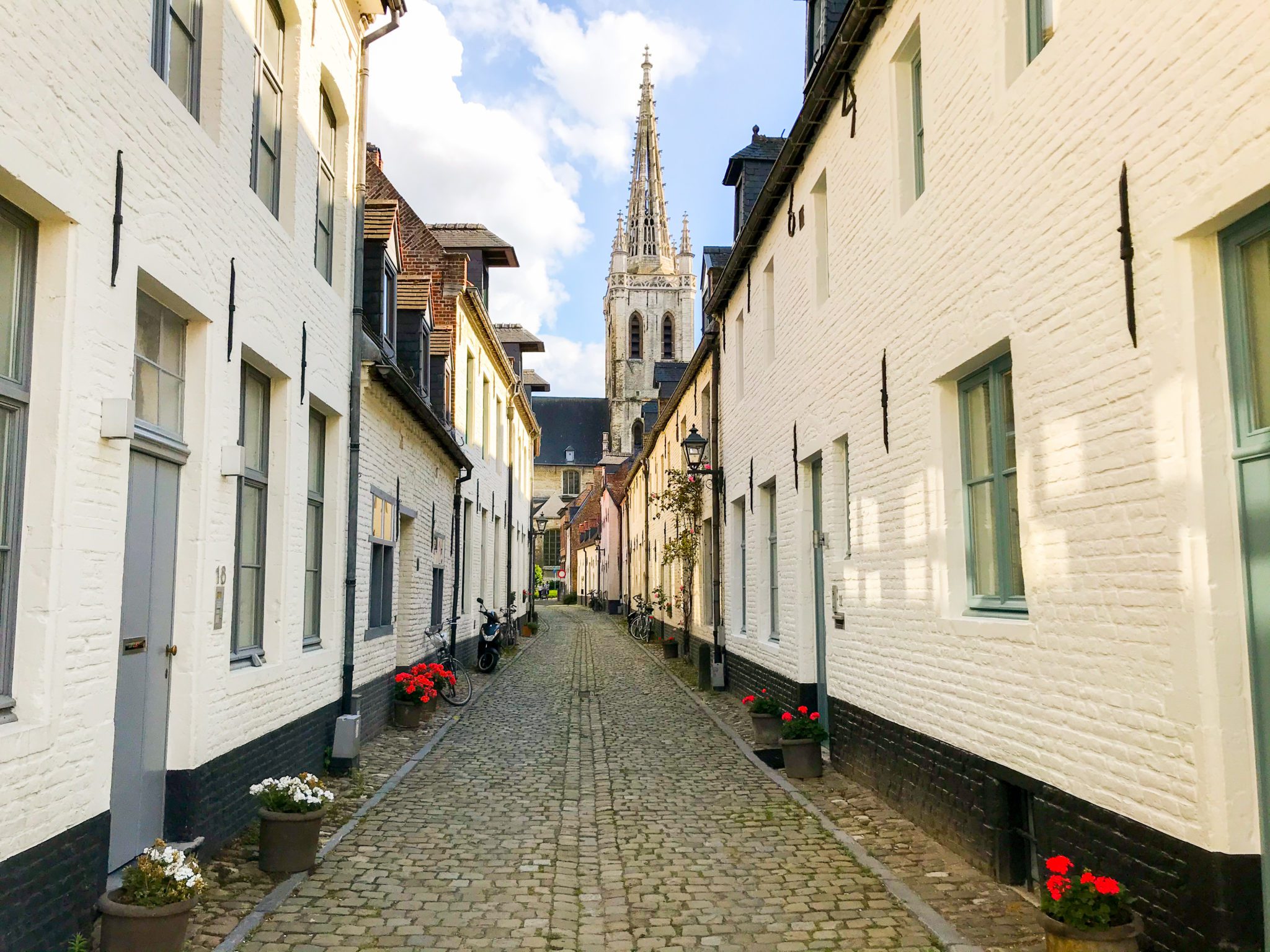 Belgium is full of beguinages! Just like other European countries, Belgium used to be very catholic. Now, this is not the case anymore but we can still see the remainings of that when looking at the beguinages.
Most of them are almost entirely empty and are UNESCO World Heritage. So if you got the chance, go visit one! You'll be able to find them in any city!
Conclusion
When asking the question: what is Belgium famous for? the answer is… a lot! I hope that this listed above showed you that Belgium is not your average tiny country but has a lot of peculiarities and is definitely worth visiting!
If you'd like to visit Belgium, check out what to do in Belgium in winter or take a look at all the other posts about Belgium!
Which of the above things surprised you the most? Let me know in the comments below!