Spending a weekend in Tallinn is probably one of the most magical things you can do! This quaint historical town is for sure one of the oldest and prettiest destinations in Europe.
The city is perfectly suited for weekend breaks so if you're traveling through Europe, stopping in Tallinn is a real must! I've visited Tallinn myself during summer and I can tell you that the old city is incredibly charming.
However, summer tends to be a busy period to visit so you might want to consider visiting late spring or early fall. Of course, Tallinn covered in snow is even more enchanting!
In this post, I'll show you the highlights of Tallinn combined in a weekend itinerary that you can use on your next trip. This itinerary covers the old town as well as the more contemporary attractions and just here below you'll find a map with all of the places I talk about in this post so you can find them back easily!
So what are you waiting for?
Let's dive into this weekend itinerary for Tallinn!
Tallinn Itinerary
One day in Tallinn
If you only have one day in Tallinn, these are the highlights you should have seen! If you don't have a lot of time, I suggest staying in the old city center. However, if you do have more time, a weekend, for example, you'd be surprised what can be found outside the historical center!
First, let's start with the old town for now.
Town Hall Square
At the center of Tallinn, you can find the town hall square. This is a great spot to begin your visit to the city!
Definitely take your time to admire the impressive town hall with all its details. The building dates back to the 13th century and is still in use today! If you find the time, consider visiting the inside of the town hall. This is possible in July and August for tourists.
The town hall square also is a very good spot to find food and drinks. Tired of walking? Order yourself a drink on one of the many terraces! But, be aware of tourist traps! The prices on the square might be a bit inflated and for the real authentic restaurants and bars, you'll need to look a bit further into the city.
Alexander Nevski Cathedral
One of the most impressive buildings in Tallinn is without doubt the Alexander Nevski Cathedral. This Russian orthodox church is not only a very pretty sight on the outside but also quite spectacular on the inside.
If you come at the right time you might be able to stay for a Mass and experience the Orthodox religion. I can say this is a very special experience. In any case, definitely take the time to sit down and look at all the beautiful details inside this church!
Old city walls
When walking around Tallinn you'll notice a lot of ancient elements that remind us of the rich history of this city. One of these elements is the old city wall that is still standing for a large part including its towers!
It's possible to walk on the city wall and enjoy a lovely view over the rest of the city. You can also visit some of the towers for a small entrance fee or the little flower garden with a bit of historical explanation as featured in this picture.
KGB Museum
Probably the most special attraction of the whole city is the KGB museum.
A few decades ago, when Estonia was still part of the Soviet Union, there was a hotel called Viru where foreigners could stay when visiting Tallinn. However, the national security body of the Soviet Union monitored the foreigners closely. From the secret top floor of the hotel, they spied on unsuspecting victims, with espionage devices installed in many rooms.
They did this until the end of the Soviet Union in 1991 and had to leave the hotel in a hurry. Right now, it's a museum, and you can visit it!
You can experience how this surreal story comes to live when visiting the rooms they used to occupy!
Patkuli viewing platform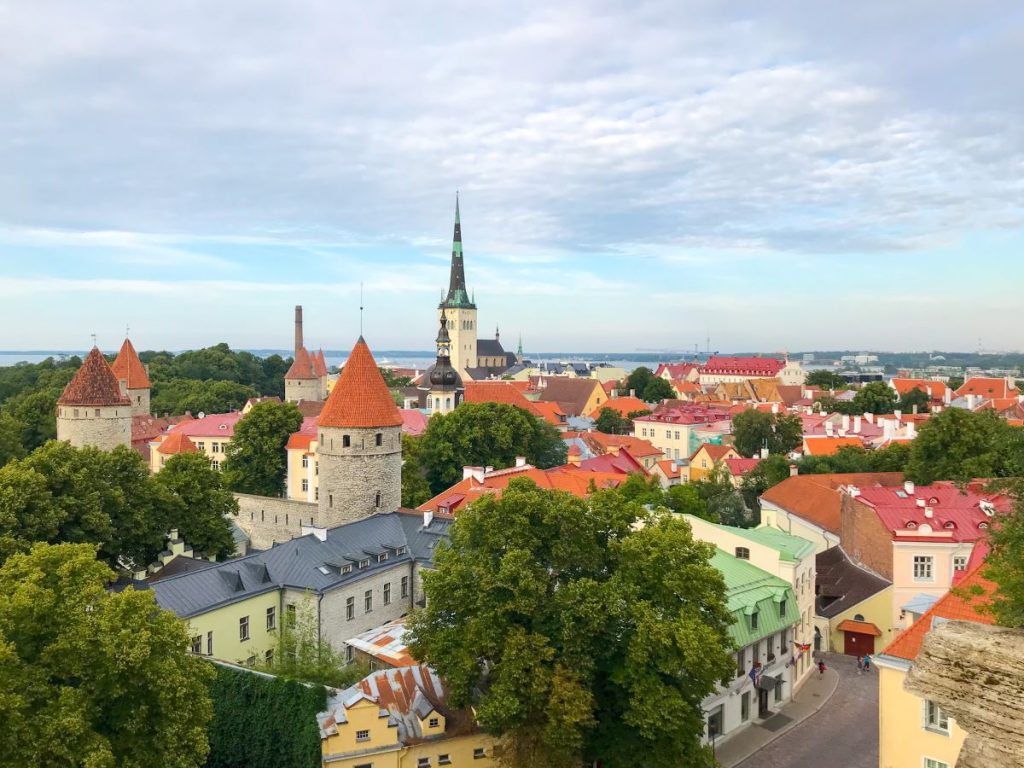 You'll likely have already seen the iconic photos of Tallinn with a view of the city. Well, chances are high that they were taken from this viewing platform!
You'll find this platform in the higher-located old city center, so it involves some climbing, but the view is definitely worth it!
Besides this platform, you'll also find a couple of other platforms in the old center. These are called the Piiskopi viewing platform and the Kohtuotsa viewing platform. On your weekend trip, it's a must to visit at least one of them!
St Mary's Cathedral
This cute church at the heart of the old city center definitely deserves a stop on your visit to Tallinn!
Its history dates back to the 13th century and this becomes immediately clear when you step inside. For a small entrance fee, you'll get to admire ancient wooden craftwork and beautiful religious decoration. It's even possible to climb the tower and enjoy an amazing view over the city!
St Olaf's Church
I know, a lot of churches right?
Unfortunately, I can't help it that Tallinn's oldest buildings just happen to be churches! This church dates back to the 12th century and is the largest medieval building in the city!
Did you know that until 2007, no buildings could be built in Tallinn higher than this one? That's exactly how important this monument is.
It's also possible to climb the tower and enjoy a wonderful view of the city from above. In any case, take your time to admire the 19th century Gothic interior of this beautiful site!
Two days in Tallinn
If you have more than one day, two days or more, to explore the city, I'd suggest adding these activities to your bucket list! Rather than doing everything very quickly, it might be worth it to explore the city a bit slower and take a deep dive into its history!
While day one included many activities in the historical town, day two of this weekend itinerary will show you more of the contemporary side of Tallinn.
Seaplane Harbour museum
A bit outside the city center of Tallinn, you'll find the Seaplane Harbour museum. This maritime museum is dedicated to everything sea-related that has to do with the history of Estonia. You'll find here real water planes, a submarine from the 1930s, and other old (but real!) water-related devices.
The museum is very suited for the whole family, there are interactive parts for children and there is a cafeteria in case you want to eat or drink something afterward!
If you're planning to visit, definitely calculate a few hours for this!
Balti jaama turg – local market
Do you want a more local experience and do you want to get out of the historical city center? Then consider visiting the Balti Jaama Turg, a modern marketplace where you'll find all sorts of delicacies!
This is the perfect place to visit if you're cooking for yourself on your trip and still need some fresh ingredients or want a delicious Estonian takeaway meal!
Although this is not the typical tourist activity, it gives a better image of how Tallinn as a city is evolving right now.
Telliskivi & Kalamaja neighbourhood
This old neighborhood has been transformed in recent years to the hippest district of Tallinn! While Kalamaja is known for its old wooden fishing houses, Telliskivi is known for its sparkling cultural activities!
Here, you'll find trendy fashion stores, amazing street art, and the artsy atmosphere you could expect from a hip district in any huge city.
What you should definitely do is visit Telliskivi Creative City, have ice cream, admire the street art, shop in local boutiques, and after that, walk your way up to the waterside, while encountering the wooden houses I talked about, where the Seaplane Harbour Museum is located as well. I promise that it won't disappoint you!
It's time to plan your weekend city break to Tallinn!
I hoped I convinced you to plan your next city trip to Tallinn and gave you some useful tips and tricks on things to do on your visit in this Tallinn itinerary!
Did you know that visiting Tallinn is a perfect combo with a visit to Helsinki? You just take the ferry to the other side of the sea!
Please let me know in the comments whether you liked Tallinn or any other suggestions you might have for the readers of this post!